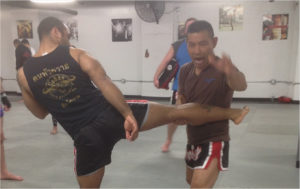 As he stepped onto the gym floor in a brown t-shirt, Coban Lookchaomaesaitong would not look like a five-time Muay Thai world champion to most. A broad smile creased his tanned features every other instant as he patiently instructed a beginner class about kicks. You could pass him in a downtown bodega and not notice him, let alone be threatened by him.
Then, Coban decided the class needed a demonstration. He positioned his 5-foot 4-inch frame in front of a heavy bag, and unleashed a cracking left roundhouse kick that echoed like a gunshot around the room. It became apparent how he had earned his fighting nickname "The Cruncher."
As a fighter, Coban was a trailblazer, traveling around the world to fight foreigners at a time when most Thai fighters did not venture outside of Thailand. As a trainer, he is the first and only Thai world champion to open a Muay Thai gym in New York City, offering a cultural immersion in the art that extends past learning how to kick, punch, and knee.
Nestled under a diner on 38th Street and 5th Avenue, there is a basement matted from wall to wall, with heavy bags hanging from the ceiling and a boxing ring in the corner. This is Coban's Muay Thai Camp, the school Coban founded in 2011. Coban said he founded his school on traditional principles, and he aims to educate his students on the entire culture of Muay Thai. He said that most gyms in the United States only teach the fighting aspects of Muay Thai, and neglect the cultural aspects.
"I show them everything. Technique, how to respect, how to be humble. Not be big-head, more humble. Take care who the weaker. This is basic," Coban said, lounging in the gym's rest area. On the mats, fighters sparred while traditional Thai trumpets blared in the background. "In class I have wai kru, traditional dance. Other gym, no. Just fight." Wai khru is the traditional dance Muay Thai fighters perform to pay respects to their teachers.
Indeed, despite his own talent in the physical art, Coban said he considers the traditions of Muay Thai just as important, in part due to his own initiation to the art. Born under the name Banlu Anwiset on Aug. 4, 1966, in a small Thai city called Buriram, he said he started fighting after watching Muay Thai fights at a Buddhist temple fair. He said he still does Muay Thai demonstrations at the Buddhist temple in Queens every Songkran, the Thai new year.
Coban said he eventually moved from fighting in the countryside temple fairs to the big stadiums in Bangkok like the famed Lumpinee Stadium. He considers the first time he won the Lumpinee lightweight championship, with a fourth-round knockout, as the proudest moment of his career. He then began traveling to fight in other countries. He said other Thai fighters had fought outside of Thailand before, but none had done so as often as he. He said his fights in locations like the Netherlands, France, Australia, and the United States, against the kickboxing greats from those countries, helped spread the popularity of Muay Thai.
Coban said he moved to the U.S. in 1994, after it became hard to find fights in Thailand due to promoters thinking he was too old. He first lived in North Hollywood, California, before moving to New York. He said he moved to the U.S. for the chance at a better life. He said most Thai fighters have trouble finding jobs after retirement, and he wanted to escape that.
"I don't know what I do if I not move here. Maybe, be some trainer somewhere, or be some farmer. I don't know," Coban said, referring to how it would have been hard to make money after his retirement. "If no money, no happy life in Thailand."
In New York, Coban said he is not interested in breeding world champions, saying that there is too much drama involved.
"I don't want to train like a fighter. I want to train like students, who want to learn in class," Coban said. He said he was more interested in building a family-like atmosphere. Adding to the welcoming atmosphere of the school are Coban's three dogs that he often brings in with him. With one of the dogs lazing at his feet, Coban said that his favorite part of running the school is when his students improve.
"When I teach students, when they improve, they get better. I feel very good," Coban said with yet another smile, before heading back out onto the mat to conduct another class.