https://youtu.be/U52eAg9mukA
In Union Square, Yongxin Fu, better known as The Monkey King held court over passersby.
Clad in a colorful red costume and monkey mask, he spun a five-feet yellow-and-red rod rapidly and rhythmically with one hand, then suddenly hurled it into the air and caught it to the delight of the crowd.
Every day for the past three years, Fu, 65, has performed as the Chinese mythological figure "Monkey King" in Union Square.
The Monkey King is a legendary character in "Journey to the West" one of the Four Great Classical Novels of Chinese literature and a representative of Chinese culture. During President Trump's recent visit to China, the Monkey King  was one of the Peking Opera plays that Chinese President Xi Jinping welcomed him with.
"Not many people here really know about Peking Opera, or the Monkey King," he said. "But they are at least curious about it."
Fu is a retired doctor and an amateurish Peking Opera performer. He migrated from Zhejiang, China to New York in 2014, to be with his children who had lived here for decades. He intended to continue his Peking Opera career and brought all his  costumes and instruments.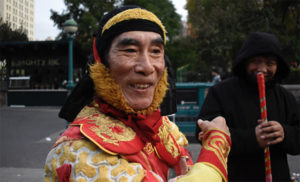 "I started practicing the acrobatics of Peking Opera when I was 13," said Fu. "Peking Opera has been an essential part of my life."
But Fu could barely find opportunities to perform in New York City so he took his passion to the streets.
His family was not thrilled with his dream of performing on the city streets.
"Because street performer is not a decent occupation according to Chinese traditional social norm," he said. "But I am a stubborn person. I just told my children that I would go crazy if I kept doing nothing."
His vision has been a success. His colorful performance draws crowds. Passersby stop and snap photographs with him and his tip jar overflows with bills.
Ben Vasquez, a 29-year-old model from the Bronx, loves the Monkey King.
He carried a photo of him and Fu taken two years ago on the same day at the same place.
"Anytime I walk by, I stop and look at him," said Vasquez. "I love Monkey King. I love the outfit of it, the film about it, everything about it."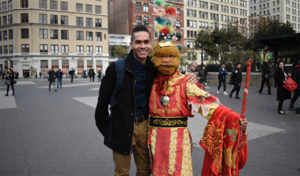 Fu gives the crowd a good show. He pays attention to every detail especially his costume which he  described  as a golden chain mail shirt, a phoenix feather cap, and cloud walking boots.
"And the stick is called the Golden Cudgel," he said. "It is Monkey King's magic weapon."
For Fu, promoting Chinese culture and earning money are just a bonus for doing what he loves. His main goal is to stay healthy by practicing acrobatics.
"So I am happy even if I cannot get any money for a whole day," he said. "At least I gain health."
Although Fu speaks no English, language never gets in his way.
"Frankly speaking, there is no one at Union Square who I don't know," he said. "For me, they are all counted as my friends "I just use my body language to communicate with them. Whenever I come here, I feel like I am home."