Unwrap the cup, boil water, pour it into the cup, and wait for the broth and noodles to cool down. That's the process that most American college kids have been using since the 1970s to make a cheap, tasty meal. In a new twist, New York City students are choosing to slurp up their ramen in the dimly lit, upscale restaurants with $20 ramen as high-end meal on their menus.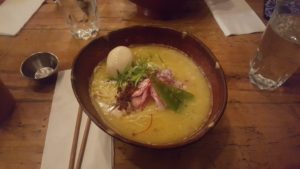 With the highest concentration of Japanese Michelin-starred spots outside of Japan, New York—from Flatbush to Flushing – has become a hub for ramen cuisine, a rapidly growing ethnic-food craze becoming the go-to, go-out meal for college students.
Ramen noodles, which were once confined to supermarkets and kitchen pantries have made their way onto many of the menus of the estimated 9000 Japanese restaurants in the United States. New York City now has a large "ramen belt," as it has been nicknamed by New York Times restaurant critic Pete Wells, which stretches from Fort Lee, New Jersey, across Manhattan, to Brooklyn and Queens.
The shift from instant snack to sit-down meal correlates with the success of Japanese foods in general, with sushi also now both a gourmet and take-out food. One reason for the popularity is that both ramen and sushi contain less sugar, less fat, and fewer calories than traditional American foods, according to Japan's External Trade Organization.
Studies from Eventbrite's nationwide research of millennials revealed that college-aged people not only highly value experiences, but they are increasingly spending time and money on them.   And that's a key reason for the ramen success, says Kilee Alexander, an NYU journalism student and ramen aficionado who completed high school in Japan. American ramen restaurants have turned the basic recipe – broth, noodles, and meet – into an experience, which draws millennials to join the craze even if it costs more that do-it-yourself. "A lot of people don't care about how much they spend because it's so good and so different from any American food."
The run on ramen also has been stoked by social media. "It's just a trend that young, NYU people, who also see it as the perfect Instagrammable food, want to jump on board," Alexander said.
Brian Macduckston, cookbook author and creator of the blog Ramen Adventures, which documents his journey eating at the best ramen restaurants in Japan, eats anywhere between five and ten bowls of ramen per week. During his time traveling and noodle-tasting, he has noticed that some of Japan's "most prolific ramen eaters" are college students. "So many people I have spoken with remember eating ramen as a child, and as a young adult they can really eat as much as they want due to the price," he says, which he also thinks parallels with its appeal to American students. "Ramen is still an affordable food, even at restaurants. I think with the rise in popularity of casual gourmet food, ramen is poised as a real contender." Great source!
The global instant noodles market is projected to reach 126.8 billion packs by 2022, according to a report by Global Industry Analytics, Inc. So, it is unlikely that all college kids will leave the dry noodle packets behind completely; but, as the demand for instant noodles continues to grow, students at city schools like NYU will most likely push the upscale ramen scene to follow the same path of popularity.
"I love that ramen restaurants are so casual, but the food is still delicious," said Aesetou Hydara, a 19-year-old New York University student from the Bronx, eating the $14 Tan-Tan Men which consists of a soybean paste broth with chopped chicken, sesame powder, bean sprouts, salt flavored egg, scallion, bamboo shoots and noodle. She sits at the small, wooden counter of Ramen Takumi, a popular hub for students in Greenwich Village, steps away from the New York University campus. "I come here all the time and love that I can sit here alone or with lots of friends, and always enjoy the experience of eating up a hot bowl of ramen."
In a slightly more formal, upscale restaurant, NYU student Meghan Murakami, 19, fights the frigid November weather by eating a warm bowl of her favorite Ramen. She barely speaks with her brothers who sit with her, instead focusing on the broth and noodles in front of her. She spent $13 on her Shio Paitan, which features a salt-based chicken broth, pork chashu, chicken chashu, onions, snow peas and scallions, a dish reminiscent of her favorite foods back home in Hawaii. Headquartered in her native state is Sun Noodles, the leading manufacturer of dry noodles. "I will pay whatever I need to for a good bowl of ramen, especially when it's cold out," she says in the dimly-lit ramen restaurant, Mew Men in the West Village. "It reminds me of home, and there's nothing better than the perfect bowl of ramen to ease homesickness."