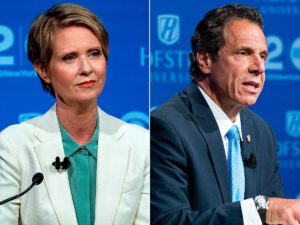 New Yorkers head to to the polls today to cast their votes for the 2018 Democratic Primaries, in which long-time Governor Andrew Cuomo will try to stop progressive actress, Cynthia Nixon from taking his job.
While Nixon's lack of experience may seem disadvantageous to Cuomo's strong-hold in politics, some New Yorkers want change and with the new wave of liberalism sparked by Bernie Sanders, this election can go either way.
"We need new people in government,"  said Carrie Tunick, of the East Village. "Cuomo's been there for a million years and it's time for some change."
Although she said that Cuomo has made some change recently in the right direction, most of it has been done in reaction to  Nixon being "a strong, further left candidate" and her criticism of Cuomo's handling of the MTA system.
But Nixon isn't the only one dissatisfied with Cuomo's management. 
"I'm not happy with the governor's handling of the MTA, or of legal marijuana and climate change," said Arianne Krier.  "It's not that her views lined up so much more with mine, it's that his didn't."
Nixon's platform of diversity and inclusion has gained a lot of support, especially among young voters and minorities.
Aliya and Imara Ikhumen, who are both in their senior year at New York University, are "excited to give her (Nixon) a chance to prove herself."
Aliya and Imara who want minority communities to  be supported, believe that because Nixon herself is part of a minority population, the LGBTQ community, her intentions to creation change are sincere.
But with the turmoil in the Trump administration, some New Yorkers believe that Nixon's progressive ideals aren't enough. Joyce Rosenthal, who described herself as an "idealist that's gotten scared," voted for Cuomo because of what she called  his muscle power and experience.
"Things are so challenging right now that as much as I have issues with him, keeping someone who actually knows how to work the system is still better than not having any experience at all," she said. "There's too much falling apart around us." 
Jeanne Krier,  a New Yorker for 35 years, calls herself a die-hard Democrat. She voted for Cuomo because of his experience and his policies.
While Krier wishes Cuomo would do more for the subways, his legislation on gun control, free tuition for New Yorkers, and stance on environmental issues have swayed her in his direction.
Even though Krier is glad to see more women running for office, she believes, "Nixon's decision to run for governor without any experience at all in public service is arrogant."
Another Cuomo supporter also criticized Nixon for her lack of experience and her harsh tone towards Cuomo. Stan Testinbaum, a senior citizen, believes that her views are too extreme and exaggerated.
"Her views are more in line with the Bernie Sanders side and are not all consistent with the Democratic party," Testinbaum said.