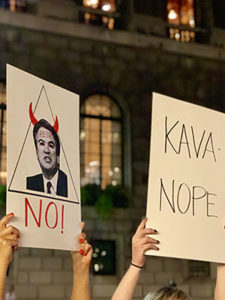 The streets of Midtown Manhattan were flooded with protestors Monday night, as thousands gathered to march against Judge Brett Kavanaugh's nomination to the Supreme Court.
"It is important to show up to have these conversations," said New York University student and protestor Sylvie Wilk. "We need to center the focus on those who are most vulnerable to this newest assault on the justice system."
Kavanaugh has been accused of sexual misconduct by Dr. Christine Blasey Ford, Deborah Ramirez, and Julie Swetnick. But it was the testimony of Blasey Ford on Thursday and the rush to confirm the judge that led to New Yorkers marching. The march began at Madison Square Park, then stopped in front of the Yale Club, a private club for Yale alumni and faculty, and ended with a rally at Grand Central Station.
Morris Rakner, a graduate of Yale University and an attorney, is strongly against Kavanaugh's nomination.
"I watched the hearing, I thought that Judge Kavanaugh handled himself very poorly and I think he was truly offensive," said Rakner. "I think he would potentially be way too partisan to judge issues that had a political bearing."
Samantha Schwartz attended the march to fight the gender double standard.
"I think it's really disappointing that men get to grow up with this idea that their actions don't have consequences," said Schwartz. "With Kavanaugh in a place of power it shows young men that their actions don't have consequences and it can get them into a place of power."
In addition to Kavanaugh's alleged sexual assault, some protestors believe that Kavanaugh should not be nominated because they think that he lied in his testimony. Dr. John Heon, an education consultant, did not believe that Kavanaugh was honest in the hearing.
"This (Kavanaugh's hearing) is truly an indication that we are in the post-truth era," he said. "Kavanaugh has such a record that we can't say at this point exactly what happened, but there is enough evidence that things did happen that were reprehensible and we have to take it seriously."
Heon also believes that Republicans should propose an alternative for Kavanaugh in the nomination.
"If the Republicans can't come up with someone who is untainted by sexual assault, then there is a problem," said Heon.