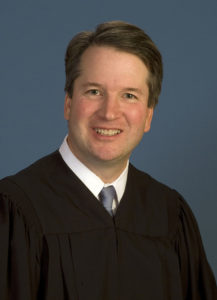 Dr. Christine Blasey Ford's sexual assault allegation against Supreme Court nominee, Brett Kavanaugh, has sparked polarized reactions from women on both sides of the political spectrum.
"I totally believe her," said Courtney Watson, 53, of the East Village. "I think he was blackout drunk and it's totally conceivable that he doesn't remember. But just because he doesn't remember doesn't mean it didn't happen."
Watson, who is the same age as Judge Kavanaugh, said that among her generation it was uncommon for women to come forward about being sexually assaulted. Girls at that age couldn't confide in their parents because they were expected to be virgins.
"It was unthinkable to tell your mother if something happened to you because if she found out that you were at an unsupervised party and drunk, you'd be in huge trouble," Watson said.
But while women have become more open to sharing their stories, the accusations have a brought a sense of fear to mothers of teenage boys about the current rape culture and bro culture in the United States that isn't much different from when Dr. Ford and Judge Kavanaugh were teenagers.
"Most women my age with teenage boys are very concerned about a culture of toxic masculinity in the United States, where men are expected to have conquests and drink excessively," she said.
Watson is worried about what kind of message this sends to boys if Kavanaugh is appointed. She fears it will say that can get away with anything when they're teenagers and still obtain high positions of power when they're older. But she is optimistic that if he is appointed there will be tons of backlash, which "will only strengthen the blue wave that is coming."
Lisa Bloomstein, a mother of teenage boy from Dix Hills, Long Island, said she hopes Kavanaugh is not confirmed.
"He has shown himself to be partisan and is obviously biased by the way he presented himself in his opening statements where he accuses the left wing and the Clintons of taking revenge," she said. "How can you rule on things in a fair and unbiased manner when he has shown himself to be the contrary?" said Bloomstein.
But Christy Hurt, a middle aged Republican, from Glen Oaks, Long Island, called the hearing a "disgrace." Hurt, like the majority of Republican women support the confirmation.
"This is all a setup by the Democrats in attempt to stall President Trump from appointing another Supreme Court Justice." Hurt said. "Why would you sit on this (the sexual assault allegation) for over 30 years ago and now come forward?"
Hurt said she doesn't think that something that happened in high school, whether or not the allegation is true, should come into play now.
"The person that I was in high school doesn't reflect the person I am now," Hurt said. "People change and to judge someone based on what they did in high school is hypocritical."
Natalie Korn, an NYU student, agreed that Kavanaugh should still be appointed, even though she believes Dr. Ford's testimony.
"I don't even think there should be a question of whether or not you believe a woman that testifies for being sexually assaulted," Korn said. "But I do think it is suspicious that she's coming out with this information at this very point in time when he's been in public office for so long."
Korn believes Kavanaugh's moral character is not an issue.
"All politicians' characters are compromised," she said. "He is a qualified politician and has been in office for quite some time."