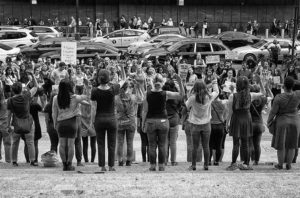 The streets of Midtown rang with the voices of men, women and children singing Ke$ha's "Praying" in solidarity with sexual assault survivors.
Yesterday's performance protest, held on 36th Street, was in response to Saturday's Senate-wide vote that confirmed Justice Brett Kavanaugh to the Supreme Court. Kavanaugh has been accused of sexual assault by three women, including Dr. Christine Blasey Ford, who testified against him during the confirmation hearings late last month.
Organizers Ruby Pittman and Laura Diffenderfer say they chose the song "Praying" because it is about finding strength after surviving a sexual assault.
"It's a very natural way for us to express ourselves," Diffenderfer said. "I sometimes feel so sad about these events we've gone through recently, and I don't know that I necessarily want to go to a protest and yell or be angry. I just want to have emotions and let them go and I want to gain strength from other women and other survivors."
Before taking to the streets, the group of performers spent an hour rehearsing the song with one hand in the air, the position Blasey Ford took while being sworn in before the Senate Judiciary Committee on Sept. 27.
"We came together against the appointment of Kavanaugh to the Supreme Court but also in support of women's voices and for those who understand what it means to be silenced or misrepresented or not given equity in situations," Pittman said.
Fatima Sindhu, 17, attended the protest after being shocked by Kavanaugh's confirmation on Saturday.
"Me and my mom watched the vote yesterday, and she kept saying 'he's going to get confirmed,'" Sindhu said. "She always believes the negative. I was so hopeful and I really thought people wouldn't vote for him. I was like 'how could people support that?' I was so angry."
Sindhu said she attended to make her voice heard despite being too young to vote.
"This morning I found out about this protest and I felt like I had to do something," she said. "It was very emotional. I don't know how to explain the feeling but it was like I was a part of something. Everyone here was united for one cause."
Diffenderfer said she was moved by the scope of the protest.
"I was in awe that so many people were there and we got to have this experience together and feel supported by one another," she said. "That was probably the emotion that I felt most. I think a lot of this has made a lot of us feel very vulnerable and to have the onlookers join us felt really powerful."
Although she found strength in her fellow protestors, Diffenderfer said she is still concerned about the future with Kavanaugh on the Court.
"It feels unbelievable in 2018 that we have to fight for this," she said. "It's not just Dr. Blasey Ford, it's also that [Kavanaugh] wants to take away our rights. It's not just this one event like did it happen, did it not. The whole picture doesn't look good for women."