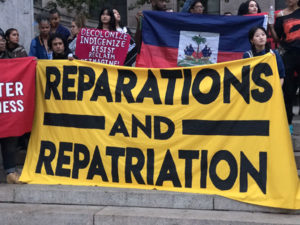 Protests erupted outside of the American Museum of Natural History, yesterday as hundreds fought against racism and discrimination towards Indigenous people on Columbus Day.
"We are on occupied territory, we are on indigenous land, we are on Lenni Lenape land," said protestor, Lorena Ambrosio. "That's why we come out here on Indigenous Peoples Day to demand that this Museum be decolonized."
In front of the American Museum of Natural History the statue of Theodore Roosevelt, with a Native American man and an African man standing behind him, drew the protestors anger. The believe the statue portrays white supremacy.
For the past three years their Columbus Day protest have included demands, to have the statue removed.
Regan Deloggans, a member of the indigenous community and of the American Indian Community House, a non-for-profit organization that represents the Native American community in New York City, said the museum is built on racism.
"We need to understand that this museum is built on pillars of white supremacy," said Deloggans. "It still maintains native people, and other people of color including Oceania, African Americans, as if they are artifacts and we are living communities."
Protestor, Samantha Keogh, was part of a broad diverse coalition of protesters, she believes that it is her civic duty to fight for equality.
"I am here to support and amplify the voices of the indigenous people and people of color," said Keogh. "They have been voicing these really big issues for a very long time and as a white person, I feel that it is one of my responsibilities to be here with my body and voice."
The protests were organized by Decolonize This Place. Members of this group frequently protest on behalf of indigenous rights, racial equality, global work wages, and against gentrification. Every year on Columbus Day, the group organizes an Anti-Columbus Day tour throughout the American Museum of Natural History.
After the tour, the protestors gathered on the steps outside of the museum. People held banners, wore t-shirts, and recited call and response chants that begged for equality and fair treatment.
"We are fighting constantly for recognition, as well as equity." said Deloggans.