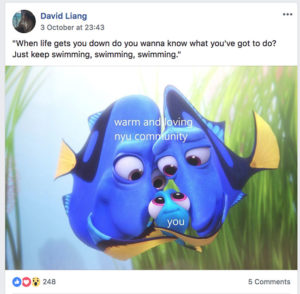 At New York University, students cope with tragedy and ongoing stress through a unique source – memes.
Following the harrowing news of a student suicide on Tuesday, Oct. 2, the student administrators of NYU's meme page decided to spread messages of hope and awareness to the 11,500 and counting, members of the Facebook group.
What if we let people know that there's networks of support that they can access here?" said Sebastian Paine, a sophomore NYU student. "Whether it's the wellness center, or their friends, or the admins on the f—ing meme page."
Paine, a double major in GLS and Public Policy, is one of a handful of administrators  of NYU Memes for Slightly Bankrupt Teens, a Facebook page dedicated to memes. Memes are  defined as images, text, and videos that are generally humorous and spread throughout the internet with various modifications
While internet memes are usually a fairly inane topic, the motivation behind Wholesome Wednesday was solemn and sincere. Paine referenced the painful news of a NYU student's suicide as the primary reason. The lack of immediate response from NYU authorities concerned him, so they decided to preemptively spread awareness and positivity in the wake of the tragic news.
"It actually started because someone made an insensitive meme about the suicide," Paine said. "We were like, this is unacceptable."
The admins discussed the issue and decided to turn a thoughtless action into an opportunity for connection within the NYU community. A complete rebranding was done. The title of the page was changed to NYU Memes for Wholesome Teens, "Wholesome Wednesday" news was spread, and only "wholesome" posts were approved.
But going further than just feel-good images, they decided to spread awareness and provide important contact information for the mental health services offered at NYU.
"I expressed that I wanted to address this issue along the lines of reaching out for help," wrote admin and NYU student, Arystan Tatishev, via email.
Several posts and memes included phone numbers and emails for NYU's wellness center and hotline, as well as encouraging words to others to check in on loved ones and reach out for help if needed.
"I think that things that are based in student efforts are, a lot of the time, better and more accessible and more immediate than admin stuff," Paine said. "We got an email about [the suicide] from the wellness center when we'd already finished the day of wholesome stuff. So it was like, well, we kind of beat y'all to the punch."
Students have expressed frustration with the lack of response from NYU, however an email from Wellness Services was sent out on Thursday, with no mention of the suicide.
Paine referenced suicide clusters, a belief that one suicide can trigger others. There is research that suggests that young people are most affected by suicide clusters, according to the New York Times. Paine's concern was for the student population not having information to aid them, if necessary, after hearing of the news.
The creator of the page, Tatishev, also stressed how important it was to the admins not to trivialize what happened.
"We talked about making a week long commitment of only posting wholesome content and calling it Wholesome Week," Tatishev wrote. "However as some of my team members pointed out, that could be misinterpreted as us 'milking' the situation and it would send the wrong message."
They decided on a single day theme, and an outpouring of wholesome content followed.
"The overwhelming positive response to Wholesome Wednesday was comforting because I've dealt with mental health issues in the past and the news of the suicide hit me pretty hard," Jinny Hwang, a sophomore NYU student at Shanghai and meme page admin, wrote via Facebook message. "It taught me that the NYU community may not have a physical or enclosed campus, but when s–t hits the fan, we're all here for each other to spread love and positivity."
NYU sophomore Emery Whiteman is a member of the meme page and felt like the mission of Wholesome Wednesday had a positive impact.
"It reminds you of the friends and family you have, and that you can reach out for support," she said.
That sentiment is emphasized by the flood of comments and likes on the multitude of posts created on Wednesday. Other admins praised member's contributions and responses in a time of sadness for the NYU community.
"I saw the community come together and express their kindness and understanding to each other," Tatishev wrote. "I saw people being informed of what happened and I saw what people had to say about the state of university's mental wellness program. This is a heavy topic and people pointed out all the flaws with how university is dealing with it."
The mental health services at NYU have been a point of contention and disagreement among students, who say that the services aren't widespread enough. Comments on Wholesome Wednesday posts detailed flaws in NYU's system and student's frustration with their experiences.
"There's not enough counselors at all," Paine said, speaking of his own experiences with the NYU Wellness Center. "With the amount that students are paying, we could have more counselors."
Paine also cited disappointing interactions with counselors, outsourcing, and unexpected costs.
John Stanley, NYU Junior and meme page admin, emphasized student advocacy in order to encourage changes.
"As a society, we have a long way to go before we fully legitimize mental health issues, and in a competitive school such as NYU, it's doubtful that these changes will come without a more specific, vocal demand from students," Stanley wrote via email.
As NYU and students grapple with the realities of mental health at the largest private university in America, online communities like the NYU Meme page hope to be a source of support and positivity.
"It was heartwarming to see the page be a safe place, a place to grieve for the fellow student," Tatishev wrote. "I have received several messages thanking me for doing it, but in all honesty, it's the community that really made it happen."
Please contact these services if you or someone you know is having mental health troubles or experiencing thoughts of suicide: National Suicide Prevention Lifeline at 1-800-273-TALK (8255) or the Suicide Crisis Hotline at 1-800-783-2433. For NYU Students or faculty, you can also contact the 24-hour Wellness Exchange hotline at 212-443-9999 or 24-hour chat via the Wellness Exchange app.