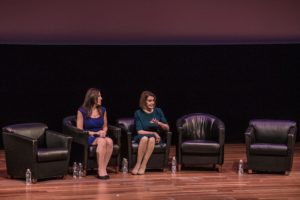 Democratic Congresswoman Nancy Pelosi, the House Minority leader and a focal point of much Republican wrath, spoke at NYU Monday on the role of women in politics, just a few weeks away from the pivotal midterm elections .
About 250 NYU students and community members attended a Q & A with Marianne Schnall, author of "What Will it Take to Make a Woman President?"
They spoke about the increased presence of women at all political levels and Pelosi's personal experiences.
"You have to have diversity at the table," Pelosi said during the appearance. "It is essential."
A record 256 women won Congressional primaries this fall, of which a majority are Democrats. Currently, less than 20 percent of Congress members are women, according to U.S. News and World Report.
Pelosi was the first female Speaker of the House. She recalled a meeting early in her political career with former president George W. Bush and other prominent political figures.
"I remember thinking, 'it's not like any other meeting that any other women in history have been to,'" Pelosi said. "Finally we have a seat at the table – and we want more."
Pelosi said that she wants women to be involved in politics starting at younger ages, because that will give them the opportunity to occupy leadership positions earlier and increase their influence.
Kristen Gonzalez, a 2018 Columbia University alumna, attended the talk. She is a Queens native who works for a nonprofit called Ignite that empowers women to run for public office. Gonzalez said that she plans to run for City Council in 2021.
"I thought it was really incredible hearing someone who has trail blazed," Gonzalez said. "She doesn't do many of these. I think that's important to note. I think she's making a conscious effort to get into spaces like this, with a younger crowd, to give us really good advice. And we appreciate that."
After Pelosi left the stage, there was a panel discussion with four other women involved in politics, including Alessandra Biaggi, the Democratic candidate for State Senate in New York's 34th District, which includes parts of the Bronx and Westchester.
Gonzalez said that Pelosi's talk and the panel discussion resonated with her personally.
"You're going to hear a lot of people tell you no, and you don't hear enough women say that you are ready, that you are competent," Gonzalez said. "Our experiences as women, or women of color, women from marginalized backgrounds, those experiences prepare us and give us a perspective that is so valuable in positions of leadership. I think it was really inspiring seeing those women on the stage acknowledge that."
Many of Pelosi's remarks were words of advice for young women, specifically those planning to be involved in politics. She emphasized the importance of knowing arguments inside out, focusing on the future and being loud enough – particularly in the wake of Brett Kavanaugh's appointment to the Supreme Court.
"You can't get down on what's happening," Pelosi said. "That's just a victory for the other side."
Near the end, she offered one particularly direct piece of advice.
"Be confident," Pelosi said. "The world is waiting for you. Be ready."
Gonzalez, for one, is ready.
"I think it's time for our generation to take the wheel," Gonzalez said. "We've come a long way, but definitely not far enough."