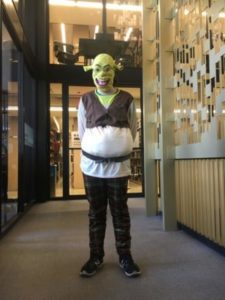 Amidst the sea of regularly clothed students, bloody-axed teens and unicorns rush to class or stop for a bite to eat. Halloween at NYU has arrived, and students have delivered.
Lev Bernstein, a freshman, hung out casually in the 8th floor hallway of Bobst Library in a full body Shrek costume.
"I always wanted to dress up as Shrek, and this is the only socially acceptable day to do so," Bernstein said, slightly muffled through the rubber mask. "Lots of people have been fans, lots of people have also been horrified."
Several other students have similar fearless reasonings for dressing up in costumes ranging from cat ear headbands to an entire Spider-Man suit.
"I feel like most people our age don't dress up anymore, and I just want to normalize that it's okay," Capri Christianson, the aforementioned Spider-Man, said.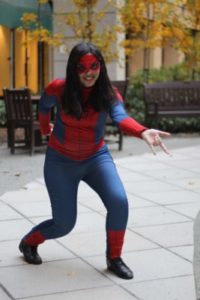 Insecure teenagers often forego the costume tradition of halloween, especially in the harsh light of day. But these NYU students braved classrooms to spread the joy of Halloween. Christianson said her Abnormal Psychology professor called her out in front of a lecture hall of 200 students to comment on her costume, but she's okay with that.
"I think it makes it a lot more fun when you get to be one of the people out there, making people smile," she said. She also feels solidarity with other fellow costumed students. "It takes a lot of confidence to wear costumes because people our age don't really do it."
Sophomore Emily Brown, dressed as one-half of a Dolly the Sheep costume, the first animal to ever be cloned. She said she was initially insecure about dressing up, but is glad she did it.
"Halloween is the day where I can go out and be like, yeah, I'm wearing a sheep hoodie, fight me about it," she said. "It's Halloween, I'm gonna do what I want."
Sebastian Abreu chose to rep the gory aspect of Halloween with an axe headband, but said he hadn't seen many costumes on campus.
"But, I don't care, I love Halloween," he said. He plans to transition to a scarier version later in the night, with fake blood and a hockey mask. "It's gonna get real spooky."
Emery Whiteman didn't dress up, but said that when she sees students on campus in costume it puts her in the Halloween spirit.
"I think it's bold to dress up for halloween, in class, and I appreciate it because I don't have the guts to do it." she said.
Brown loves Halloween because it makes no pretenses to be about anything other than candy, a good time, and costumes. She also referenced the inclusivity of halloween, because for the most part it isn't associated with any religion, history, or culture.
"Anyone can celebrate Halloween, there's no barrier to entry." she said. "It also kind of brings back that nostalgic experience."
Hannah Whitaker, a sophomore and unicorn for the day, said Halloween is an opportunity for stressed out students to have fun, plain and simple.
"It's removed from the world, almost, that we live in," she said. "It's a fun night to just feel like a kid."
Marseja Cardwell went as a Martian due to her nickname, "Mars". She said that wearing and seeing costumes was almost like comic relief from the sometimes overwhelming academic environment of NYU.
The rest of her plans for Halloween?
"More classes," she said.