Adrianne Wright is the co-Founder of women's action group called I Will Not Be Quiet. Wright aims to create an intimate and sacred place for women to discuss the current political and social justice issues. Wright held a rally with the group on Mon., Oct. 1 called #WHYIDIDNTREPORTIT.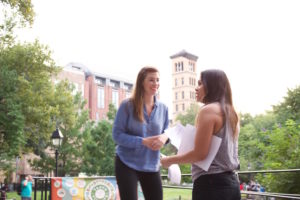 Adrianne Wright, on the right, met with the co-founder of I Will Not Be Quiet, Chelsea Schuster, at Washington Square Park to set up their talking circle on Oct. 1.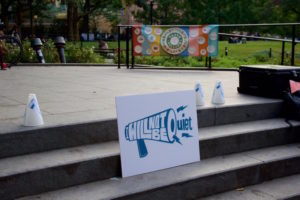 Wright co-founded the women's action group with Schuster in Brooklyn, N.Y. "I wanted to create an intimate and sacred place for women to learn political and social justice issues," Wright said and continued, "And discuss the challenges or experiences they've had, without apology or interruption."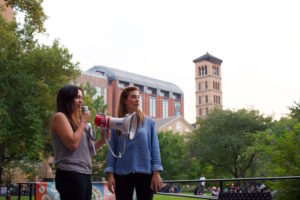 The rally began with chanting "I will not be quiet" with the crowd and "It's not your fault, we believe you." The rally also included readings of anonymous accounts from women who experienced sexual misconduct and assault. Wright hopes that the group will help women feel empowered by the knowledge that they have.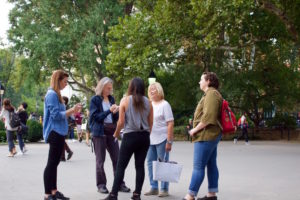 Wright met up with two other women who had volunteered to share their own experiences with sexual abuse. Wright believes that most important thing about hosting a talking circle is to have an open and supportive discussion. Attendees were encouraged to step up and share their own experiences if, they felt comfortable enough to do so. By openly discussing past experiences, Wright wanted to demand belief in these accounts. "We are demanding to be believed," Wright said and continued, "So that when we do report it, they do support it."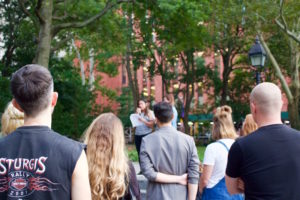 A crowd began to form around Wright as she recounted the details of how she was raped at 16-years-old. Wright explained that she had been knocked unconscious by her attacker in the lobby of a hotel she was staying at. Wright was then raped by her attacker and another man. "I'm angry that I reported it and they [police officers] distorted it," Wright said and continued, "They didn't believe me."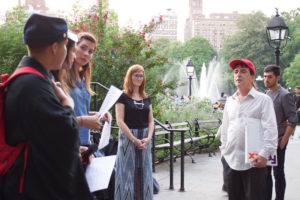 Wright, Schuster and a rally volunteer began a group reading when a passerby interrupted them to say, "But what about the nice men? Not all men are bad. You can't say all men behave like this." In order to maintain the flow of the demonstration, Wright had asked him to keep all questions for the end of the rally. The man proceeded to move to back of the crowd and then walk away.