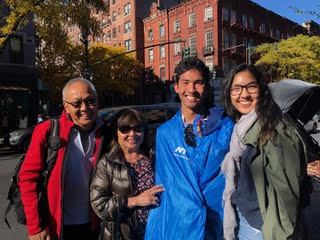 "I was not about to be a jock," said Scott Chow, about resisting his parents efforts to join a high school team sport. Originally drawn to the ultimate frisbee, Chow decided to join the track team to condition, deciding to pursue long distance.
And he's never looked back. Six years later Chow, 20,  ran a time of 2:52:19 in Sunday's TCS New York City Marathon. Chow is a Computer Science Major at the University of California Santa Barbara
Chow, who wants to see the world through running, has a goal to run the six major world marathons: Tokyo, Berlin, Chicago, Boston, London, and New York City. So far he has run the Boston Marathon and the Los Angeles Marathon twice.
At his high school in a San Francisco suburb, he was hooked on running from the first day.  "I was absolutely enthralled with it, it was addictive." said Chow. He was obsessed with the feeling of accomplishment after a run and with watching his time drop.
However he cautions against chasing faster and faster times."People who usually chase the time don't last as long because they tend to hit a plateau and lose interest or get injured" Chow said.
Boston was a hard race for Chow. "I absolutely exploded, I broke on heartbreak hill," Chow said. Heartbreak hill is a series of hills between miles 17-21 and it breaks a lot of people. He remembers thinking in the moment that he couldn't go any more and began to walk. "It still haunts me." said Chow.
His goal is never to simply to finish a race but to excel. Boston tested that, "I was just telling myself, I have put way too much into this, I have done way too much work, spent too much money, too much time, blood, sweat and tears to get to this point and not finish." said Chow.
Chow finished Boston with a time of 3:16:32.
Chow starts his morning off with a run, getting up at around eight a.m to run before morning classes. He feels that it allows him to pay his health dues for the day so to speak, and then he can do what he wants, eat what he wants, for the rest of the day. Running in the morning makes everything else seem like small potatoes, Chow said.
Chow begins training for a marathon around 20 weeks before. There is the daily mileage which is to build up aerobic and anaerobic resiliency as well as resiliency One day a week is the long run which is to build endurance, usually  from 20-24 miles. 
People always tell him that 26.2 miles is an intimidating number, he doesn't see it that way when put in perspective. "It's hard but when you think of the 800-900 miles you run before that, 26.2 is a victory lap." Chow said.
What drives him is the question of how far can he take his passion. "I think I've only scratched the surface of what I can do." Chow said.