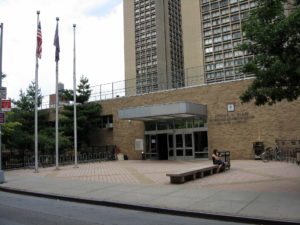 It is a brisk Friday night in December at New York University. Despite the low temperature outside, students are buzzing around campus. Some are headed to Bobst Library to begin preparing for their finals. Others are walking to Weinstein dining hall to grab a quick bite for dinner. But very few students are making the 35-minute trek to watch their school's ice hockey team play at Chelsea Piers Sky Rink.
Even with a population of over 60,000 students, NYU struggles to get students to attend the school's athletic events. With sports teams that play at facilities that are far from NYU's campus, athletics are not a central feature of NYU and often fall on the back burner. The NYU community's lack of interest in sporting events has impacted both the student-athletes and the overall sense of community at NYU.
NYU's Senior Associate Director of Athletics, Janice Quinn, said that one of the main reasons why games are poorly attended is because they are so far away. NYU's Coles Sports and Recreation Center was demolished in 2016, as part of a renovation project, and many of NYU's athletic fields are located outside of Manhattan.
"During the Coles era, we had really terrific attendance at Men's and Women's basketball games, volleyball games, wrestling matches, and events that actually took place at the facility, at Coles," said Quinn. "Traditionally, our outdoor sports have always struggled a little bit because all of those facilities are off campus."
As a result, the morale of student athletes has taken a hit. Olivia Mould, a senior on NYU's softball team said that she thinks this bleak turnout has an effect on her performance on the field.
"The only fans we have are parents, the occasional friends, and the student staff at Palladium." said Mould. "If we actually had fans, just knowing that people care, makes you feel better and makes you push yourself that extra little bit."
NYU sophomore cross country and track athlete, Oliver Jacob, said as a runner, fan support would really help to enhance his performance.
"In track it helps not necessarily to know who's cheering for you, but to hear a lot of cheering gets the  adrenaline pumping," said Jacob.
Quinn said the low attendance has also impacted the overall sense of community at NYU. Through her 37 years of involvement with NYU's athletics department, beginning as a student athlete on the women's basketball team in 1981, Quinn has seen a missed opportunity to establish a community through sports.
"Most people clamor and will report feeling less a part of a community, maybe than they would on other campuses," said Quinn."I think the NYU community is missing the boat on a real opportunity to build a community on campus through sports."
Despite the current low level interest surrounding NYU's athletic teams, Quinn believes that there is still the potential for sports to generate spirit, and create a greater sense of camaraderie and unity on campus.
"Athletics are a well-kept secret of the tremendous spirit of NYU. When other people come to athletic events, they feel a sense of pride in their own connection to NYU," said Quinn. "Athletics can be serving the broader community by providing an opportunity for people to get together, free, in a wholesome, positive, healthy, wellness-generated atmosphere and feel good about what they are doing."