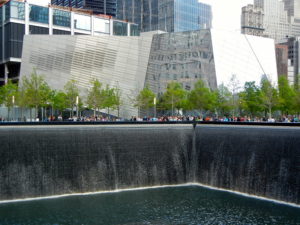 Hundreds of people gathered yesterday around the September 11th National Memorial reflecting pools and thought about the events that occurred 18 years ago.
"I'm almost as depressed today as I was that day," Daniel Powell of South Carolina, said.
 Powell recalled watching the planes crash into the World Trade Center on television 18 years ago, an image that has stuck with him throughout his lifetime. For him, the trend of mass destruction continues, like the Sandy Hook tragedy and other mass shootings that dominate the post 9/11 headlines.
 "It's a disconnect between human beings," he said. "We're responsible for what we do and the choices we make."
But Powell remains hopeful for the future.
"You will always find good people," he said, encouraged by the thoughts and ideas of younger generations.
Powell said that hope sustains him and helps him find happiness. 
"If I give up on that [faith], I don't have anything to believe in," he said. "I refuse to lose my joy, my bliss."
While some people took selfies and laughed, others displayed somber emotional reactions to the memorial. According to architecture graduate student Jacob Parks of Auburn University, the memorial is designed to elicit a variety of emotional responses. 
"There's an evocative reverence while remaining integrated into the city," said Parks. "A memorial doesn't need to be far removed from the everyday, as opposed to a chapel."
As an open park, the memorial can be a part of a commute, serving as both an everyday reminder of the tragedy that occurred, as well as a tranquil place, depending on the relationship an individual has with 9/11.
"We need a place to meet with grief," said Parks. As a piece of grief architecture, the memorial is a prime example of accessibility without diminishing the significance of the event. 
"The memorial is beautiful,"  said Tim Campion, a first responder.
He said the memory of the event is still etched into his mind, the years unable to erase the picture. 
"For the people that were here, every year was just sad." he said. "I had a lady tell me 'my husband's calling me from the pile' and jump out a taxi."
He remembered seeing a person land on and kill another responder he was with.
Campion said the best way to honor the dead is silence.
"The thing about 9/11 is respecting the silence," he said. "The entire place was a ghost town."