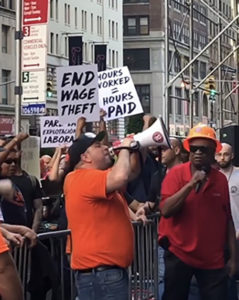 With heads hung low and baseball caps in hand, over 100 union workers gathered in front of the New Line Structures corporate building Wednesday afternoon to mourn the deaths of seven construction workers in the city. Six of the men had lost their lives on non-union sites.
The rally began by reading off the names of the deceased, the moment of silence piercing through Midtown traffic. Joe Scopo, head organizer of District Council 16 of the Cement and Concrete Worker and organizer of the event, then took the microphone to relay the tragedies that many non-union, and undocumented, workers face. 
Scopo listed instances of workers not given harnesses and other proper safety equipment, unpaid labor lasting up to months and minimal protection. He explained to the crowd with fervor that when bad companies hire bad subcontractors, good people can die. 
"The skyline of New York should be built on the sweat, not blood, of its workers," Scopo said. "New York is a union town, New Line we're coming after you." 
The crowd cheered and raised their fists in solidarity. 
New York City construction companies have been increasing their subcontracting to non-union workers because of the rising cost of union labor in America. The immigrant status, often undocumented , of many non-union workers allows construction companies like New Line to exploit their wages, the protestors said. In 2019, 93 percent of on site deaths in New York were on non-union sites. 
"I can't believe it got so bad so quickly for workers as far as so many people dying in the last year," electrician Bill McGrath said. "But the main culprit in worker death is the non-union movement, the anti-union movement in New York City. The more that things become non-union, the more people die, the more people get hurt, and the less people make." 
New Line Structures could not be reached for comment. 
The rising cost of construction supplies and land has skyrocketed the demand for cheap labor. Jobs that have traditionally been all-union are now switching over to non-union subcontractors, most notably the construction of Hudson Yards, which was only the beginning of what is now a movement. According to The New York Times, in 2019 unions have accounted for just 20 percent of new private construction and renovation. 
"We are here because New Line hired another company who didn't pay us," electrician Victor Hernandez, 30, said. "We were working there for more than six months, and they pay us the first three months and the rest they kept saying 'we are waiting for New Line, we are waiting for New Line… wait keep going, keep going.' After three months we quit." 
Socialist Worker Party candidate for Public Advocate in New York and volunteer writer for The Militant, Seth Galinsky, urged the crowd to reach out to public representatives like New York City Congresswoman Alexandria Ocasio-Cortez, Mayor Bill de Blasio and the Department of Labor. 
"I think no worker should die on the job because of the greed of the bosses," Galinsky said. "I came here to be in solidarity with the workers that are standing up. Really they're not fighting just for themselves, they're fighting for the whole working class, and that is really important."