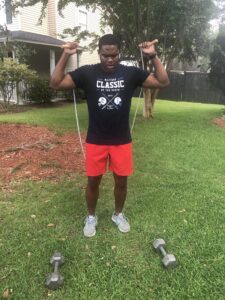 At the 35th push-up, Dante Smith started to fatigue.
Normally his teammates would be clustered around him, urging Smith to complete his set, which usually would reach 50 push-ups. Instead, he was alone, completing the workout in the driveway at his house in Charleston, South Carolina.  If he was at the gym, he would have verbally confirmed the completion of his workout with his strength and conditioning coach. But Smith was in his backyard and now digitally checks off the box on his workout sheet on Google Drive. 
Welcome to the new pandemic age of remote athletic training. Smith is a junior at The Citadel, a military college in Charleston, South Carolina that plays in NCAA's Division I FCS, a subdivision of Division I football. The school is not in the same league as the Power Five conferences–which includes the Alabama's and Michigan's of the college football world–and has to deal with the reality of a substantially smaller budget and less staff members than their football team counterparts.
Smith, along with thousands of other college athletes across the country, are dealing with the effects of the coronavirus disrupting the routine and demands of college life. The new normal in this country, life at home under quarantine, is particularly difficult for a Division I football athlete, accustomed to lifting weights, attending tutoring sessions, and practicing up to four hours each day.
Brent Thompson, the head coach for The Citadel football team, checks in with his players every two days "to make sure no one is sleeping in," says Smith. Other than that, there's not much individual communication with the team's coaching staff. "Our strength and conditioning coach gives us [the team] three workouts per week," says Smith, which is the NCAA maximum amount that they can provide college athletes.
With practices canceled, meetings and training sessions are held virtually via Zoom usually three times per week. All team related events have been suspended at least through June. The stoppage and uncertainty of what happens beyond that is starting to wear on players like him, who are struggling to stay self-motivated absent the hands-on role of coaches. 
"For me and for a lot of my teammates, we don't know what the future holds with eligibility and academics," Smith says. "It changes what you want to do with options and your perspective on things, because we don't know if we are going to have a football season."
Although Smith doesn't have any plans on playing professionally following his career at the Citadel, one of his teammates, junior linebacker Willie Eubanks, is considered by professional scouts to be one of the best linebackers in college football.
"I tend to have a fear that the season may not start on time or the season may have some alterations to it," Eubanks says. "With this being my last year and me wanting to continue my career at the next level, it has a strong possibility to affect my future."
With each passing day, it becomes harder to train without knowing when Smith and his teammates will return to the field. And with coaches and staff not around to supervise his workouts, Smith has to rely on internet-based resources that his coaches have supplied.
Some teammates do have access to training facilities, such as weight rooms or local high school fields. Although they, according to Eubanks, must adhere to a "strict protocol on social distancing."
Donnell Boucher, the head strength and conditioning coach for the Citadel, uses a software called "TeamBuildr" to monitor the training of his athletes. The software allows Boucher to send the football players exercise videos, workout templates, and allows players to digitally ask him any questions they might have about the workouts. While the technology is helpful for players at home, Boucher says that the emotional motivation he gives the players through phone calls or texts is perhaps most helpful during these times.
"We tell our kids the same thing we tell them every day," says Boucher. "Short term focus equals long term success."
According to Smith and his teammates, keeping focus and a positive outlook with training is something that comes with a maturity gained from experience on the team.
"It does suck not training with the team," admits Raleigh Webb, a wide-receiver on the team who will be a senior in the Fall. But absent that, he knows he has to stay with his home workouts.   
Javonte Middleton, a junior kick-returner for the team, can relate. "At first I had many challenges because I was so used to being directed by the strength and conditioning staff," he says. "After a while, I decided to focus on the workouts that are home friendly and now I am working hard at mastering them."
Another issue that affects players is the lack of any helpful training aids from The Citadel. Smith says that the University of Alabama's football team gives its players Apple watches to help maintain and log their daily exercise  routine. "That's a game changer right there," he says. "We couldn't do that at all," he adds, because of the cost of the watches.
The Citadel, along with other Division I programs, are starting to wrestle with the substantial financial blow that will occur if the football season is shortened or canceled. In 2017, The Citadel made close to six million dollars on ticket sales, contributions, and royalties. Clemson University, The Citadel's in-state rival and one of their opponents in 2020, has an average football revenue of 77 million dollars.
Smith understands that The Citadel doesn't have the resources to provide their players with shiny gadgets and fancy training materials, so he appreciates that the coaches are trying their best to keep in touch with players on a consistent basis.
"As a coaching staff, we have stressed keeping a schedule as close as it would normally be to your daily on campus schedule," says Coach Thompson.
Although he is struggling to maintain his own motivation, Smith says he is frequently checking in with his fellow teammates to offer encouragement and a sympathetic ear to anyone that is having similar difficulties keeping up with their training regimen.  "I am a leader on the team, a squad leader, so I am holding some people accountable and I have to reach out to them and provide assistance if they need it," Smith says, who mentions that he gives workout or academic advice via text or phone calls. "A lot of them don't need it, but  it is just checking in and giving them moral support."
In addition to the onsite training support that has been lost during the pandemic, Smith says he pines for the camaraderie of the team. "I miss some laughs and time with the boys, because that is why you play football and why you do [military sacrifice] what you do for each other," he says. "I guess that is why The Citadel connection is so strong. I do miss that."
Having the season possibly wiped off the calendar is something Smith says he has thought about. Yet he is hopeful that life will return to some form of normalcy by the end of summer so that he and his teammates can continue to do what they love– playing collegiate football. 
"Right now, I think we are going to have the season, but I think it is going to be delayed without fans present. Or there is going to be a capacity of fans," Smith adds. "That's crazy, man. Who would have thought?"