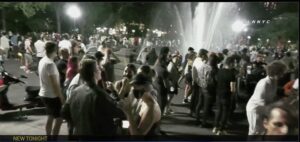 After months of isolation and social distancing, most NYU students want a safe, secure school year— but multiple weekend parties at Washington Square Park raise some concerns about the potential spread of COVID-19 on campus.
"I was shocked that people could even think about throwing these huge parties in the middle of a pandemic," CAS student Alexis Nwatu said.
Eyewitnesses that were near the park festivities documented large crowds, dancing, singing, and inconsistent mask wearing.
"During the past couple of weekends in the evening, the park has been home to the kind of unsafe activities that has led to the spread of COVID-19 in other settings," NYU's President Andrew Hamilton said in an email.
Hamilton explained that while it isn't quite clear how many of the people seen at the park were NYU students, it's important that students are aware of "health rules" as well as "the risk of large crowds".
"I'm hoping that students here at NYU keep their distance from the parties in the park— and parties in general," said sophomore Kelechi Nnaji. "I want people to be safe. There are schools out there that have hundreds of Coronavirus cases because of stuff like this."
Recent videos from various universities have surfaced showcasing students hanging out in large gatherings without masks.
The results have been hundreds of COVID-19 cases in universities like The University of North Georgia, The University of Alabama, The University of North Carolina at Chapel Hill, The University of Washington, and more.
The fast spreading virus has led to students being forced to evacuate their dorms and switch fully to remote learning. In order to avoid the shut down of schools, health experts advise that colleges enforce COVID-19 prevention tactics which includes: social distancing, mask wearing, and avoiding big gatherings.
All members of the NYU community are required to take weekly or bi-weekly COVID-19 tests for the duration of the Fall 2020 semester.
There have been 43,833 tests conducted since August 1, and only 120 people have tested positive. The percentage of total positive cases since August 1 is currently 0.27%.
To reinforce the messages of safe practices, NYU stated that they will continue to directly update students about health rules, specifically about the risk of big gatherings and dangerous ongoing activities taking place within Washington Square Park.