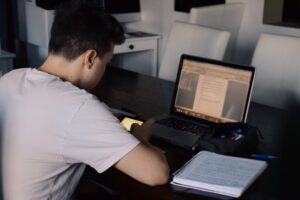 Back to school for international students in their home countries means Zoom classes in the middle of the night and a fight to stay awake. 
Vish Yadav, an New York University student  is back home in Pune, India and dealing with time zone changes that make attending and being alert for classes a struggle. He said that, for him, Zoom classes mean staying up all night.
"I wake up in the afternoon, have classes from evening till late night," he said. "Then do my homework, reading, and studies all night before sleeping at sunrise." 
As a result of the coronavirus pandemic, NYU has tried to reduce the amount of students on campus by adopting a hybrid study model. This means that students now have the option of going to classes online from home. For many international students, especially those with travel bans on their home country, these online classes have become their only option.
International students make up 28% percent of NYU's student body, setting the record for the U.S. university with the largest international population. With the abundance of international students, there is now an abundance of locations that NYU classes are held in – and an abundance of new problems. 
Time differences are just the tip of the iceberg. With India currently holding the highest rate of new deaths and cases in the past two weeks, Yadav has started to notice how the crisis could soon start to negatively affect his studies. 
"It's been hard to focus, " he said. "There is a constant feeling of uneasiness and nervousness. Dread and anxiety about COVID. Hearing that some of my friends and family got infected. A few deaths of loved ones. It's been a real struggle, emotionally and physically draining." 
He said that  travel within India has been highly restricted. Classes would be impossible if the internet at his house was to suddenly go out. For power conservation, during India's monsoon season this will happen all day once a week.
Frances Zhang is a student now studying at NYU's Shanghai campus through NYU's Go Local program. Her in-person classes take place in the evenings from 5 p.m. to 8 p.m, but her online classes take place at 4 a.m. 
"Even though the teachers say that recordings are provided, it's a bit different when recordings are provided. I may not go watch the recordings," she laughed.
Aji Lawal, an NYU student currently based in Lagos, Nigeria, has also had issues due to travel bans in response to COVID. 
"It makes it difficult to send and receive packages in the mail from the USA, which is important for two of my classes for which I need specific supplies," she said. 
Like all other NYU students, international students have also had to adapt to Zoom itself. 
One of Zoom's biggest issues is that it doesn't invite discussions as an open classroom can. Professors are frequently unable to see larger classes in one page, particularly while screen sharing, and students often have their microphones and cameras off. This can make it harder for professors to gauge interest or confusion, and harder for students to converse and ask questions.  
"It's a lot less interaction with my peers and my professors" Zhang said, adding that it can feel more awkward to talk on camera since it's often hard to tell if others are really listening.
Furthermore, it can be harder to focus in class when sessions are condensed to a small screen which can be muted and minimized, especially when outside concerns and distractions are present. Both of Lawal's parents fell ill over the summer, and she had to deal with extreme financial complications as a result– with all the chaos already present in her life, Zoom classes were hard to prioritize. 
"My first few classes were confusing for me," Lawal said. "I just couldn't wrap my head around how I'm meant to learn and retain information."
But Yadav and Zhang appreciate Zoom classes' convenience, as they no longer have to travel or prepare as much for class. 
"I have anxiety, and being in class with other students was lowkey stressful," Lawal said "I personally prefer online classes because it's a more relaxed setting."
Like anyone else, international students all have their unique struggles. The solutions to the issues they face with remote learning are just as diverse as the students themselves.
"NYU could have international students fill out forms that explains their exact needs for this semester, and they can try to fulfill however much of students' needs their budget covers," Lawal said. "COVID is a pandemic that is disproportionately affecting people. There is no one easy way to 'accommodate' international students."
Being mindful of time differences, the most universal problem of remote students, would also help a lot of people.
"Maybe just check in on us if you are a professor," Zhang suggested. "If you can, maybe just open a timed Zoom session for international students to walk in [and ask questions]." 
Ultimately, the biggest aid NYU could provide to international students is consideration and understanding for their situations during such a chaotic time. 
"[International students] are away from home, in a foreign land, for a better education and future. If things were to go south, they often have very limited to no lifelines," Yadav said. 
He wants the student body to be more aware of the pandemic. 
"If NYU were to close in-person classes again, international students would be displaced the most." Yadav said. "All most of us really have in the United States is NYU."