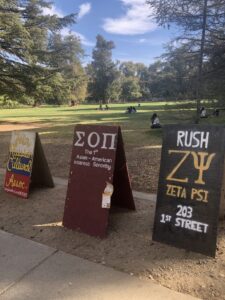 As the Covid-19 pandemic looms large, New York University fraternities are keeping the rush process alive by using social media and online platforms like Zoom. 
According to the NYU Interfraternity Council (IFC), the governing body for most fraternities, all official fraternity events and activities must be done online to stop the spread of Covid-19. Delta Lambda Phi (DLP), the only gay fraternity at NYU, is navigating these regulations as they undergo their rush process.
"Originally, IFC left an open-ended area for us to be able to meet outside socially distanced, but now they've restricted [our interactions] even further to just online," said DLP President Andrew Schlager. "Which has made it really hard for us." 
Vice President Robbie Gutman, who is in charge of educating new and potential members about DLP rules, shares this sentiment.
"It's only made the rush process more difficult," he said. "It's harder to engage people over a screen than in person. When you're behind a screen, you don't really see everything like body language, so it's hard to really understand a person."
Rush Chair Andrew Rodriguez has found it difficult to do his job in light of the virtual semester.
"I don't think I'm doing my job very well. I think the rushees all think we're boring because we're only engaging with them via Zoom," he said. "They don't really know what we do as a fraternity, and they're not able to see how we function in person." 
There are seven students rushing this semester, which is comparable to past years. The fraternity has not seen a decline in rushees, but some on the executive board fear there may be issues in the future concerning the level of commitment among new members.
"I'm worried about how this is going to work in the long run," said Schlager. "I think people are going to start questioning membership in a social fraternity that is online, because at the end of the day you don't have the same yield of happiness or the same resources as before."
During a normal semester, the rush chair organizes several events. In past years rushees have participated in costume contests, scavenger hunts around New York City, and meet-and-greets in Washington Square Park. None of these events are happening this semester.
"Pretty much all you can do on Zoom is talk," said Rodriguez. "We've tried doing slideshows with trivia games. But I think being virtual is also an incentive not to do anything, and not rush actively because they know they can't do anything [in person] this semester. I think [the rushees this semester] are less interested."
Social media has helped save DLP's rush process. After all IFC fraternities were barred from rushing last semester due to rampant hazing allegations, DLP leaned into their Instagram presence and promoted mixers – events where interested students wouldn't technically rush the fraternity, but would get the opportunity to hangout with active members.
"A handful of the rushees we already knew because last semester [before Covid-19] we had mixers," said the president. "With our drag show, our philanthropy fundraiser event, last Spring we had two people who performed who wanted to rush and that's how they learned about the fraternity."
Instead of focusing on virtual events like Club Fest to recruit students, DLP relied on networking socially and social media.
The future of DLP's largest event, Health Outreach to Teens (HOTT) Drag Race is in limbo. Members of the fraternity and other students perform in drag to raise money for a free and low cost medical care program geared toward LGBT teens and adults. 
"We're trying to plan Drag Race for the spring," said Schlager. "The only possibility of it happening in the spring would have to be an outdoor venue with social distancing. It's realistically going to be next fall once there's a vaccine and once regulations are lessened in New York state. I think it's unlikely right now that we'll have it in the spring."
"I hope Drag Race will be the same [as past years] and in person, because that's really important to us," said Gutman. "We might have to push it back, but I think it's important to be optimistic."