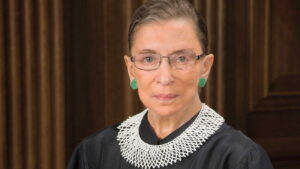 Ruth Bader Ginsburg, who died last week at 87 after complications with metastatic pancreatic cancer, changed the way the law sees gender and in doing so, inspired generations of women to fight for their ideals. 
Ginsburg became an unlikely pop culture icon in her 80s. She was affectionately dubbed the "Notorious RBG" which allowed her to inspire change beyond the chambers of the Supreme Court. Ginsburg energized a new generation of young people, particularly women, who felt motivated by her inspiring life story and fierce dedication to truth and progress.
"RBG has been a major influence and role model in my life," said Jessica D'Agostino, a sophomore at the University of Michigan studying psychology. "She is a constant reminder and encouragement that we can all do it. We must." 
D'Agostino, who shares a Jewish heritage with Ginsburg, emphasized Ginsburg's dedication to fighting for all people — and how that commitment is what she believes the femenist movement is all about. 
"RBG fought for women, men, people of color, the LBGTQ+ community, the Jewish community and beyond," she said. "She is the icon I use as my main argument against people who say feminism is extremism."
Ginsburg famously said of her commitment to women's rights, "I ask no favor for my sex. All I ask our brethren is, that they take their feet off our necks and permit us to stand upright on that ground which God destined us to occupy." 
On the Supreme Court, Ginsburg advocated for equal rights in the eyes of the law. She spoke openly and candidly about ascending to the highest ranks of the Judicial system as a woman and mother of Jewish heritage.
Her decades-long career, both as a litigator and Supreme Court jurist, gave women the right to sign a mortgage without a man and have a bank account without a male cosigner, among other titanic achievements. On the high court, her dissents were notorious for searing yet careful language — bringing nuance and finesse to the important issues of our time.
Jessica Kaden, who studies pre law at Cornell, Ginsburg's alma mater, reflected on Ginsburg's steadfast commitment to the pursuit of justice.
"Politically, she was such an amazing woman because she broke barriers, as the second woman ever appointed to the Supreme Court," said Kaden. "But she was also just so smart. She taught at Rutgers. She was the first female professor to ever be tenured there, and she had this insane career all while raising a family."
Even before ascending to the Supreme Court, Ginsburg's dedication to gender equality was unwavering.
"She brought many cases before the Supreme Court as a lawyer. And she won five out of the six  she brought there," said Kaden. "There was this one case of this widower who was very young, and Ruth was persistent. She never backed down from a fight. She's my hero." 
Ginsburg maintained a strong relationship with Justice Antontin Scalia, who was a staunch conservative voice on the court and often sparred with Ginsburg on legal philosophy. Many point to their friendship as a testament to open-mindedness, a trait some would say is lacking in today's political discourse. 
"The friendship between Ginsburg and Scalia gives me hope that, one day, our country will be able to see past the hyper-partisan divide of left and right, and ultimately be able to come together as human beings," said Caitlin Kresta, a sophomore studying Drama at NYU. 
"Their friendship is an ode to the ability to work toward the greater good, no matter your world view."
Ginsburg often pointed to her marriage with Martin D. Ginsburg as a key tenet to her success. At a time in history when gender roles were pervasive in marriage, the symbiotic relationship between the two lawyers and Cornell graduates is particularly striking. 
"She talks a lot about Martin and their marriage in her book and in the documentary," said Kaden. "They made sacrifices for each other. She didn't want to aggressively go after being nominated to the Supreme Court, but her husband pushed for it. He spoke to Bill Clinton on her behalf." 
D'Agostino said Ginsburg's influence will have long lasting effects on the pursuit of justice.
"She emerged as a pop culture icon because of her badass, notorious dissents, and her ferocity," she said. "Her bun, collar, and glasses mean so much more now. Super diva forever."