Students at universities across the country are grappling with the time-sensitive decision regarding whether to vote in person or by mail in the upcoming presidential election on Nov. 3.
With the election days away and the COVID-19 pandemic still raging in many regions, Americans are faced with two important decisions this November. Not only must they decide who to vote for, but they also must decide how to do so.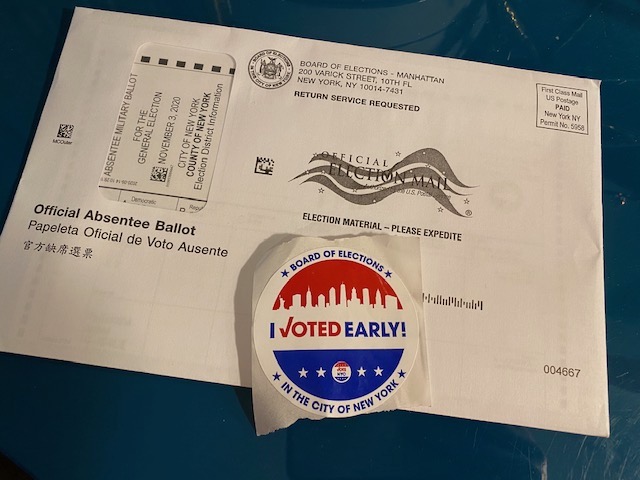 In previous election years, voters had been given the option to cast their ballot by mail if they were unable to make it to the polls on Election Day. This year, however, record numbers of Americans are opting to vote by mail due to the looming danger of COVID-19.
In an Oct. 22 Instagram poll, which surveyed over 500 college students from across the country, 67% of student voters reported that they have opted to vote by mail in the upcoming election. However, students are reaching this decision for a variety of reasons.
Audrey Toscano, a journalism student in her first year at North Carolina's Elon University, has already cast her vote through the use of a mail-in ballot. Like many other college students, she is attending school hours away from her home in Princeton, NJ which impacts her ability to make it to the polls in person. However, Toscano has also convinced her mother, grandmother, and other older relatives to mail in their ballots based upon COVID-19 concerns.
"I feel like people will definitely be super reckless when going to the polls," Toscano said. "They'll just be inconsiderate to other people and not wipe down their station or use hand sanitizer. I feel like they would just kind of go in and out and not really think of the other people to follow. And that's, honestly, very dangerous."
Although many have decided to vote via by mail and some have even done so already not all college students have arrived at the same conclusion.
Grayson Marlow, a sophomore at New York University studying photography and journalism, will be casting his vote in person on Election Day. Marlow, who is currently attending classes online from his home in New Rochelle, N.Y., cites both distrust in the postal service and the desire to cast his first vote in person as his primary motivators.
"I think with all of the news about USPS and potential scandals behind that, I think for me I just want to know that my vote is in and that it's being counted," Marlow said, referring to the U.S. Postal Service. "It is my first time voting in the presidential election and I kind of just want to do it in person."
Many college students consider voting in person to be a low-risk activity in terms of contracting COVID-19.
Maria Mastoris, a freshmen at West Chester University of Pennsylvania studying business management, will be present at the polls on Election Day.
"I work at a restaurant and we get exposed to people all the time, even when you're in the grocery store, so why would the polls be any different?" Mastoris said. "I want my vote to count. And if anyone is posing the threat of my vote not counting, then I have a problem with that."