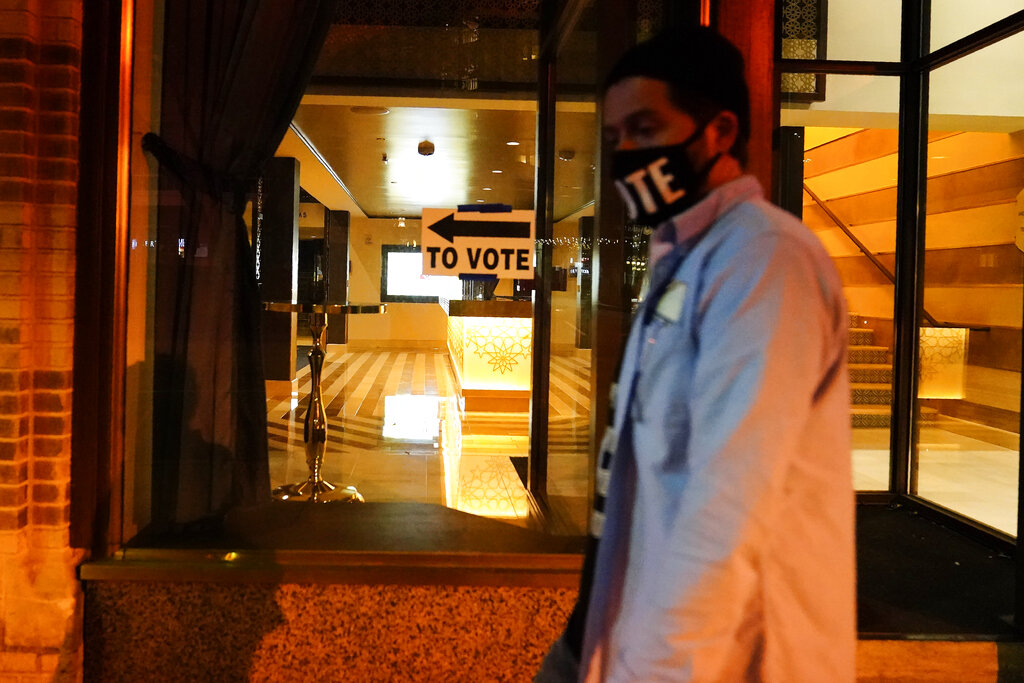 Across the country, millions of American college students in Red states and Blue states cast their vote for the first time in a pivotal election, marked with a sense of unease and unpredictability. 
Issues like racial equality, reproductive rights, climate, and others, drove young voters across the country to turn out in historic numbers for this year's 2020 Presidential Election between President Donald Trump and Democratic nominee and former Vice President, Joe Biden. There has been a groundswell of voter turnout among the country's youngest with millions that have cast their ballots early and in person, hoping to be able to sway the outcome in 13 key battleground states. 
And now they are bracing themselves for what the outcome will be as votes continue to be tallied. 
Here's a look across the country of how college students are feeling about this year's Election — and all that's at stake: 
ARIZONA 
While many young voters in Arizona are hopeful for a Democratic win, they are steeling themselves for the civil unrest that may follow. 
Arizona State University sophomore Lauren Hemesath said she would not be surprised if violence ensues from conservatives who are "very adamant about arming themselves" after the results come in. 
In recent weeks, she has seen fleets of trucks with pro-Trump paraphernalia and confederate flags as she passes by roadside shops selling merchandise. "These people are there when I go to work at 8 a.m. and I see them with large bright lights still out there at 7 p.m.," said Hemesath of the dozens of cars lined up with many not wearing a mask.  
– Jaime Cao
FLORIDA 
Young Floridians say they have faced uncertainty throughout this entire election cycle from worrying about whether or not mail-in ballots will be delivered to polling stations being changed without warning. 
And while the Sunshine State did its part on Election Night, awarding all 29 electoral votes to Trump. There's still a sense of unknown that lingers among college-aged voters as the rest of the country awaits the final outcome.
"That's something that definitely heightens the anxiety, we're not getting an answer tonight, and we might not tomorrow either, and who knows if we will for a good long while honestly," said Erin French, a 20-year old Sarasota County native and voter.
– Jenna Elsetouhy
GEORGIA 
Kate Porterfield, a senior at New York University from Marietta, Georgia, is worried about all the ways the management of the election could go wrong — and whether her own vote will even be counted. 
"Since our state is notorious for throwing out votes after our gubernatorial one in 2018, I felt like I was checking my status every couple of days, [and] it took like a month," said Porterfield, who votes in Cobb County, one of the nine counties that make up half of the state's active voters. 
Georgia has a long history of voting discrimination. Its State Election Board has been criticized for a disproportionate amount of polling locations in predominantly Black counties even though Jim Crow-era laws have been erased from the books. 
– Lola Proctor
IOWA 
Andrew Thomspon, a junior at Drake University studying Political Science, is yearning for a return to normalcy after four chaotic years under the Trump presidency. 
"I don't remember what normal is supposed to look like since I'm 20," said Thompson, who woke up early on November 3rd to cast his ballot for the first time in a Presidential Election. "But a little of that would also be refreshing." 
– Zachary Lee
MICHIGAN 
Kamali Clora, a Black college student, found himself reflecting on the country's "division and hatred" during these past few years, most especially over this summer that has brought with it a heightened level of exhaustion. He has felt at times having to stay "constantly alert and constantly on guard."  
"The country is so divided right now and I think that what we can do is unite, but unite by understanding that we have more in common than what divides us," Clora, a 21-year old studying public health at Wayne State University said. 
He worries that Americans are increasingly losing their ability to respect diverse mindsets and to "think outside [their] boxes." Adding, if they did, maybe policymakers could create more "inclusive solutions." 
– Bella Park
MINNESOTA 
Nimene Wureh, a sophomore at New York University who is studying remotely from Minnesota, says she worries that voter suppression may continue the state's patterns of discrimination against its marginalized groups. 
A recent federal appeals court ruled that mail-in ballots must be received no later than Election Day. Voters were encouraged to drop their ballots at designated drop-off locations by 3 p.m. on Election Day or forfeit their absentee ballot to vote in person. 
"At City Hall, they let you vote if you're waiting in line after they've closed, but that's not going to be an option for people who can't go in person," said Wureh. "With George Floyd being murdered and Philando Castille shot with his daughter in the backseat, the divide has been very clear."
– Nicole Ly
NEVADA 
Young Nevada voters are also struggling with the lack of a candidate who appeals to all political parties. 
"I think that this year we have candidates that are polar opposites," Keighley Bader, 18, who is virtually attending Arizona State University from her home in Reno said in a phone interview on Election Day. "You could not get farther away on the spectrum." 
Bader believes the nation needs a candidate who is not afraid to share diverse and nuanced views, especially if such views travel across party lines. 
"It's like, well, who's not as bad," she said, referring to the current presidential candidates. "We shouldn't be voting like that for the President of the United States."
-Matigan King
NEW HAMPSHIRE 
Open carry laws have college-aged voters in New Hampshire also worried about possible voter intimidation. Such firearms are allowed to be carried into polling places, sparking fears of potential violence as voters commit their civic duty.
"Voter intimidation will not be tolerated. Voter intimidation is a felony offense, it is something that is reportable to our office that we can look at and prosecute," said Assistant Attorney General Nicholas Chong Yen, who leads the state's Election Law Unit. 
Despite this reassurance, voters are still fearful of an armed presence at the polls.
"There are rumors that pro-gun groups and far right groups are going to show up to intimidate people at the polls, which could definitely scare people from showing up to vote" said Dartmouth College senior Cait Deerin.
– Elizabeth Marquis
NORTH CAROLINA 
College students who are increasingly anxious about their first Presidential Election are doing everything in their power to sway their peers' right-leaning opinions and get them to vote.
Mackenzie Samagio, a first-year student at the University of North Carolina Charlotte helped to register a friend to vote for this year's election.
"My friend said he didn't have time to vote, even though he was registered," said Samagio because of his classes. "I was the one who registered him [to vote] and requested his absentee ballot for him." 
– Tripp Fuentes 
OHIO
But for others in the Midwest voting is a personal duty. 
 "I needed to vote for myself," said Nicole Bell, a recent graduate of Ohio State University. "If I didn't vote or something, I would feel it was partially my fault." 
Bell, like many, hopes things can get back to normal after the chaos of 2020.  
"I'm hoping it will set the stage for America moving in a better direction, we're basically the laughing stock of the world," she said.
–Genesis Rosich
PENNSYLVANIA 
Meghan Hayes-Fischer, a sophomore at the University of South Carolina who voted by mail as a Pennsylvania resident, says she knows her vote is important in this battleground state that has captured national attention. 
That's why she is worried about whether or not her vote will actually be among those counted. Her absentee ballot only arrived at her South Carolina address several days ago.
"I wish I was in Pennsylvania so I could vote at the polls, because it kind of felt like I didn't even vote at all," Hayes-Fischer said. "I had such an issue receiving my own ballot that I'm scared they won't even receive my ballot back from me. So I don't really feel good about it until I get that notification on my mail-in ballot saying, 'It's been received,' which I haven't gotten yet."
– Claire Campbell
TEXAS 
For Michael Brown, a third-year student at Stanford University, he worries Americans won't ever be as engaged with the political process as they are today in such a high-stakes election. 
"I'm really concerned that we will never have this level of engagement again," said Brown. "I don't think people will care this much about an election again. I study Political Science all the time, but it seems like nowadays, some people just want to be political scientists for the election." 
And while the nation remains divided between two political parties, young voters are hopeful that under a Biden presidency the focus can be on the issues and the work that needs to be done rather than constant disruption.
"A Biden presidency is just about a return to normalcy," said Brown. "A transition from chaos to a period of balance."
– Ivy Zhu 
WISCONSIN 
Gordon Leech, a student at Trinity College and a Wisconsin resident, is unwavering in his belief that citizens need not vote if they do not feel compelled to. 
"A lot of people tell me that it is my civic responsibility and our forefathers died for our right to vote," said Leech. "While I definitely agree that they did and that is something I appreciate, I think they died for a lot of things that we don't hold up today. They not only died for our right to vote but also for our right not to vote." 
Uncompelled by either candidate in this year's election, Gordon Leech decided to abstain from voting altogether. 
"Neither candidate represents my views or what I believe. Neither candidate is a person I would want to put my stamp of approval on," he said. 
– Antonio Pelaez