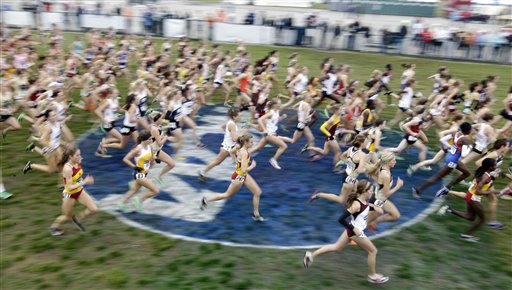 What would you give up to be the best at your sport? Sleep, money, a social life?
For many runners, the answer to that question is food. There is a common myth that the leanness of a runner's body equates to the ability to run faster, which has promoted eating disorders within the running community.
Take Miranda DiBiasio, for example, a former Division I runner at George Washington University (GWU) who gradually started undereating in high school before her habits snowballed into a disorder.
"It started as very innocent, like decreasing the amount of times per week that I had dessert," said DiBiasio.
According to a 2019 study that examined self-reported data from NCAA student athletes, it was discovered that aesthetic sports that glorify an athlete's body are reported to have a risk range for eating disorders between 24%-73%, as compared to the 9% eating disorder risk for the general population.
"I think the reason that these disorders are so pervasive in collegiate running especially is because runners for so long have grown up believing that runners look frail, thin, with no muscle, no fat, like small stick figure people," said DiBiasio. "This is still what we see at, and high-level competitive running."
Heather Caplan, a runner and registered dietician, explained runners often view food and nutrition as the sole means to achieving their athletic goals, which can lead to disordered eating patterns.
"Some athletes sort of look at nutrition as a silver bullet to being a different type of athlete," said Caplan. "While it certainly can help support athletic goals and support athletic performance, it's probably not going to drastically change anything that we're genetically predisposed to."
When DiBiasio started at GWU, she increased the volume and intensity of her running, but her relationship with food started to go downhill.
"I had these crazy high goals for myself," said DiBiasio. "I thought that the way that I get there is by eating less, being lighter and fitting into this physique that young runners tend to fall victim to."
For most of DiBiasio's collegiate running career, she was able to excel as an athlete, despite her disordered relationship with food.
"I'm going to be completely honest, for my first three years of college, my eating really didn't have a negative impact," said DiBiasio. "I think that was part of what kind of kept it fueled, that desire to continue my disordered relationship with food because, you know, I wasn't getting injured."
Finally, in the summer before her senior year at GWU, DiBiasio's disordered eating habits caught up to her.
"At the end of the summer, I suffered a very severe stress fracture in my pelvis," said DiBiasio. "I completely cracked it, just from overuse and, and found out that I had osteopenia, which is the precursor to osteoporosis."
Caplan discussed how osteopenia is dangerous because it can negatively impact bone building hormones, such as estrogen and progesterone, and weaken bone health.
"I've had clients who are as young as 19 or 20 that are diagnosed with osteopenia," said Caplan. "Some of these 20-year-old athletes have the health of a 60-year-old and that's largely due in part to restriction, but then also not having a hormonal balance of estrogen and progesterone."
Osteopenia is among many of the health risks associated with runners who are undereating. Frequently, runners who are undereating develop secondary amenorrhea which is when runners lose their menstrual cycles because of over-exercise, extreme diets, and low body fat percentages.
"With amenorrhea, we see that there are risks for cardiovascular health and long-term there are some really serious risks for bone health," said Caplan.
Despite the prevalence of secondary amenorrhea within runners who are undereating, the topic has been largely dismissed and ignored by doctors.
Andie Cozzarelli, a former Division I cross country and track runner at North Carolina State University (NCSU), was frustrated with the lack of attention her doctors paid to her secondary amenorrhea.
"For so long I felt unheard by doctors I had seen about my secondary amenorrhea," said Cozzarelli. "There weren't a lot of conversations around women in sports and the implications of losing a period. It was somewhat of an ignored or downplayed problem."
Cozzarelli worked with an endurance holistic health and endurance coach, functional doctor, a clinical sports psychologist/therapist, and a dietitian who specializes in helping people with eating disorders in an attempt to help her regain her menstrual cycle and restore her relationship with food.
'For me, understanding what was happening helped me to be open to making the change," said Cozzarelli. "I have since learned that in due time your body begins to recognize when you are fueling it right and it re-learns how to utilize the resources you are providing appropriately so that you can feel good and better recovered in training."
Cozzarelli was ultimately able to recover from secondary amenorrhea and her disordered eating habits with the help of the many aforementioned professionals. However, she also highlighted the importance of other runners sharing their stories in her recovery.
"There is no shame in saying you have an eating disorder and need help," said Cozzarelli. "I also found stories of athletes who I could connect with and see overcoming similar struggles and it helped me to see what was possible."
Kylie Oblak, a Division III runner at Hamilton College, is one of those runners using her platform to share her story of recovery and inspiring others to recover. She has garnered a following of over 2,000 people on her instagram account, @fuelingmilesofsmiles, and started her #bigdogsgottaeat movement.
"The running community has been making huge strides in spreading the importance of fueling, and I am so grateful to be helping to be an advocate for these messages," said Oblak.
Although running frequently leads athletes to develop disordered eating habits, running helped Oblak overcome her complicated relationship with food.
"I think the common perception is that girls entering the running world mistakenly think thinner equals faster, and then they develop an eating disorder and while this surely does happen, I almost think it's more the other way around at least it was for me", said Oblak. "Finding running was actually healing for me, because I was working towards something positive: being a good runner, instead of destroying myself through restriction."
Oblak came up with the idea for her #bigdogsgotta eat movement after her high school coach told her the only way that she could succeed was if she fueled herself properly.
"My high school coach was the first person who ever told me that Big Dogs Gotta Eat," said Oblak. "I constantly reminded myself that when going through the recovery process and when I started competing in my healthy body."
The most rewarding part of Oblak's instagram account has been the messages she has received from runners that she has inspired to pursue recovery.
"The movement did not fully start until other girls started messaging me that my words were so healing for them," said Oblak. "With that, I realized that I could use my experiences as a way to inspire others."