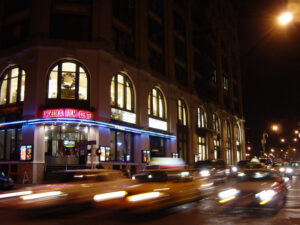 Lauren Williams, head of operations at Metrograph, one of the first theaters to close its doors in New York City, had no idea it would be more than a year before she could ever walk back into the famous independent theater in Chinatown.
"I went in on the last day to close," said Williams. "This was something so new. We went from reserved seating to blocked seating to completely closed. I remember we gave the extra food out to the workers."
Metrograph remains closed today. It has prioritized safety and logistics for the theater's team and audiences, promising that it would be in touch with updates to eager moviegoers. 
But it has come at a cost, not only for Metrograph, but for some of the biggest theater chains.
AMC, one of the world's largest theaters, along with Cinemark took huge third-quarter losses due to the pandemic. AMC saw a 91% decrease in revenue for the third quarter, while Cinemark, the third-largest cinema chain, saw a 96% drop in revenue. 
AMC did not respond to multiple requests for comment.
More recently, big theater retailers have taken advantage of the recent reopening of New York theaters to open their doors to more business along with many indie theaters. Movie theaters were allowed to reopen with 25% capacity as of March 5th.
As theaters remained closed this past summer Sebastian Zufelt, a freshman studying Film & TV at New York University found a creative way to fill the void of a summer sans the big screen: write and film his own short film "Noah & Annie."
"The filming process during Covid definitely required some adjustments," said Zufelt. "I wrote a story with the Covid restrictions in mind, knowing that there wasn't going to be a lot of movement and different locations. Everything was very contained. Some extra money had to be put aside for masks, gloves, and other safety precautions. Actors always wore masks when we weren't filming."
And while theaters may be opening up Zufelt warned audiences may wait a little bit longer.
"Even though theaters are reopening, that doesn't mean people are still going to go. I just got back from a movie at AMC," said Zufelt. "It was just me and my friend in the theater."