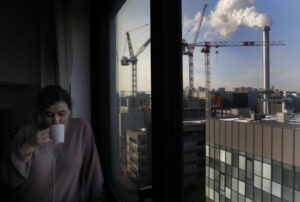 A year ago, ninety, bleary-eyed New York University students living in Paris were told they had 48 hours to get on a flight home or risk being stuck in France as a deadly virus spread like wildfire.
Fast asleep in their dorms, they were awakened at 3:00 a.m. with phone calls, furious knocks on dorm room doors and crying in hallways. The United States had suspended all travel from the European Union for the next 30 days.
For some who had only started college less than two months earlier, they now had to act fast. A mass exodus ensued.
Black taxi cabs pulled up every 20 minutes until the sun rose despite pricey flights. Students hastily left an experience knowing they'd probably never get back.
The mid-semester havoc for some NYU students has left the future of ever studying overseas mired in uncertainty.
For sophomore, Justin Racine, who got sent home last year, the academic disruption has felt like "unfinished business," but for others, it's become an educational opportunity that no longer feels like a priority.
Collegiate study abroad programs have felt the full brunt of the coronavirus as the pandemic unfolded over the past year, and a prospect of a full return any time soon seems far off.
"Changes in study abroad will mirror what we see at home. Normal is a ways away, it will be a gradual process that takes years," Josh Taylor, Associate Vice Chancellor of Global programs at NYU said.
Post-pandemic programs could take on many forms as different locations around the world recover at different rates. So much will depend on vaccination efforts, safety, and logistics along with visas and travel restrictions.
Some universities may adopt a hybrid-setting mirroring today's classroom experience. Some may be fully in-person. While other schools may offer options at domestic locations.
For most students, the decision to study abroad in the future may end up having nothing to do with safety and the experience. Instead, they may be more focused on what they are missing out on at home.
Students who have long-dreamed of going away no longer seem to have an interest, because of lost time from their traditional college experience over the past year.
"I have never even conceptualized my college experience without study abroad," said Ava Rossides, a sophomore at Georgetown University. "I assumed it was a given. It's been weird to come to terms with the fact I will not be doing that."
Arizona State sophomore Sophia Corridan is also unsure how a semester overseas now fits into her four-year collegiate experience.
"Since COVID hit, I just don't know how to make study abroad work," said Corridan. "I want to take advantage of the normal time and opportunities I have at ASU. It doesn't fit into my academic plan anymore."
On the other hand, for others, the value of a global education will always be irreplaceable. It's an opportunity for students to appreciate diverse perspectives, recognize their connection to the wider world, and effectively communicate with different cultures.
"One of the most significant and intangible impacts of studying abroad is participants' increased understanding of their own cultural values and biases," according to Institute for the International Education of Students, which offers students worldwide experiences in becoming future global leaders.
For now, it will be up to students to make the difficult decision about how they will re-imagine their academic experience going forward. And maybe fifty days in Paris is long enough for some students to learn more than they could have in a full semester anywhere else.
Garvin was a freshman student studying abroad at NYU Paris last spring.