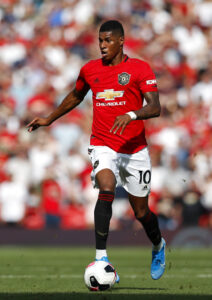 How Can Social Media Companies Prevent Racist Abuse Directed At Players?
After his team labored to a 0-0 draw against Arsenal in the final week of January, Manchester United forward Marcus Rashford went on Twitter to announce that he had been racially abused online.
"Humanity and social media at its worst. Yes I'm a Black man and I live every day proud that I am. No one, or no one comment, is going to make me feel any different," Rashford wrote. "I'm not sharing screenshots…I have beautiful children of all colours following me and they don't need to read it. Beautiful colours that should only be celebrated."
Last week, multiple other players (all Black) including Manchester United duo Axel Tuanzebe and Anthony Martial, West Bromwich Albion's Romaine Sawyers and Chelsea's Reece James, were also targeted in online attacks.
The recent amount of racist comments and messages being sent to professional footballers in England has raised plenty of questions in the sporting world regarding what can be done to stop online trolls. The accessibility of social media has made it ever too easy for random strangers to create fake profiles and direct hateful and racist comments towards players after a bad team result or poor individual performance.
U.K. football organizations joined together last week to condemn Twitter, Facebook, and Instagram for their poor responses to recent reports of online racial abuse against players by sending a letter to the companies' CEOs, Jack Dorsey (Twitter) and Mark Zuckerberg (Facebook and Instagram).
The open letter, which was signed by the Football Association, the Premier League, and Kick It Out (a UK equality and inclusion organization) amongst others, demanded that Zuckerberg and Dorsey "use the power of your global systems to bring this to an end", for reasons of "basic human decency."
The letter also asked Dorsey and Zuckerberg to improve their companies' measures for verifying the accounts behind social media abusers, blocking abuse with filters and taking down accounts found guilty of sending abuse.
Meanwhile, U.K. Culture Secretary Oliver Dowden is in the process of preparing an Online Harms Bill aimed at holding social media companies accountable for the various forms of abuse that footballers and regular people alike have suffered online.
The bill, if enacted, would see social media companies face fines of billions of pounds if their users experience any form of discriminatory abuse, and social media companies will have to prove that they have the systems and staff in place to identify the perpetrators behind abusive posts and messages. The legislation is expected to come before the U.K. Parliament later this year.
Instagram, which is owned by Facebook, has also recently announced that it will begin banning people who are caught sending racist abuse through the use of Instagram's "direct messaging" (DM) function, following a massive outpour in the U.K. from celebrities and public figures chastising the company for not doing enough to prevent online racist abuse.
Up until this point, if a user were to send a hateful DM through Instagram, the company would simply prohibit the user from sending any more messages for a set period of time – Instagram's version of a timeout. The company also promised to "disable new accounts created to get around our messaging restrictions", and will continue to ban accounts that it finds have been specifically created to direct racist abuse at athletes.
Swansea City forward Yan Dhanda, whose mother is English and father is Indian, recently lambasted Facebook's decision to not delete the account of a person who racially abused him on Instagram, following his club's FA Cup defeat at the hands of Manchester City in early February.
"The punishment given to the perpetrator actually gives more fuel for hate as now they know for sure there are no firm consequences to their actions online," he lamented on Twitter. "His dm's may be restricted but the ramifications of his actions continue to ripple through our community."
Deborah J. Borisoff, Professor of Media, Culture and Communication at New York University, explained that modern-day online racist abuse is a natural continuation of old-school hate mail.
"It's the same kind of behavior, but made faster and quicker," Borisoff argued. "It's like how you can send a letter without a return address, but now more people can spread it among their peers. And so it's a wider thing but it's just replicating what occurred prior to this [hate mail] in a virtual space."
She believes that a potential solution social media companies could follow would be to establish a language filter – one that scans for words commonly reported to be offensive in comments, and prevents the comments with offensive content from being posted. Instagram already does something similar with its "hide offensive comments" function, but this does not stop trolls from sending racist abuse through an athlete's DMs or leaving comments that include racially offensive emojis.
Another prospective solution could be to require some form of identification when users sign up for an account – an answer Blackburn Rovers defender Elliott Bennett has voiced his strong support for.
"Verification of all accounts on social media…watch the hate and abuse dwindle once the cockroaches can be held to account and a face is put to the egg profile photo," he Tweeted on Jan. 31.
It seems like a simple answer – up until one considers the political message it would send. In an interview with The Athletic, William Dance, a linguistics and disinformation expert at Lancaster University, argued that although online anonymity is a right that should be enjoyed by those who browse the Internet, it also allows them to get away with sending hateful messages.
"Online anonymity increases abuse but it is also integral to a free and open internet," Dance argued. "It allows for the expression of views without fear of persecution although, as we know, this is being exploited for abuse."
In the past, online anonymity has been a valuable tool for those who seek to fight back against an oppressive government, or for marginalized groups of society, such as LGBTQ+. If verification were to be required to create a social media account however, Dance noted that photo ID could "help further crackdowns on free speech" in countries where governments monitor internet usage, such as Iran and China.
In the latter, Internet users have had to come up with unique ways – such as the usage of puns and Chinese homophones – to communicate with each other in a way that prevents the government from knowing what they're saying.
From a club standpoint, Mark Ogden, senior football writer for ESPN, thinks it might be time for professional football clubs to reconsider the benefits that they're receiving from using social media.
"All I see now is clubs using social media for funny memes, taking the piss out of opposition players, or wishing people happy birthday," he insisted. "Is that worth the downside of having their players racially abused or the club's name tarnished?"
He believes that drastic actions need to be taken by clubs to fully promote a no-tolerance stance against all forms of abuse – including a potential social media hiatus.
"If a big club like Manchester United said, 'We can't accept our players being racially abused like this', and they close their social media accounts for a month, it might not make a huge difference but it'll certainly generate publicity," Ogden asserted.
But Carl Anka, Manchester United beat writer for the Athletic, believes avoidance isn't the right call. Anka, a black journalist, says that to counter racism, you have to fight it head-on.
"You should not be asking marginalized people from marginalized groups to take their ball and go home," he argued. "What I should be given is further weapons, and further protections from people around me so I can attack them."
Following Crystal Palace winger Wilfred Zaha's recent declaration that taking a knee before the start of matches was becoming "degrading", several Championship clubs including Brentford and Queen's Park Rangers also announced that they would stop taking a knee before kickoff.
"Trying to get the meaning behind it, it's becoming something that we just do now and that's not enough for me. I'm not going to take the knee," Zaha declared. "We're isolating ourselves, we're trying to say that we're equal but we're isolating ourselves with these things that aren't even working anyway, so that's my stand on it."
Anka isn't opposed to players not taking a knee anymore, but says major change has to happen at the top of footballing hierarchies; specifically, the introduction of more black voices who understand how clubs can continue to give back to those around them.
"Where are the black executives, coaches, and scouts?" Anka asked. "What are football clubs,  especially the ones in large urban centers, doing to help the black community in those urban centers?"
"Because if the answer is nothing, then taking the knee is worthless," he concluded.
Seeking to improve upon Facebook, Instagram, and Twitter's lackluster response to online abuse, the innovative London-based technology firm Signify has jumped at the opportunity to contribute to the cause through the use of artificial intelligence and publicly available information.
With a four-step process of sourcing data, processing data, human review, and actionable output, Signify is able to analyze hundreds of thousands of social media posts to identify social media abusers.
"Of course, the platforms need to take responsibility, but what we offer is a significant extra layer of protection that the football family can wrap around players. It's shifting the current state of play from reactive to proactive," a Signify spokesman told Sportsmail.
Signify's Findings
Signify investigated the online abuse suffered by Chelsea's Antonio Rudiger, as well as Arsenal's Hector Bellerin and Granit Xhaka. This included posts targeting Xhaka for his devout Muslim beliefs, trolls targeting Bellerin for his support of LGBTQ+, and comments with snake and rat emojis left on Rudiger's Instagram account due to unfounded rumors that he pushed internally for former Chelsea manager Frank Lampard's dismissal back in late January.
Their full investigation revealed the three players were bombarded by more than 3,000 racist and homophobic social media posts combined over a 30-day period, but perhaps more worryingly, 90% of the accounts that sent abuse are still live.
"We need to create an environment where abusers feel they will get outed and action will be taken," said Signify in another statement to Sportsmail. "That could be anything from being banned from attending matches, having their social accounts deleted through to police prosecution."
Online abuse, in all of its horrendous forms, will probably never be fully eradicated due to the vastness of the Internet and long-standing culture of hooliganism that exists within professional football.
But given the breadth of abuse that has been uncovered by Signify's findings as well as personal testimony from far too many players, it's clear that more work needs to be done by social media companies to counter the trolls who browse Twitter and Instagram looking to blow off steam by sending hateful messages to others.
For now, athletes might have to reconsider their social media futures, and Ogden argues players have to understand they are leaving themselves vulnerable to online abuse simply by operating a social media account.
"The original idea of players being more accessible to fans – it's just made them more susceptible to racist or homophobic abuse," Ogden insists. "It's opened them up to all sorts of horrible nastiness."