With only one blended class in her five-course schedule, New York University sophomore Andrea Contreras has spent most of her spring semester inside her bedroom.
"This semester is the closest I have come to a full Zoom education," said 20-year old Contreras, who is studying finance and computing and data science at the Stern School of Business.  "It's been the hardest semester for school motivation, there's an underlying constant feeling of anxiety because the to-do list never ends."
As classrooms have remained largely closed for over a year due to the Covid-19 pandemic, college students across the nation, like Contreras, have been struggling mentally during the past academic year.
The mental stress, isolation and anxiety of learning and coping through a pandemic has been taxing on students. According to a 2020 survey of 1,500 students conducted by Core Spaces, a student housing development company, around 69.1% of college kids felt more anxious or stressed this past year, while 52.9% feel isolated or lonely.
The study also found that 65% of students regard online learning as a negative experience.
It's why students like Contreras argue that professors should take into account potential mental health issues impacting students, who may have seen family members die because of Covid-19 or been sick themselves.
"I think being easier on school and realizing it's more important for us to learn the material right now and not as much testing is important," said Contreras.
Dr. Victoria Demos, a specialized-young adult psychologist, who has worked with university students for over 15 years, says she's seen the effects of online learning on student mental health and their ability to be successful.
"I think all students are more isolated," said Demos. "Students online are much more disengaged, many of their classmates do not show their face so it's a very disconnected feeling, which is leading to a lot of student mental crises."
A student's college experience revolves around relationships built inside classrooms with life-long friends and professors.  Research by the American Psychological Association, or APA, has shown that the environment in which students learn is critical for academic motivation and social development.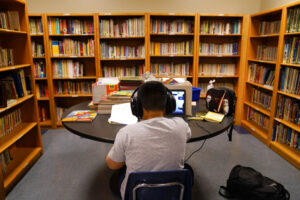 "A lot of social interaction normally happens on college campuses, which is part of the appeal for campus life," said Dr. Demos.  "I think that's what's gone away, all the sense of community that contributes to students' mental health, students' mental health requires being involved in not just classes but friends, clubs, sports."
Many students feel isolated in online learning due to the lack of interaction between peers.
"It feels like I'm talking to a computer screen not people," said Contreras.  "I miss the energy and the environment of a classroom because you feel so motivated being surrounded by people and you don't have that in Zoom."
Luke Brawer, a sophomore at Georgia Institute of Technology, attributes his lack of motivation this semester to online learning.
"I think my education was more valuable and meaningful last year," said Brawer.  "For one of my classes that is fully in person, I feel like the entire time I am writing stuff down actively but in my online classes I am checking my phone constantly and there's no social inclination to pay attention."
One stress-inducing factor of Zoom classes for students is participation.
Psychologists say the difficulty of reading body language and non-verbal social cues online increases performance anxiety.
For young students, having a video camera on during class can make them feel self-conscious about their appearance.  Students living at home also find Zoom classes stressful due to a lack of privacy.  Usually when students go to class, they are in a classroom that is solely for learning.  Now, students learn from home which can be challenging with distractions such as family members.
Madeline Cordes, a sophomore at The University of Missouri, says she would not do another semester of online learning.
"Right now, I am on my laptop from 9 a.m. to 8 p.m.," said Cordes.  "I teach myself a lot of the material I learn.  Online learning makes it harder to ask questions because my professor can't see us raising our hands, they can't see our confused facial expressions, so they assume we understand the material."
The effects of online learning will likely continue to affect students even once schools reopen.
"The biggest concern as a psychologist would be how students are able to pick up and reintegrate themselves with their lives," said Dr. Demos.  "I think some students who may not be as good at nurturing and maintaining connections may really suffer when they come back because they may continue to feel that sense of isolation."