A scene by scene portrait of the Astros' fall from grace, and what the scandal says about Major League Baseball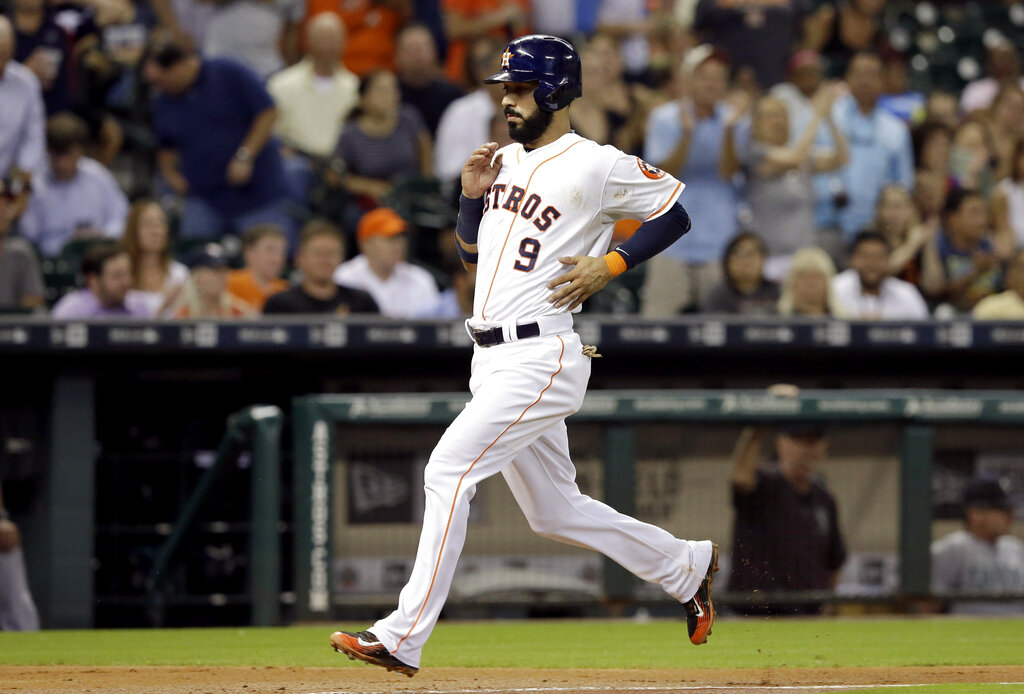 First, there was the Black Sox Scandal at the 1919 World Series. Then, athletes wielding cork bats and pine tar threatened the fairness of the sport. With incidents like the 1994 MLB Strike and baseball's infamous Steroid Era, the sport has certainly seen its fair share of scandals.
The most recent example, the Houston Astros sign stealing scandal, left fans and athletes alike speechless. When the story broke, almost two years after occurring, the only question left was, "… How did we not notice?"
This complex scandal and its intricate timeline reveal issues within baseball both old and new. In the age of technology, avenues of both advancement and deception have only multiplied. The implementation of high-tech radars, sensors, and cameras has turned player performance into a science.
In the case of the Astros, technology alone did not bring them success. Major League Baseball has cultivated a particular culture that worked in their favor. This culture has not only defined professional organizations but has influenced baseball's reputation as a pastime throughout the country.
The sport's unofficial slogan, as made famous by first baseman Mark Grace, says it all: "If you're not cheating, you're not trying hard enough." To some extent, Grace was not wrong. Compared to other leagues like the NFL or NBA, the MLB's rather laissez-faire attitude toward cheating has never been a secret.
Still, how did the Astros take it far enough to be the sport's largest scandal in two decades? Some points along the plotline are certainly more clear-cut than others. Altogether, these defining moments of inception, great success, and eleventh-hour collapse forever made Houston the champions with the invisible asterisk.
The Moment Cheating Began
Operation "Codebreaker", along with the trash can banging scheme, were like a pair of mischievous twins. Nobody knows who was born first, and sometimes you could not even tell the two apart.
Codebreaker was technically born to an intern. On a typical Thursday at Minute Maid Park in Downtown Houston, the Astros' front office was business as usual. With the 2016 regular season coming to an end, Houston landed in the middle of the pack with 84 wins. 
Strategizing for next season began immediately, and intern Derek Vigoa was ready to prove his worth to the big guys. In a meeting with Astros General Manager Jeff Luhnow, known around the league for his non-traditional ways, Vigoa unveiled a Powerpoint presentation outlining a system that could be used to steal catchers' signs. The strategy utilized an Excel-based application program he called "Codebreaker" to decode the signs of opposing teams. Luhnow's ears quickly perked up. As Houston entered the offseason, whispers about "Codebreaker" began to spread beyond the front office.
As for the spreadsheet's counterpart, the infamous trash can banging long unnoticed, its origin story comes eight months later. In search of new ways to guarantee an advantage, the MLB reports that the team added a monitor near the entrance of their dugout, banging a trash can when an off-speed pitch was coming. 
It's June 13 and Astros star Carlos Correa is up to bat against Texas Rangers pitcher Yu Darvish, known for his long list of pitching styles. 
"Boom… Boom… Boom." The next two pitches? Silence. Then once more, "Boom… Boom." Breaking ball, boom. Fastball, no boom.
During these games, the team's season motto was printed behind the mound and projected on screens all around Minute Maid Park: "Earn it."
Ben Reiter is a sports journalist, author of Astroball, and host of The Edge podcast chronicling the sign stealing scandal from start to finish. To him, there was no single "assassination of the Archduke moment" that initiated this web of deceit.
"It was really a combination of culture, of new technologies that weren't regulated as they should be, of specific personalities that entered the clubhouse and entered the organization, of a long history of sign stealing in baseball that all of a sudden became weaponized," Reiter said. "without people realizing what was happening."
Evan Drellich, whose 2019 investigative piece in The Athletic unearthed the details of the scandal, also cited the intersection of technology and baseball culture. While the Houston Astros may forever be associated with the practice, sign stealing with technology is not new. In fact, teams like the New York Yankees have been using video to their advantage since 2015.
"The context in which it arose, you can trace back to the introduction of instant replay in the sport," Drellich explained. "Major League Baseball gave teams sanctioned access to these video rooms… and really wasn't watching or considering what they would do with that access."
The Moment They Got Too Cocky
August 4, 2017. It was Game 5 of a regular season series against the Toronto Blue Jays. In Game 4, the Astros took home the win by a pretty good margin: 19 runs to 1. They were hoping to repeat history once more.
In the bottom of the fourth inning, the Blue Jays dugout called Mike Bolsinger to the pitcher's mound. With an earned run average (ERA) of 5.49, notably less impressive than league stars like Clayton Kershaw's 2.31 and Chris Sale's 2.9, the Astros were anything but concerned – pitchers like Bolsinger were perfect pawns in the sign stealing scheme.
Frequently moving between the minor and major leagues, Bolsinger's professional career was never a guarantee. While the Astros flexed their now seamless system of can-smacking and scoring, Bolsinger laid it all on the line in hopes of keeping his job.
"Boom… Boom." A whistle escaped from the Astros dugout. "Boom… Boom."
"Gonna have to mix it up against the Astros," the announcer said. "This is a free swinging team. They don't strike out a lot."
Already up seven to two, the Astros had a comfortable enough lead to lay off the trash cans. Instead, like a teen dunking on his 8-year-old brother, Houston kept it up. As Reiter says in his podcast, they just kept "pouring it on."
Call it arrogance, overconfidence, or just plain cockiness. At this point, the Astros wanted to do more than just win. They wanted to be remembered as the best to ever do it.
"They're already winning big, and yet they kept doing it. In fact, they bang the trash can that night more than any other night the whole season," Reiter noted. "That was the moment where you're like, man this isn't just about like winning tight ball games. This has really gone quite far."
In Drellich's eyes, the cockiness extended far beyond the dugout.
"There was an institutional arrogance and a willingness to follow their own convictions," Drellich stated. "And to pursue whatever it is they thought was right in the front office from the beginning. From the time Jim Crane and Jeff Luhnow took over, it was very much a plan of, 'we' are going to do it our way and we don't care what other stakeholders feel about it.'"
The Moment Cheating Paid Off
By the end of June 2017, with both Codebreaker and trash can signals working in tandem, the Astros held a 54-27 record — 8 1/2 games better than any other AL team. Game after game, week after week, the Astros kept winning.
On August 25, 2017, Hurricane Harvey made landfall in Texas as a Category 4 storm. Catastrophic rainfall-triggered flooding throughout Houston and Southeast Texas left over 30,000 residents displaced.
Suddenly, amidst such tragic events, the Astros emerged as a symbol of hope for the city. If they were able to clinch a championship bearing "Houston Strong" patches on their jerseys (which they later did, of course), perhaps the battered city could triumph over tragedy.
Regardless of this huge new motivating factor, the Houston Astros were still bringing home wins on unethical grounds. While games can be rewatched in hopes of hearing that echoing boom, there is no way to know when and how technological aides were used. Either way, alongside local devastation, the Houston Astros and their sly twin techniques were on the road to the World Series.
"The Astros were a World Series caliber team, no matter what," Reiter said. "Would they have definitely won without having cheated? We don't know. Would they have lost without having cheated? We don't know. That undermining of a fair outcome, or even knowledge of what a fair outcome could be, is one of those central reasons why this matters so much."
The Moment They Almost Got Caught
It was September 2017. An entire year had passed since the intern infamously pitched Codebreaker. It had also been three months since the team began utilizing trash cans signals as their primary method of cheating. Still, nobody had noticed a thing. Until now.
Former Chicago White Sox pitcher Danny Farquhar stepped up to the mound in Houston's Minute Maid Park just before the playoffs. Houston's Evan Gattis was at bat. "Boom…" followed by a minute of silence. "Boom… Boom." 
In an attempt to throw the Astros off, White Sox catcher Kevan Smith flashes signs to Farquhar that call for an off-speed pitch. Not even a second later, "Boom…" and Gattis makes contact with the ball. The Sox then try for a change up, "Boom… Boom." That final thud was all Farquhar needed, instantly stepping off the mound and calling over Smith to share his suspicions.
Farquhar later told Drellich at The Athletic, "There was a banging from the dugout, almost like a bat hitting the bat rack every time a changeup signal got put down. After the third one, I stepped off. I was throwing some really good changeups and they were getting fouled off. After the third bang, I stepped off."
"It was amazing that he was the first one who seems to have heard it. They did it against more than 100 pitchers, and it seems so obvious in retrospect," Reiter explained. "Then behind the scenes, we understand that they were quickly disassembling the video setup, and they don't seem to have actually done it again after that. That was a key moment for me."
The Moment it Fell Apart
November 2019. Two years had passed since the Astros secured a World Series championship. After competitors like the Oakland A's, Cleveland Indians, and Boston Red Sox raised concerns about the team's behavior, Houston could no longer escape the inevitable.
Drellich, alongside journalist Ken Rosenthal, published a tell-all report on the Astros cheating history in The Athletic. On-the-record quotes from ex-Astro Mike Fiers shook MLB athletes and fans alike.
"The story and the reporting was done," Drellich said of his article. "But, we kept trying to find somebody who wanted to go on record, and we found that person. The fact that we did get somebody on the record is certainly important."
"If Mike Fires didn't break baseball's code of silence," Reiter said, "do this very unusual thing and come out as a whistleblower to the Athletic, then we still might not really know that this had happened at all."
That code of silence throughout the league had been a very real thing for dozens of years. Now, every player who had faced this Astros team, especially those like Bolsinger who lost his job, felt wronged.
"I'm not going to let them forget the fact that they are hypocrites, they are cheaters, they've stolen from a lot of other people and the game itself," Reds pitcher Trevor Bauer told ESPN.
Two months after the story broke, MLB handed the organization a $5 million fine and stripped them of first and second-round draft picks in 2020-2021. Luhnow and Manager AJ Hinch were both suspended without pay for the upcoming 2020 season. Soon enough, owner Jim Crane called the pair with more news.
Hinch? Fired. Luhnow? Fired (while standing in baggage claim on vacation).
"We need to move forward with a clean slate," Crane said.
Hinch has since been vocal about the scandal. In the aftermath, many people considered him anything but the ringleader. Still, someone had to do the time.
Hinch told Sports Illustrated, "I regret so much about that and it's so complicated and so deep and there are parts that are hard to talk about but taking responsibility as the manager… it happened on my watch. I'm not proud of that. I'll never be proud of it."
Reiter noted, "Hinch has a very interesting role in this because, clearly, he said he should have stopped this. His passivity as the manager in the clubhouse and not doing anything about this was significant. There's also [a] very interesting psychological study as to why the manager of the team didn't feel like he had the power to stop something that it seems as if he knew was wrong."
Carlos Beltran and Alex Corra, two Astros vets who were believed to have orchestrated the cheating to some degree, did see repercussions as well. The two were quickly fired from their post-career positions as Mets and Red Sox Managers respectively.
As for the Astros bench, no active players saw such consequences. Managers and coaches can be shuffled around as the league pleases, but players? They are the reason money is made.
"It's sad for baseball," LA Angels outfielder Mike Trout told the LA Times. "It's tough. They cheated. I don't agree with the punishments, the players not getting anything. It was a player-driven thing. It sucks, too, because guys' careers have been affected, a lot of people lost jobs."
Cincinnati Reds pitcher Trevor Bauer shared similar sentiments saying, "They are hypocrites, they are cheaters, they've stolen from a lot of other people, and the game itself was completely unfair. [The Astros] think [they] are better than everyone and [they] don't have to abide by the rules? F— [them]."
Epilogue
"Fine, I'll sue them in Texas," Mike Bolsinger said after Los Angeles Superior Court Judge Robert Draper dismissed his lawsuit against the Astros in March. 
"I've already gone this far," Bolsinger said. "If I've been blackballed in baseball — I don't know if I have been, but if I have, I'm sure it's just going to continue to be that way."
The ex-MLB pitcher filed the civil lawsuit in February 2020, accusing the Astros of unfair business practices and negligence. The scheme also cost him a spot in the MLB.
With the help of Ben Meiselas, a California attorney who represented Colin Kapernick, Bolsinger plans to pursue any paths necessary for justice (revenge?) to be served. Regardless of personal animosity, Bolsinger has also emphasized the lawsuit's goal was to keep sign stealing out of baseball.
Still hoping to keep legal action in motion, Bolsinger is now signed with the Long Island Ducks of the Atlantic League of Professional Baseball. Here, the max salary is $3000 per month. In that fateful season with the Blue Jays, Bolsinger's contract read $545,700.
One month after the state of California dismissed Bolsinger's case, former Astros manager A.J. Hinch, now managing the Detroit Tigers, received a standing ovation from Houston fans at Minute Maid Park.
The infamous culture of professional baseball has been faced with existential threats more than once. Following the boycotts and the steroids, could sign stealing be the sport's third and final strike?
"I think we're just beginning to see threats that can undermine the integrity of the game," Reiter says. "A lot of the new types of thinking that have been infiltrating the game over 20 years… we all know that Moneyball captured this seismic shift in which baseball became less of an old timey mom and pop sort of thing, and really started to have cutthroat, ruthless, big business strategies applied to every corner of it, including on field competition. And I think that that's only going to expand from here.