When Super Bowl watch parties in minuscule New York City studios just can't cut it, many head to sports bars to get their football fix. In NYC, a hub for people searching to celebrate, these venues bring together friends and strangers alike. On either side of the island of Manhattan, however, East and West Village bars boast very different atmospheres.
Tucked away on Seventh Street lies Standings, an intimate sports bar in the heart of the East Village. With only 12 bar stools in the establishment's single room, most individuals stand elbow to elbow in a sea of bodies, eyes glued to the screen. The beer selection and the games are what people come to see; there are no frills to Standings. It is a back-to-basics sports bar that draws millennials and older generations who are looking for just that.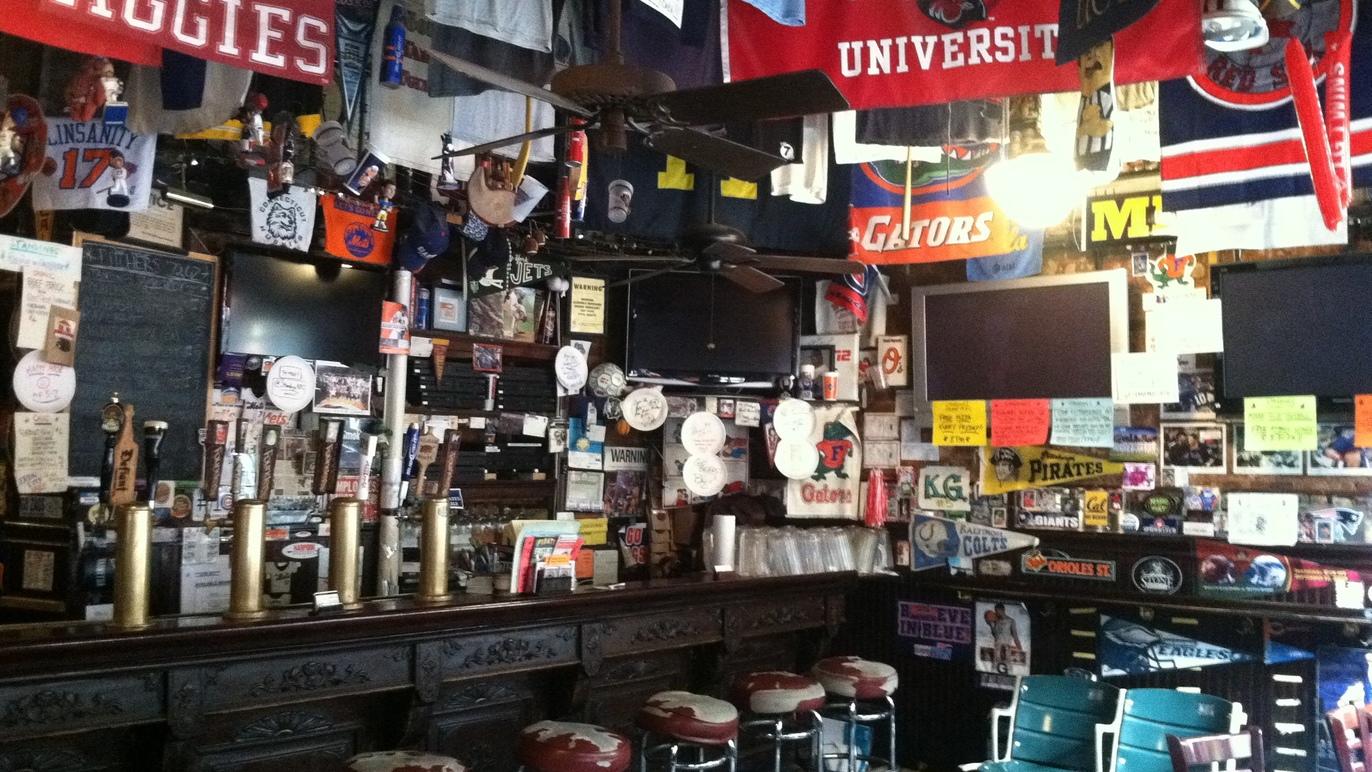 Bodies slide past one another to the only space with room to breathe—the bathroom. The inside is exactly what one would expect in a single room dive bar: hand-scrawled NCAA brackets from years past, magazine covers of historic baseball wins seemingly wheat pasted to the walls, ESPN posters and mascots of football teams, and a tiny sink that looks like afterthought in a cubicle of sports memorabilia. Above the toilet, a sticker captures the ethos of Standings in just 5 words: "Good beer, no s— flinging."
This casual air of familiarity is what keeps Doug Neumann, a longtime Standings regular, coming back for more.
"I lived in the city for eighteen years and I moved to Fairfield, CT a month and a half ago," Neumann said. "I'm back because this is my favorite bar in the world."
For Neumann, the tight knit community is what sets Standings apart from other bars.
"I've met some of my best friends just by coming here. My social circle expanded significantly through this bar and the people that I've met through it," he said. "It's a community. It's a bar. It's a cozy place to come on a winter night and watch some football."
Andrew Witherspoon and Andrew Triola are also regulars at this hole-in-the-wall venue. Huddled together in front of one of Standings' eight televisions, the two laughed over beers.
"Tonight, this is mostly overflow from a nearby Bengals' bar, but there is a core group of regulars," Witherspoon said.
Of that core group, Witherspoon is among the most loyal.
"He's an award-winning regular," Triola laughed, gesturing to his companion. Witherspoon was crowned 2017 Regular of the Year, a distinction that earned him a coveted paper plate award hanging above the bar. The tongue-in-cheek awards ceremony is characteristic of the intimacy that makes Standings so special to them.
As the night wore on, more individuals wandered into the crowded room. Another popular bar down the street had reached capacity, diluting the crowd of Standings' regulars with people searching for a place to grab a beer and hunker down to watch the game.
Across the island, the West Village has a very different scene. Cheers floating down the block guide the way to Blue Haven, a loud and crowded bar located at the intersection of Houston and Thompson Streets.
A much larger venue, the long bar is flush with young people clamoring for mixed drinks and shots. People dance across the bar with strangers, the half-time show reinvigorating anyone who may have been running low on energy. During the often-coveted Super Bowl commercials, workers turn up music to keep patrons hyped. In another section of the building are tables, some offering more seclusion than others.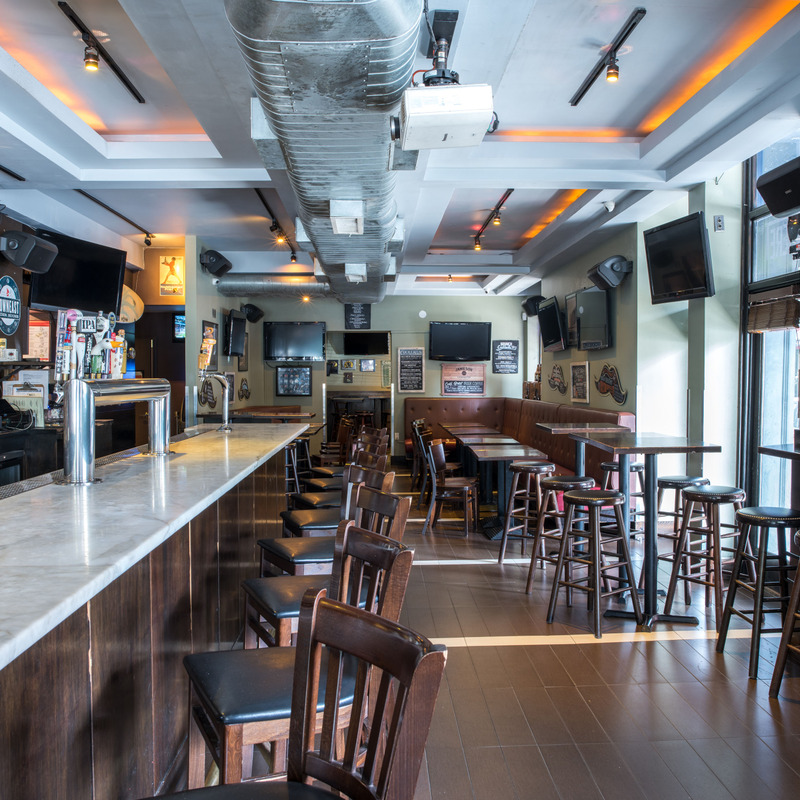 At one end of the bar, a man tosses pieces of cake toward a woman in a party store cowboy hat. She bobs around, mouth open as she tries to catch a piece; when he finally sinks a shot, the group erupts into cheers. The woman laughs when someone presents her with a mixed drink that she sets aside to finish a bit of cake.
The woman is Maeve Duke, a worker at Blue Haven, and the playfulness of Blue Haven is what she thinks makes it so special.
"I used to live literally right above this bar so that's how I got this job," Duke said. She explained that the friendliness of staff and patrons alike is what grew the venue and its community over the years. "We've been here for a while—I think about like seven years now—so I think we grew it."
Maddie Hart, another Blue Haven worker, agreed with Duke.
"I think what's really cool about us is our first priority is to have a family feel—like, a friendship feel between customer and employee," Hart said. "We're always partying and playing fun music because that's the main goal. I've worked in a ton of other places and, honestly, the customers who come here are so nice because we treat them like we're friends."
Matthew Perl, a regular patron, and the man throwing cake into Duke's mouth, echoed the sentiment.
"I come in at off times because I like soccer and I became really close with the whole staff. It's a good staff," Perl said. "They're all best friends. They have fun and it makes everyone else have fun."
But it's not just regulars who love Blue Haven. In front of a television just feet away, a man paces back and forth, never breaking his gaze from the screen.
And then, from the commentators: "Touchdown, Bengals!"
The man jumps and cheers, exclaiming something about winning big.
Daquan Carswell was looking for somewhere to watch the game when the sights and sounds of Blue Haven lured his friend and him inside.
"The vibes is [sic] lit! I like it. I like it a lot," he said, barely audible above the raucous crowd. After a single night of cheering, dancing, celebratory shots and a possible jackpot win, Carswell found himself smitten with Blue Haven.
"It's better than any other sports bar," he said, still staring at the television screen. "Blue Haven is the best!"
Carswell probably didn't know that the Rams would end up winning the night, or that Blue Haven, like most NYC sports bars, had been upcharging drinks all night. Across the island, Neumann was probably just as oblivious. But Super Bowl Sunday, to them and many others, isn't about the small things; it's about community and celebration, wherever it can be found.