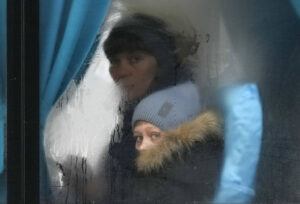 Victoria Carchietta, a second-generation Ukrainian American and a junior at New York University, can only imagine her grandmother as she watches the mass exodus of Ukrainians fleeing their country after Russia invaded more than two weeks ago.  
"It feels like history is repeating itself," said Carchietta, who recalled how her grandmother described escaping Ukraine from the former Soviet Union "in the middle of the night tied to the top of a wagon," around the age of 10. 
Today, more than two million people have left Ukraine as Russian forces continue to advance into southern parts of the country. The United Nations has predicted that 10 million Ukrainians could be displaced, including about four million who have crossed borders into countries like Germany, Poland, Hungary, Romania and other European countries. 
Last Thursday, the United States agreed to grant temporary protected status to Ukrainians, making it easier for them to enter the country and receive refugee status.
"Russia's premeditated and unprovoked attack on Ukraine has resulted in an ongoing war, senseless violence, and Ukrainians forced to seek refuge in other countries," said Department of Homeland Security Secretary Alejandro N. Mayorkas in a statement on March 3. "In these extraordinary times, we will continue to offer our support and protection to Ukrainian nationals in the United States." 
New York leaders welcomed the Biden administration's decision to take action as the state is home to the largest Ukrainian community in the United States.
"​​New York stands ready to open our arms and provide a safe haven to all Ukrainians," said state Gov. Kathy Hochul following the decision by Homeland Security to offer temporary protected status to all Ukrainians for 18 months. 
Temporary protected status offers a limited immigration status to citizens of certain countries under circumstances which make traveling to them from the United States unsafe, such as environmental disasters or war.
With TPS granted, Ukrainians can reside in the U.S without the threat of being deported, which would apply to an estimated 30,000 people, according to the Migration Policy Institute. Within this demographic, the U.S. government's temporary protection status would also protect Ukrainians in the country who are facing deportation, which immigration court data from Syracuse University reveals to be about 4,000 individuals.
It's unclear whether TPS status will be extended to Ukrainians who began residing in the U.S. before March and may be unable to return to their home country. For now, Homeland Security has said "individuals who attempt to travel to the United States after March 1, 2022 will not be eligible for TPS."
That's a difficult reality to cope with, particularly for many Ukrainian Americans who — even though their own legal status is not an immediate concern — are scared for family and friends still stuck in Ukraine.
Marta Tsyndra, a Ukrainian American who lives in New Jersey with her mother and sister, has kept in contact with the rest of her family every day through phone calls and various messaging apps. Tsyndra says that they still live at home, near Ukraine's Western border with Poland.
They don't have plans to leave yet. They're staying for as long as they can.
"I think it's very important [to] them to contribute, and they're doing what they can to pass the supplies, and the food, and get help for those who are coming from Eastern Ukraine, to give them housing, to take care of the children," Tsyndra said. "They're doing what they can to help everyone. They're okay for now, but we don't know what the next day is going to bring."
Overwhelmed by the uncertainty of her family's safety, Tsyndra doesn't sleep well these days. But she's been finding her strength to continue on through attending protests like the one held in New York's Times Square on a recent Saturday afternoon, and attending church to pray.
It all holds a deeper meaning for her now — being surrounded with people from her community, people who are going through the same things she's going through. 
"I feel guilty, for the most part because I'm not there and I'm not there to help my people and so I'm trying to do what I can from here but it just feels like it's not enough," Tsyndra said. "But I'm trying my best, and I'm trying to be strong because I know they're strong. I can't afford to just fall apart."