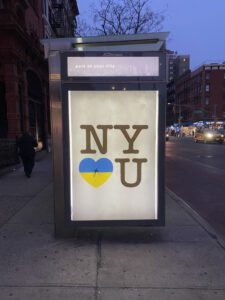 A line of people wraps around the corner of Second Avenue and East Ninth Street outside the 68-year-old Ukrainian diner Veselka. The scent of chicken paprikash and beef stroganoff fills the air as the restaurant's busy employees work tirelessly to serve their hungry customers. A block down sits the Ukrainian East Village Restaurant, a large Ukrainian flag proudly welcoming its patrons. Sixth and Seventh streets are a sea of blue and yellow, as brownstone after brownstone dons Ukrainian colors from flags hanging outside residents' windows. The doorway outside the Ukrainian Museum is lined with posters reading the phrase #StandwithUkraine, while across the street, a sign hangs from a classroom window of the Ukrainian school St. George's Academy that says "Say No to Putin!" A blue and yellow heart in the phrase "NY LOVES YOU" lights up the Second Avenue and St. Mark's illuminated bus stop sign.   
Residents and visitors of Manhattan's Ukrainian Village are showing their support for the local Ukrainian community in the wake of Russia's Feb. 24 invasion of Ukraine. The invasion, which was ordered by Russian President Vladimir Putin, prompted President Biden to impose sanctions on Russia. As New York City is home to 150,000 Ukrainians, local leaders also condemned Putin's actions. Governor Kathy Hochul signed an executive order to cease business with Russia while the sanctions are in place, and Mayor Eric Adams called the attack an "assault on freedom." For the Ukrainian Village's residents, businesses and visitors, the situation unfolding in Ukraine has provoked collective heartbreak, yet emboldened a sense of community.  
Ukrainian Brooklyn resident and home health aide Teyana Szeczuk, 55, has children who attend the Ukrainian School, St. George's Academy in the Ukrainian Village. She admires and appreciates the support she witnesses everyday in both her children's school and the surrounding neighborhood. 
"The community has sent the money, has sent the humanitarian everything, people go to the protests," Szeczuk said. "Ukraine is grateful." 
The businesses of the Ukrainian Village also received increased support as customers and locals contributed to uplifting Ukrainian culture and voices. Arka, a local gift shop on First Street and Second Avenue selling an array of traditional Ukrainian and Eastern European clothes and souvenirs, quickly sold out of all of their Ukrainian flags and pins, according to a New York Times interview. Maria Drobenko, whose family owns and operates the store, also mentioned the overwhelming non-local support she encounters while working at the shop, adding that one man from Florida collected and donated over $250,000 to Ukraine.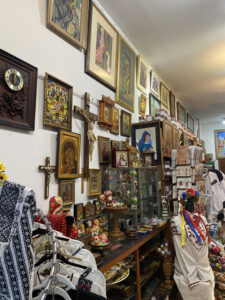 Local Ukrainian Village events aim to help spread awareness of the crisis. The Ukrainian Museum's #StandwithUkraine artistic show on March 2 showcased Ukrainian New Yorkers' pain and strength following the current situation to an audience of 50 people. 
The event, hosted by the Ukrainian Museum and the Yara Arts Group, a New York based Eastern European theatrical production company, featured many renowned poets, authors, musicians and performers who all graced the audience with songs, poems and readings related to Ukraine. 
Artist and musician Lesya Verba, 43, translated her pain into song and spoken word as she recited fragments of "Take Only What Is Most Important" and "How Did We Build Our Homes?", two poems originally written by Ukrainian poet Serhiy Zhadan. After moving to Brooklyn from Odessa, Ukraine eight months ago to be with her husband, Verba found a community of supportive Ukrainian musicians who share the same sentiments of heartbreak and sorrow as the crisis continues to unfold, she said. Her entire family resided in Odessa until the war forced them to take cover in bomb shelters, she added. She communicates with them through Viber and Whatsapp everyday to make sure they are "alive and relatively alright." 
"Now it's a horrible situation. I'm very nervous," Verba said. "What will happen tomorrow, I don't know. My heart is broken."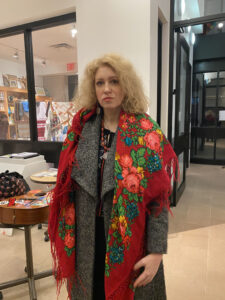 Last to perform was popular Ukrainian Village-based musician Eugene Hutz, 49. Born in Kyiv, Ukraine, Hutz immigrated to the US in the 90s before eventually settling in New York's Ukrainian Village in 1997, he said. He started his music career as a young boy in Ukraine and found success in the United States with his current band, Gogol Bordello. The rest of his extended family, however, is still "all throughout Ukraine." 
"It's very shocking to talk with them while they're in real time warfare driving around trying to rescue their children while fully armed through the places we used to go camping," Hutz said. "It's shell-shocking to your psyche."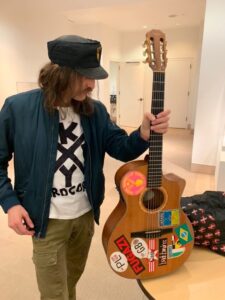 Despite the current crisis, Hutz delivered a powerful performance of original songs inspired by the war that had the audience clapping and singing along, and was emblematic of the Ukrainian Village's courageous spirit in the face of tragedy.
"The psychological stamina of Ukrainian people is just absolutely unparalleled…It's [the Ukrainian Village] like an entity that just mobilizes itself and it's always incredible to see and right now it's happening," Hutz said. "It's inextinguishable. Knowing that gives all Ukrainians worldwide as a nation long confidence that we will win."