Come to the United States to broaden horizons. Get into a good university. Graduate with a Bachelor's – and Master's degree. Then after nine years of studying and living abroad, return to life back at home. Take a break. Reconnect. Find a job. 
That was Yelyzaveta Kindyeyeva's plan before the crisis in Ukraine started.
"Now, I have no plan whatsoever – literally," said Kindyeyeva, a 23-year-old New York University graduate student, whose life has been put on hold since the Russian invasion began on February 24. 
She is one of nearly 1,700 Ukrainian students currently residing in the U.S. for the 2020-21 academic year, according to the latest available data by the Institute of International Education, a global non-profit that focuses on international student exchange and aid.
Like millions of Ukrainians, who have been forced to flee to neighboring countries seeking refuge, students abroad are stuck in a limbo with no home to return to and an unclear future to plan for.
"It's not easy to have your whole life stopped," said Kindyeyeva. "Everything that you ever had is there [in Ukraine] and your job was there."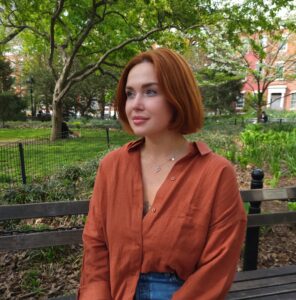 "In a different country you cannot establish yourself a life like you would have back at home," she added. 
Like other Ukrainians living abroad, Kindyeyeva thought the war would end soon and she could return home. She hoped her family in Kyiv, the capital of Ukraine, wouldn't be forced to flee. That her family wouldn't have to pack whatever they could carry into the darkness of the night and embark on a West-bound train filled "to the very brink" with fellow refugees, prepared to leave their entire life behind. 
But they did.
Today, her 42-year old mother Yelena, 12-year old brother Lev, and 16-year old brother Aleksandr, have found refuge in a small town in Germany, a shelter offered by her oldest brother's former classmate's family. 
Fleeing war, they left behind their home, Lev's beloved cats, and Aleksei, Kindyeyeva's 45-year old father, who was required by martial law to stay behind. 
Kindyeyeva thought that with a good degree from a top notch university she would have no trouble getting a job to provide for herself and her family. 
But having a good degree has turned out not to be enough because she "doesn't have the right passport." 
Today, she finds herself searching for any job that will pay enough.
"Job search hasn't been going as it should and now it's my priority because I know that I cannot go home, so I need to provide for myself (…) in a way my family relies on me because I am the oldest [sibling] and I have decent education and speak different languages, like English," Kindyeyeva said, adding "They rely on me even mentally as well because I'm considered an adult."
Refugees around the world face a number of challenges as they seek to build a new life. Often they must learn a new language, adjust to cultural differences, gain additional schooling, navigate new government and healthcare systems, and heal from their own grief,  Biss Cauchois, a Licensed Master Social Worker at the International Rescue Committee explains. 
Cauchois says refugees are confronted with hundreds of questions upon arriving, "What can I ask for? How can I get in touch with this person if I need something? Are the police actually going to protect me?" 
Nevertheless, like millions of others, Yelyzaveta's family traded safety for the loss of their former lives. 
Cauchois says no matter where refugees come from, all of them are searching for safety. 
And as the poet Warsan Shire reminds us, "No one spends days and nights in the stomach of a truck feeding on newspaper unless the miles travelled means something more than journey."