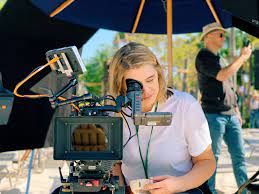 Storytelling came naturally to the award-winning filmmaker Rylee Jean Ebsen, who is the granddaughter of TV star Buddy Ebsen and comedian Stan Freberg, and also a graduate of NYU Film. She has directed commercials for the world's largest brands, including Disney, Amazon, and Google. She was also one of the first employees at Snapchat, which was started by her high school friend Evan Spiegel. Now 31, Ebsen was 29 when she made the Forbes 30 Under 30 list. Boomerang is about a flailing millennial who returns home during the pandemic and must deal with her dysfunctional parents and old flame (from middle school).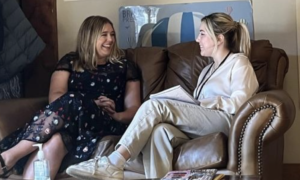 With a film like Boomerang, which deals with heavy topics like divorce and the pandemic, and parallels the experiences of many millennials coming home to a broken home, how do you balance comedy and the sensitive nature of these topics, without offending? 
At its core, Boomerang is about complicated family relationships and how deeply funny life can be even in its most serious moments. A heartfelt, funny, timely, and relatable tale about an entire generation of people who were forced to move home and suffered arrested development. This story is our love letter to anyone who hosted family or was hosted by family during that time, especially if that family drove you crazy… which is a lot of people! And I think that's why it's been so well received and why it seems to be so cathartic for viewers– it certainly was cathartic to write.
During the pandemic, I watched a lot of comedians with my mom. As an only child with a similar experience, I could relate to reading your story.
Me too! Comedy got me through the pandemic, and that's why I wanted to make a comedic film about it. It's so important to process what we've all been through.
How vulnerable were you during this process? 
The script is based on several experiences and it was constructed with care. We mined tidbits from my own life, my co-writer Sydney Steinberg, and loved ones around us. The lockdown impacted everyone. Many of us had to juggle life's responsibilities while also dealing with crippling fear & anxiety, wiping down groceries, navigating work & Zoom calls, etc. I did not have the 30th birthday celebration I had dreamed of, instead, I felt like Little Edie in Grey Gardens sandwiched between my parents, worried the isolation would never end and that this would be my new normal. Though our specific experiences may vary, we are connected to our larger shared history of going through it together.
How did your parents react to this?
My parents loved it! We have honest conversations about our neurotic and anxious family, we go to therapy. I suffer from anxiety and OCD, and it's good to own it and talk about it. My family is very supportive and they also realized that a lot of my life will show up in my work, and they're prepared for that to happen.
Do you have any tips for people who want to get into comedy?
Everyone should do improv or standup. It forces you to be in the moment, to not overthink things, and to think on the fly. I recently did a standup class with an iconic comic named Jodie Miller, just for fun. It taught me how to write on the fly, and to be in the moment. It was terrifying and fun! I definitely feel like it helped my directing too.
What's next for you?
I cannot wait to direct TV! I just graduated from the Directors Guild of America's TV shadowing program where we studied the ins and outs of how network and streaming television is made.
Also, I cannot wait to make movies! Indie comedies, but also big big movies down the road. My dreams scare me sometimes, which is good. They should scare you! If they don't scare you, they aren't big enough.