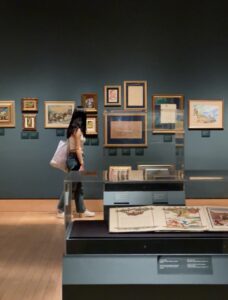 Tucked away between bustling Second Avenue and Cooper Square, on quiet 6th Street lies the Ukrainian Museum of New York, where for only $8, New Yorkers can both discover and immerse themselves in Ukrainian culture. 
While visiting, guests can admire the traditional pysanky — Ukrainian Easter eggs covered in colorful dyes and intricate designs — or peruse through exhibits, such as contemporary artist Nikita Kravtsov's "The War of the Mushrooms," a retelling of a famous Slavic fairy tale altered to tell the very real story of Russia's war on Ukraine. In recent weeks, the museum has not only become a celebration of Ukrainian artists and history, but an unlikely sanctuary for the works of a people whose very heritage continues to be put at risk by the war.
Since the start of the invasion on Feb. 24, Russian forces have been bombing Ukrainian cities, targeting civilian shelters and ancient monuments, including a 19th century wooden church that was obliterated by shelling.
"It doesn't matter where in the world it is," said Christina Saj, a contemporary Ukrainian artist based in New Jersey whose work is currently on display in the museum. "When you start destroying all the ancient temples and ancient artifacts, it's really a crime. It's sort of unthinkable to me."
Saj's exhibit, "Finding Sanctuary During the Pandemic," is a series of paintings on vintage records that she had collected from the side of the road before the first COVID-19 lockdown. Since September 2021, a handful of her pieces have been on display in the Ukrainian museum, and she has continued to consistently add to the collection on her website. However the start of the war has strained her creative process, she said.
"I have to admit, in the last 54 days, which is how long the war has been going on with Ukraine, I have been distracted," Saj said in an interview on April 18. "I have not been working with the same intensity as I was in the beginning."
Saj considers the war to have started in 2014 with the annexation of Crimea. As a result, Saj said she was less surprised by the war this year compared to foreigners.
Myroslav Shkandrij, professor of Ukrainian literature and cultural history at the the University of Manitoba, Manitoba, and guest curator at the Ukrainian Museum, echoed this sentiment, noting how the world's shock toward the war was largely due to the West's disregard of Ukraine thus far — particularly by scholars. 
"The West doesn't really have many specialists and doesn't know much about Ukraine because it has ignored Ukraine — it has been blind to the existence of Ukraine," Shkandrij said. "And now people are suddenly feeling guilty and asking questions: How come we missed this? How come we didn't understand what was happening? And how come we simply weren't prepared for an event as cataclysmic as this Russian invasion? Ukrainians did what they could, but part of the problem has been resistance to Ukrainian narratives, or to the idea that a Ukraine exists."
This consistent brushing aside of Ukraine over the years has resulted in a lack of Ukrainian specialists in many areas, particularly in academia, he said. The war has finally put Ukraine, a country that, according to Shkandrij, has been long forgotten, at the forefront of the world's mind. Ukrainian scholars whose words once reached closed ears are finally being listened to and taken seriously, a development that Shkandrij is glad of, though he realizes it is mainly because of the war's reach past Ukraine into other powerful countries.
"I realize that things get taken seriously when they personally affect you, and the West is now very personally, very directly, affected by what's going on," Shkandrij said.  
For Ukrainians like Shkandrij and Saj, the conflict between Russia and Ukraine has hit close to home. Having grown up in a Ukrainian household, as well as being the first-generation daughter of World War II Ukrainian refugees in America, Saj has always had one foot in two different worlds. Ever since she was a young girl, Saj has been learning the language, attending Saturday school and taking part in a Ukrainian scouting group, immersing herself in her heritage. Despite being born and raised thousands of miles away with people who, according to her, rarely knew where Ukraine was, Saj has managed to keep her Ukrainian identity alive. 
Saj's background is reflected in her artwork, much of it having a Ukrainian color palette, full of vibrant reds, oranges, yellows and blues. Her interest in Byzantine — relating to the Eastern Orthodox Church — iconography, which was her main area of study in college, also began at a very young age when she attended the Ukrainian church on 7th Street, only a few steps away from the museum. It is in this church that her love for the art began, she said.
"I studied all this stuff because I was Ukrainian, so being a Ukrainian artist, even if I was born here, was a huge part of my life," Saj said. "I grew up in the United States and I went to high school just like any other kid, but then on the weekends I had all these Ukrainian activities that I did, so [my heritage has] been very much part of my identity."
The Ukrainian Museum is an expression of the Ukrainian identity Saj holds close — one that has been constantly undervalued and targeted by Russia, especially in the art world. It was only after the beginning of the war that prolific art institutions began rethinking their relationships with the region. Russian oligarch Vladimir Potanin, a trustee of the Guggenheim Museum, stepped down from his role this year, and London's National Gallery renamed Edward Degas' piece that was mistitled "Russian Dancers" to "Ukrainian Dancers."   
The war has provided an opportunity for the world to reclaim and rethink history, with many scholars realizing that it is now impossible to understand Europe without understanding Ukraine, Shkandrij said. During WWI and WWII, Ukraine was at the center of the conflict, and it played a crucial role in discussions about the fall of the Soviet Union. Yet, this history has never been explored in the West since, according to Shkandrij, adding that the tendency of most North American colleges has been to entrust the legacy of Eastern European history to Russian scholars. As a result, there has been a severe lack of Ukrainian experts in fields of study where their knowledge is greatly required.    
"This war has opened people's eyes, and it has changed perceptions, and there has to be hiring of Ukrainian specialists in all sorts of areas," Shkandrij said. "You just cannot remain in touch with what's happening if you cannot figure out the relationship between Ukraine and its neighbors, and its importance for Europe."
Although the war has brought with it much destruction of life and culture, it has also made Ukraine, a country viewed as illegitimate by Russia and greatly ignored by the West, visible to the world. Even before the Russian invasion, the Ukrainian Museum of New York was one of the few establishments in the United States to keep Ukrainian heritage alive and accessible to the public. 
With the war underway, institutions like the museum have become more essential than ever in educating people on a country many have long ignored, as well as preserving a culture at constant risk of annihilation. Ukraine is the center of attention, with powerful nations from all over the world involving themselves in this conflict. Shkandrij believes that this global interest in Ukraine is what marks a significant difference between this war and previous wars involving the country, which, though terrifying, may hold a silver lining. 
"It's frightening, it's horrific, the possibility of a major world confrontation now closer than ever before, and Ukraine is on the forefront once again," Shkandrij said. "But at least people are paying attention. And finally, at least, Ukraine is a subject, not an object. It is actually treated as a player, as an important voice, an independent voice. That was never the case before, so that's a huge difference."