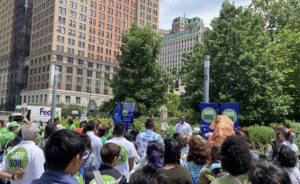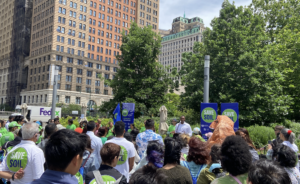 NEW YORK: The global Save Soil Movement arrived in New York on June 18th 2022, when a walkathon took place to create awareness about soil degradation issues around the world.
More than a hundred concerned citizens and volunteers dressed in well-marked green uniforms rallied at Battery Park, Downtown New York, for the Save Soil awareness movement. As music blasted at the pier, the walkathon went up the Hudson River.
"This is all about bringing awareness to healthy soil and the wellness of our future," said Charles D. Fall, a New York Assembly member, who was the chief speaker at the rally.
The main purpose of this movement is to "protect the future of humans and all living things," said Arti Bhoge, a 28-year-old yoga instructor who volunteered at the site. "It is a peaceful movement that aims to make people aware of the importance of our soil and to advocate policy makers to make changes," Bhoge explained.
"Soil is not a renewable resource, it takes thousands of years for soil to restore," said Melissa Metrick, a Nutrition and Food Studies professor at New York University, adding that "The issue is more that 50% of our cultivated soil is degraded, which will definitely affect how food is grown and people's access to food."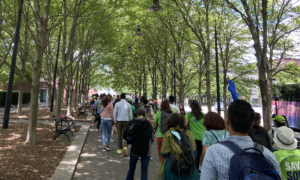 The walkathon proceeded for more than two hours, as participants walked calmly on the designated route. The long file of "walkathoners" attracted the attention of people passing by, some even asking for more information about the movement and cheering on the participants.
"I think the awareness campaign is pretty successful," said Darran Boyer, a walker, adding that "it encourages people to post things on social media and makes people wanna do a little something." 
Darren is currently composting at his home in New York City to preserve soil on an individual level. He explains that he was inspired by Sadhguru's yoga philosophies and was motivated by him to join this Save Soil Movement as well.
The Save Soil Movement was launched by Jagadish Vasudev, better known as "Sadhguru", an Indian yoga guru and spiritual master. In 2017, Sadhguru received the "Padma Vibhushan" from the Indian government, India's second-highest civilian award, for his contributions to social welfare and recognition in the field of "spirituality".
Despite the accusation of pseudoscience and commercializing spirituality, Sadhguru has been invited to give speeches in multiple prestigious forums and conferences, including the United Nation Millennium World Peace Summit and the House of Lords at the British Parliament. Sudhguru is especially acclaimed in Indian society, where he ranked fortieth on the India Today's list of fifty most powerful Indians in 2019.
As the founder of Isha Foundation, which is the non-profit spiritual organization that is in charge of the Save Soil Movement, Sadhguru advocates policy changes that safeguard soil health by increasing the organic content in soil to a minimum of 3-6% across nations. 
"Yoga and the Save Soil Movement are all about inclusive awareness, one about yourself, and the other about nature," answered Arti Bhoge when asked why the Isha Foundation takes action in the fields of ecology as a spiritual yoga organization, adding that "having awareness is the basis of life."
The walkathon is held in over 60 cities across the Americas in the month of June, 2022. The Save Soil Movement will also take place in Texas, California, and eleven other  U.S. states, as well as Canada and Mexico, where people will also come together to raise awareness to save soil.