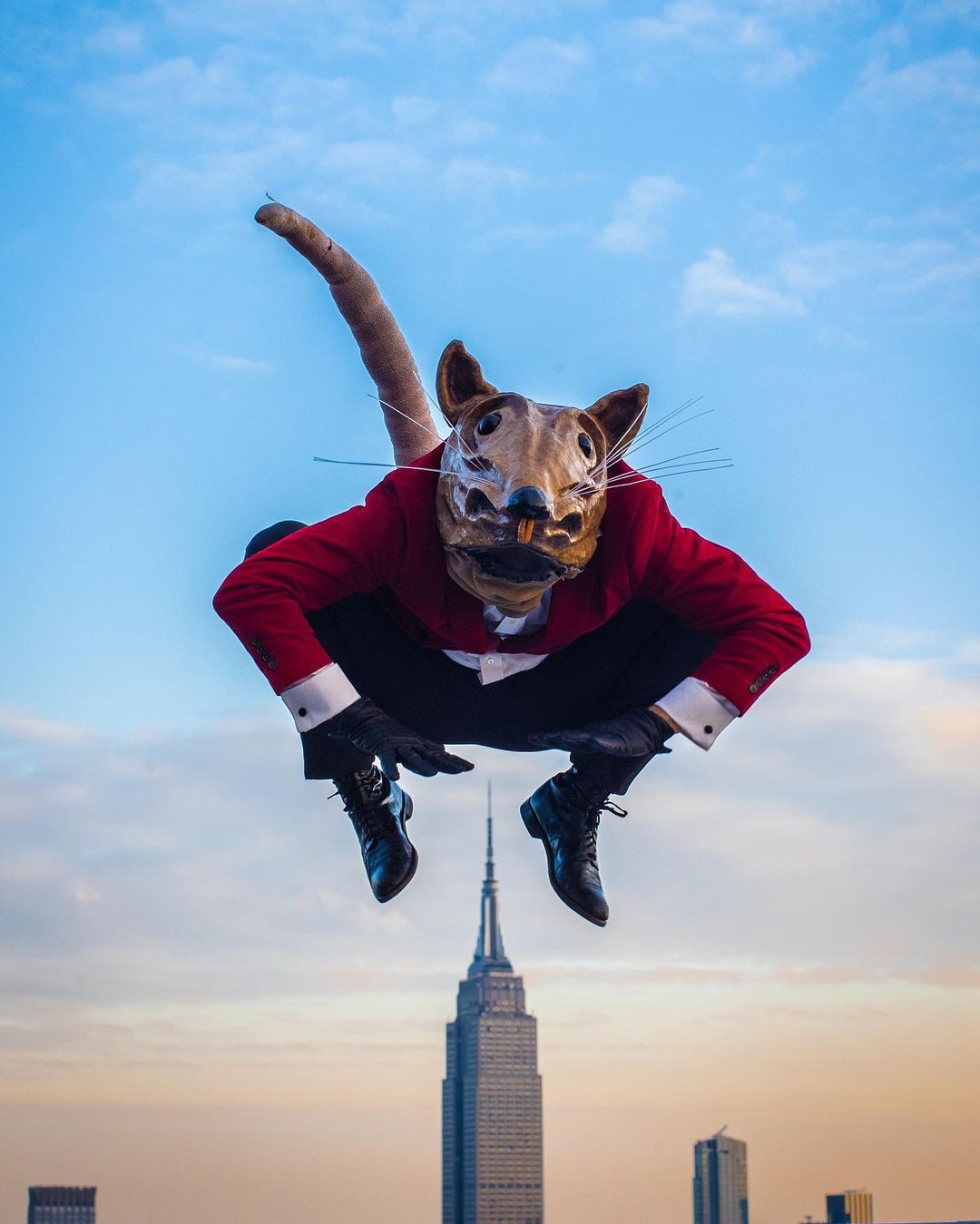 Jonothon Lyons had just finished live streaming an hour-long Instagram performance that included walking on all fours and climbing trash cans in Washington Square Park. However, he was not Lyons throughout his performance, he was Buddy the Rat. Lyons had finally sat down on one of the many benches that surrounded the park, Buddy's mask, which he told me was handmade from clay and paper machete, lay next to me. He wore brown slacks that he had thrifted years ago, a white tank top with suspenders, and brown leather gloves.
Buddy was born in 2009 to be part of a performance art piece that later became a play. To promote the play, Lyons had decided to don the rat mask and run around Times Square and provoke a reaction from people. These performances were recorded and subsequently published on YouTube, where they racked up to 70,000 views over a few years. "It wasn't massively viral, but it was enough that it kind of planted the seed that this could potentially be something," said the freelance actor.
An Online Celebrity
A decade later, Lyons revived the character at a time when street performances in the city had gone extinct due to the Covid-19 pandemic. One of his friends with a background in directing immersive theater had contacted him a few weeks into lockdown to offer him a role in "Eschaton," a virtual nightclub in which Buddy would be one of 20 other artists broadcasting their performances from home. In October of 2020, another friend of Lyons from Hollywood messaged him that he would be visiting the city and had ambitions to "make something." Fresh off the heels from performing as Buddy in Eschaton, he had decided to continue using the character for his friend's short film. During one day of filming in the park, someone had recorded Lyons in costume and in character – the video would make its way onto Barstool Sports. Lyons had cemented himself as an online celebrity.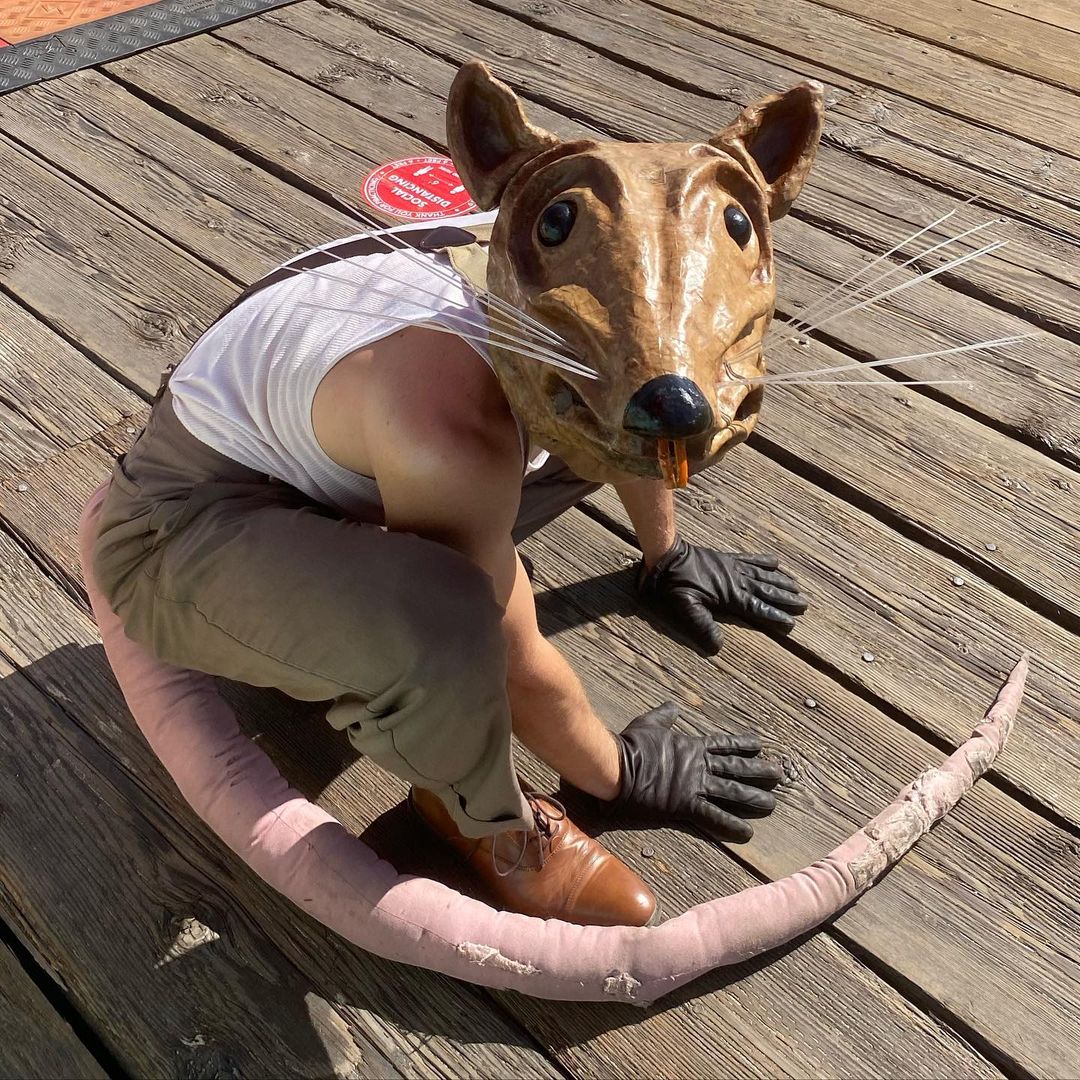 "That first video got a million views that day," he said. "I think I had 300 followers on TikTok, and then within like a two-day period it went from 300 to 90,000 to 120,000, this really massive growth because I had one video that went crazy," he added enthusiastically.
Buddy's Experiment in Turkey
The local celebrity status that Lyons had earned thanks to Buddy had given him the ambition to continue experimenting with the character outside the city's boundaries. "I went to Turkey in July to test it," he said. "I was pleasantly surprised by the people on the street who loved it, but the government didn't like it. Especially in places like Turkey, where it's really moving in a totalitarian direction," explained Lyons. "They don't want people feeling like they have the right to go out and do something new, different, or expressive. I came back to New York feeling a lot of gratitude. The freedom to be yourself. That's what New York is; if New York stands for anything, it's like a place where you can be you," said Lyons.
Today, Buddy still prowls through the streets of New York, shocking, entertaining, or confusing both locals and tourists alike. Meanwhile, Lyons continues to look for other ways to expand on his character: "My goal is to work in mainstream entertainment. I have a Buddy the Rat animated series, movie, and video game ideas. I'm working on those pitches with my writing partners. My dream is to really elevate it to become a true, narrative, cultural character, not just a social media thing."