At 17, Emi Nietfeld won an opportunity to excavate Roman ruins in England. A Minnesotan who had battled unstable housing because her hoarder mother could not maintain a livable home, she was excited to backpack through Europe and have a place to stay in hostels. But during her adventures in Budapest, her trip went from touristic to traumatic.
She was sexually assaulted by a man who worked in the hostel she was staying in — twice. 
The 30-year-old wrote about the two assaults and the emotional consequences in her debut memoir, "Acceptance." The book, published in August, provides a "perspective we can all learn from," as reviewed by NPR. The Harvard alum Google software engineer turned full-time writer opens up about her self-blame that she felt following the assaults and how her mother suggested that Nietfeld had been complicit in her own rape.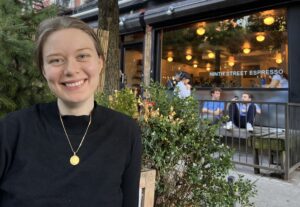 "I hated myself for my submission." Nietfeld writes. "I hadn't fought him. I let him do it."  
Nietfeld felt that the violation had become interchangeable with all of the other bad things she felt ashamed over: her dirty clothes, a hat that she had stolen during a trip to Canada and the self-harm scars that constellated across her legs. 
"Anyone who knew one thing, I feared, would know it all," she writes. "I was sure they would then see me as permanently disfigured, frozen in my most pathetic moments." 
The guilt that Nietfeld felt was partially due to her mother's refusal to let her "off the hook" for the assault. For years, Nietfeld could not shake the idea that her parent maintained she had agreed to it. Roughly nine years later, she confronted her mom. She writes that the way her mother held her accountable for the rape mimicked an idea that had been forced on Nietfeld during her years in therapy and mental health institutions. She was constantly told her actions were the only ones that mattered. 
"Yet again and again, she turned to my supposed drinking and to the fact that I did not object vehemently, to the idea that I had, in fact, consented," Nietfeld writes. "It didn't matter what this grown man did," she continues. "All that mattered was what I had done: drank (or not), decided to comply, opened my mouth."  
In addition to keeping this accusatory stance, her mom also encouraged Nietfeld to stay with her then-boyfriend, who was nearly 10 years older. Not long after Nietfeld had returned from Europe, she met Leo on the dating site OkCupid and moved into his California apartment. He, as she puts it, was everything that her mom wanted for her: a tall and wealthy man. Leo controlled everything, including what she ate, what color she dyed her hair and the way they had sex. 
"My boyfriend had a 'fetish' for intoxicated girls," Nietfeld writes. "The first time he urged me to chug a bottle of wine, I'd had no idea what he was planning—I'd never been drunk before. I got weak and blacked out and woke up filled with confusion."
Though Nietfeld did not necessarily agree with her partner's preferred method of sexual intercourse, she sympathized with his apparent kinkiness. But their relationship got rocky when Leo became increasingly demanding of Nietfeld's attention while she was studying at Harvard. Despite her busy schedule, he expected her to respond to his texts and Skype regularly. 
According to Nietfeld, he was upset with her every ten days. When things became tense between them, she would seek advice from her mom, who repeatedly urged her to stay with him despite their issues. For two and a half years, she stayed with him because he kept her from being houseless during college breaks when she had nowhere else to go. 
"I had been taught implicitly, but forcefully, that as long as I had needs, the people who met them were justified in treating me however they pleased," writes Nietfeld.
For Nietfeld, having to rely on someone felt like inviting the abuse that came with it. That's why, when she met Byron Hood in 2014, her point of view began to shift. The night they met, she went to bed scolding herself for wanting to be held and telling herself that she had to be OK with being alone. The idea of possibly summoning more harm made it hard for her to open up to a new lover. But after sharing an Uber one night, the two began to get closer and eventually started going on runs together. Nonetheless, Byron still had his work cut out for him after they hooked up: he had to pass a couple of tests to confirm that he was "the one."
The first test was to see whether or not he would buy himself a third pair of shoes. Nietfeld was interested in knowing whether Byron could prove his flexibility by expanding his footwear collection since he had been loyal to a scuffed pair of dress shoes and running sneakers that he wore to work daily. He passed.
Then came the big test: Would Byron be a part of her dream of living in New York City? 
"I was like 'I'm moving, you can come or not, and then he came," Nietfeld says. This, she says, is when their life together truly began.
After three years together, Nietfeld took matters into her own hands and proposed to Byron in Central Park. However, she said they could not officially tie the knot until they got a New York Times wedding announcement. After successfully applying, she said to Byron: "OK, we can get married now." 
Today, the couple owns an apartment in the city and has been married for four years. Nietfeld wears a gold necklace with Byron's name engraved on one side and his birthday on the other as a testament to her love for him. Together, they have rewritten the narrative that love does not have to be painful.
"I feel really lucky. He's really kind and he puts—well we both struggle with working too much, so sometimes our jobs come first, but in general, he puts me first and is super nurturing. I just love him to death," Nietfeld says. "I hope for a Byron for everyone."