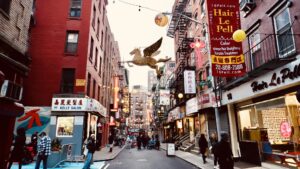 Throughout history, Chinese immigrants and Chinese enclaves (Chinatowns) have been perceived in different ways and through different lenses during different eras. Most reports by mainstream media cover Chinatown from the outside looking in. In the following videos, current residents in Manhattan's Chinatown share their own perspectives on the different careers they found in New York and what the concept of home means to them.
Mr. Feng, owner of optical store, originally from Hong Kong.
Master Kuo, monk at one of Chinatown's temple, originally from Jiangsu.
Mrs. Lee, owner of gift store, originally from Taishan.
Mrs Lin, owner of a vegetable store,  originally from Malaysia.
Ms. Lee, Teaching Assistant at NY Chinese School, originally from Guangdong.
A huge thanks to all interviewees who were willing to share their stories and thoughts, and a special thanks to Andy Zhang for his assistance.