Danavel Wenz Torres, a 25-year-old living in the Philippines, went to the airport to travel to Paris on an ordinary day in March. She turned on the camera and started vlogging. Masks were not required, and no one checked if she was vaccinated.
After spending a while at the airport, pretending to wait for her departure, Torres finally arrived at the gate. Suddenly, she teleported to the inside of the plane. She chose to have a business class seat, ate chicken as an in-flight meal — without paying — and then teleported to the Eiffel Tower.
It is not exactly real, of course. Torres didn't even step out of her house. The one who traveled to Paris was Dana, Torres' 3D-animated avatar in the world of ZEPETO.
"I felt sad during the time of 2020 — the pandemic — that's why I started travel vlogging as Dana on ZEPETO," she said.
Torres' avatar, Dana, even became a YouTuber and uploads most of her travel vlogs. Since quarantine, she has been sharing her virtual travels with her friends and her 54,500 subscribers.
ZEPETO, a Korean-based metaverse software service offered by Naver Z Corporation, is a subsidiary of Naver Corporation, which is regarded as the equivalent of Google in South Korea. Starting out as an avatar-based entertainment service in 2018, ZEPETO went viral as one of the worldwide social media networking services that engage more than 300 million users in over 37 countries. It enabled virtual traveling in the metaverse amid travel restrictions due to the pandemic.
"From your house, you were able to travel and see a concert, explore New York or Paris, try cool clothes and a store — do all these things without ever leaving your own couch," said Bennett Travers, the lead of U.S. business development and strategies of Naver Z Corporation.
All you need to do is just open the app — which is almost free, except for shopping for clothes or particular behavior features — and choose the world you want to travel to. The app will immediately welcome you with the phrase "You're boarding the plane to ZEPETO world."
Once in a world, you can turn on your microphone and chat with other people on the site with your own voice, whether they are real-world friends or virtual strangers. You can also create your own content and be a ZEPETOR. In the same way that Dana vlogs about her trips, you can produce some short-form videos as an avatar in the places you visit.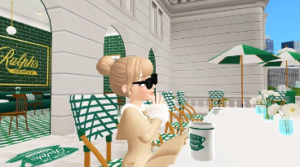 Companies and brands are catching onto the popularity of ZEPETO and creating their own branded worlds. For example, Ralph Lauren has made its own version of New York, where you can stroll Central Park with a latte from Ralph's Coffee and shop for some stylish clothes from its flagship store.
The entertainment industry is also not missing the travel trend in the metaverse world. "You were able to travel and see a concert," Bennett said.
A K-pop boy band "TOMORROW X TOGETHER" even held a virtual concert in Ralph Lauren Garden with the avatars of members, where you could watch the K-pop concert from your home.
Travel trends in the real world are also reflected in the world of ZEPETO. As camping skyrocketed during the pandemic, the camping map in the ZEPETO universe also became the most popular. But unlike in the real world, you don't have to worry about mosquito bites or cold nights. You can simply enjoy the sounds of crickets chirping and hang out in one of the canopy huts with a bonfire and a grill. You can even fish on the wooden board in the camping map world by being your avatar.
"Maybe you'll start to see in ZEPETO world that those beach maps become popular around spring break," Bennett said. "Maybe they're using this instead."
Another feature of ZEPETO is that you can generate a profit by creating your own content — including short-form videos, clothing items and maps you want to travel to and others can visit — as a traveling ZEPETOR. 
"ZEPETO aims to be more like a food truck park where all the vendors can participate, not a fancy restaurant that offers everything," Bennett said.
Rather than merely offering something to consume, ZEPETO allows you to create and leave your own mark on the travel experience.