"Ladies and gentlemen, please welcome to the stage Matthew Perry."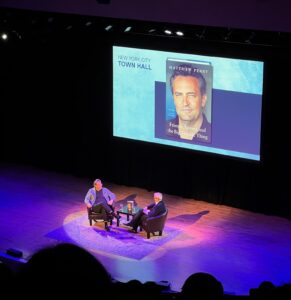 The announcer's voice was followed by a roar of applause and a collective standing ovation as 53-year-old actor Matthew Perry walked on stage at The Town Hall in New York City. But I didn't recognize him.
As someone who has watched all 10 seasons of his claim-to-fame sitcom "Friends" over 15 times, I had a specific image of Perry in my head — mainly one of him playing Chandler in the show's fourth season (my favorite), in which he is very slim and about 20 years younger. Here, he was a relatively average weight and his brown hair was long with streaks of gray running through. 
As the applause dies down and we are still standing, Perry says, "OK, now everybody cry." This man I recognized – the one deflecting any praise or seriousness with a quick joke. 
Perry's highly anticipated memoir, "Friends, Lovers, and the Big Terrible Thing," was an instant bestseller the day of its release on Nov. 1 of this year. The book – which Perry wrote without a ghost writer, unlike many other celebrity memoirs – takes readers "behind the scenes" of his work on screens, on projects like "Friends," throughout his battle with addiction. He estimates he'd been in and out of rehab over 65 times, and spent over $9 million trying to get sober within about 20 years. While his struggles with addiction are not unfamiliar to the public, he said the book is his way of telling the story himself for the first time, hoping to also reach and help people struggling with addiction. 
"The highs and the lows of my life have been amazing, and I wanted to talk about all of it," Perry said at The Town Hall. "I wanted to talk about the lows because no matter how far down the scale you've gone, you can help someone who's going that far down the scale, and I've been down the scale."
The memoir has been criticized for Perry's candidness about other celebrities, such as his comment that he doesn't understand how actor Keanu Reeves is still alive, and how "Fools Rush In" co-star Salma Hayek was not always a "helpful" partner. However, in a review for The Guardian, Barbara Ellen explains that while the actor doesn't always come across as "likable," his narrative might be what makes it a "truthful memoir." 
"It's a scream of authentic human pain, albeit one sprinkled with stardust," Ellen writes. "You end up admiring his honesty." The honesty, as Elisabeth Egan writes in her interview with Perry for The New York Times, is how "Friends, Lovers, and The Big Terrible Thing," will stand on bookshelves next to other powerful, celebrity memoirs on addiction.
The turning point for Perry, he said, was a near-death experience in 2018. In fact, this experience is the prologue of the book. While at a sober living house, Perry went into a state of intense pain — so bad that he lost consciousness on the way to the hospital. Due to his over 20 years of alcohol and drug abuse, his colon had exploded, leading to other complications in his heart and lungs. After a seven-hour surgery, he fell into a coma and was put on an ECMO machine to keep his blood circulating through his lungs, which he refers to as a "Hail Mary." Five people went on the machine the week he was in the hospital. Only he survived. 
"The immediate question becomes 'Why? Why me? Why did I survive when all these other people passed away?'" he said to the crowd. "You have to come up with an answer, and the answer I knew right away was in the area of helping people." So, he started on his book. 
Perry added details that he hadn't shared before, including what was really going on in his mind while he was making millions of dollars on television. His relationship with alcoholism began before he started working on "Friends" in 1994, he reveals. His addiction to pills came after a jet skiing accident when he was filming the movie "Fools Rush In" in 1997, and he was prescribed Vicodin to manage the pain. While he made it a rule for himself that he never came to work drunk, he said, he would still show up to work hungover. His co-stars on "Friends" figured out he had a problem. 
Lisa Kudrow, who plays Phoebe Buffay on "Friends," wrote the foreword of his memoir. "Over the years I didn't really try to intervene or confront him, because the little I knew about addiction was that his sobriety was out of my hands," Kudrow wrote. "And yet, I would have periods of wondering if I was wrong for not doing more, doing something."  
For 10 years, viewers watched Perry's battle with addiction on the show, whether they knew it or not. He writes, "You can track the trajectory of my addiction if you gauge my weight from season to season—when I'm carrying weight, it's alcohol; when I'm skinny, it's pills." 
In an interview with journalist Diane Sawyer prior to the release of his book, Perry said he hasn't watched episodes of the hit sitcom because it was difficult to look at "that guy." Together, they watched a clip from the last episode of season 3. We see an incredibly thin version of the man I saw at The Town Hall, with a white button-up shirt that looks two sizes too big. His sleeves are rolled up, too; I'm guessing they were too long and baggy to wear naturally. 
As he watches the clip, he puts his hand to his forehead and looks away at Sawyer, seemingly looking for words as he starts to tear up.
"Yeah, of course, it's very hard to watch that," he said. "In a weird way, I feel so sorry for that guy. That's a guy that's out of control."
He mentioned that at that time, he was taking around 55 Vicodin a day, and he was weighing anywhere between 155 to 128 pounds – even at six-feet tall. "I feel too sorry for that guy. He's going through too much; and it's me, and I remember that."
Similarly, at The Town Hall, he said he had the same rush of emotions when he read the book all the way through for the first time. He told the audience he'd been avoiding it until a couple nights before he was scheduled to record the Audible version of the book. "I read it in one big gulp, and it's like I disassociated a little bit," he said. "That night, I literally couldn't sleep in the same room as my iPad, which is where I was reading it. I literally put my iPad in another room so that I could get some sleep in my bedroom because there was too much massive injury in it." 
As the talk comes to an end, a 20-something-year-old woman from the audience runs up to the stage asking if he could sign a card for her. As he eagerly gave his autograph, we heard her tell him she watched "Friends" to learn English, and is now a nursing student living in New York City. Whether or not it was the way he intended, he was already helping people even back then.
"On the other side of the coin, of course, it's been wonderful," he continues about his life. "There's been amazing things that have happened to me and I'm grateful for all of it."