"The only thing I remember is waking up on the side of the road."
Seven-time NCAA track and field title winner Coach Beverly Kearney was involved in a semi-fatal car accident on Dec. 26, 2002. The crash threw Kearney 50 feet from the vehicle, leaving her paralyzed from the waist down. After undergoing two five-hour spinal reconstructive surgeries, Kearney says medical professionals told her that it would be highly unlikely that she would walk again.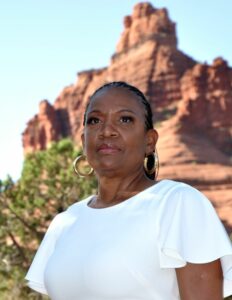 "I told them to [take] me off all medication ASAP. With open wounds and a surplus spine, three surgeries, and staples in my head and back, I got off the pain medication in the hospital." Kearney said. "The first time they tried to move me, I passed out from the pain. But that was the beginning of me taking control of my recovery."
Kearney didn't want to let this life-altering moment define her. Working with a physical therapist for many months, Kearney slowly re-learned how to walk. She said she could have surrendered to the doctor's initial analysis by learning to become self-sufficient with a wheelchair. Still, Kearney says, "there was doubt that I was going to walk again." 
Kearney's mental strength has manifested its way into her newest project: In Pursuit of Dreams. Every other Monday, Kearney enlists a panel of elite athletes, sports psychologists, coaches, and athletic trainers to have an open discussion about the process of moving past mental hurdles that halt progression. Although this web series features individuals involved in some facet of the athletic industry, Kearney believes that "Sports is life magnified," making it relevant to all.
In this digital era, Kearney believes that the instant gratification of social media is a tool that "makes others feel ashamed of their own journey's." Kearney argues that "people today don't want to just control the outcome … they also want to control how they get there. As Kearney says, 'If I do this, then this should happen' and that's not how life works. So just keep moving through the process."
"The simple shift in mentality from 'I'm not doing enough' to 'I'm right where I need to be in this moment' boosts self-esteem and, in turn, enhances a person's performance," says psychology major Kobe Newton.
When people suffer from trauma it is difficult to bounce back to a "tunnel vision" mentality that drives the individual toward success. "Trauma sticks with you forever," says Newton. "You can't do anything to stop it, but you can learn to cope with it over time. We have control over the bad times in our life. But bad times can last forever if you let them."
Kearny hasn't let her own battles with adversity stop her from accomplishing her goals. Growing up in a house of violence, Kearney describes how her lingering childhood trauma has benefited her coaching ability. Struggling to watch others suffer, Kearney wanted to serve as an emotional support system for young and impressionable athletes.
Kearney's instinctive desire to help others has allowed her to pull the best out of her athletes. Former Olympian Michelle Freeman, who Kearney coached from 1989 to 1992, says, "there is not one of us as female that didn't crave Coach Bev's attention, each and every one of us, and sometimes I wonder how she did it. But she finds her ways and means to give us all that we have to have of her, and give us a piece of her when we needed her most."
Former graduate assistant for Kearney at the University of Florida LaTanya Wynn-Hall has a similar story.
"She had an individual personal relationship with every single athlete on her team. And they trust her, and they trust her ability to take their talents to the next level. And that's why she was so successful as a coach because that was the posture that she took," Wynn-Hall says. "You know when she knew that you could do more than you were; that you weren't giving it your all. But it was like a motherly love, like, you could do better. And I think the girls just didn't want to disappoint her."
Freeman recalls a moment in her career when Kearney helped her to attain a goal that seemed out of reach. "I barely scraped it through to the finals. And I called her, and I don't know what I was expecting. But she sure did rip me a new a**hole. And I got off the phone. I was so mad. But sometimes you don't want to acknowledge the truth; because the truth hurts. And I went to the finals, and I won. If I didn't do that, I would have lost out, you know, I'm there feeling sorry for myself, and she didn't give a s— about my pity. She told me to 'Go out there and do what you got to do.' And that's a strong message," said Freeman.
Kearney says she never thought of any of her life experiences as trials. She believes that it's that very mindset that allowed her to excel in her career as a coach and mentor. Kearney hopes that creating a forum to share mental challenges will inspire others to push past their own to accomplish their goals.
Step by step, Kearney has bounced back from adversity by maintaining her mental strength. She is using her web series to help others internalize their goals and manifest their dreams into reality. It seems to be working. As Freeman puts it, "each and every session, you know, the web series grows, evolves into something better. So, even for me, I always walk away from each session feeling accomplished."