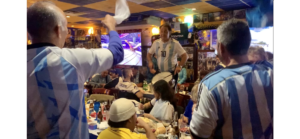 An old Argentinian man stands on a table banging a drum wrapped around his waist, a drum stick in each hand. The wrinkles that line his forehead push together as his eyes widen. his curly black mullet bobs back and forth to his own rhythm and reveals a large bald spot on the top and back of his head. His whole body sways from side to side on the raised surface as he attempts to make a choir of noise out of his one-man band. A small but passionate crowd stands in a semicircle around him, shouting and throwing their fists in the air as a sign of support. 
They are Argentina fans in the Boca Juniors Steakhouse in Corona, Queens after the round of sixteen win over Australia. Their white and sky blue Argentina jerseys blur together in the crowd – Las Albicelestes as they call themselves.
The restaurant Boca Juniors is located just off Queens Boulevard and more than alive tonight. Only a week and a half ago, the restaurant had quickly emptied out after Argentina suffered one of their worst football losses in recent memory. Today, they would ride the high of victory late into the night. 
In the small Argentinian community that lives in and around the Queens neighborhood, football is everything. No, not the NFL (you won't see many Jets or Giants jerseys around here), but the world's game – the one played with feet and goals.
"When Argentina went to the finals in 2014 with Germany, wow," Iris Marcenal, 58, said. "The restaurant was completely full. People sat at the tables and in between them, other people stood. There were even people in the streets, so many people in the streets," Marcenal watched the game at the Argentinian restaurant she works at, La Esquina Criolla. She has worked there for 17 years, since 2005, and says that day was the busiest she has ever seen. 
Argentina lost 1-0 to Germany in that 2014 World Cup final. But despite eight years having passed, nobody around here has forgotten. They still remember that most bitter feeling of being so close to the win, yet so far away. 
"I'm Guatemalan, but in the World Cup I want Argentina [to win]," says Alex Alexander, 29, a chef at La Esquina Criolla. Despite Guatemala never having made the World Cup, Alexander still feels emotionally connected to the tournament and sport. "In Buenos Aires, in New York, Latin people, all Latin people love football."
The majority of Corona residents – three-fourths – are Latino, including Ecuadorian, Mexican, Colombian and several other South and Central American nationalities. But the corner of Junction Boulevard and Corona Avenue, where La Esquina Criolla is located, is uniquely Argentinian.
A few other Argentinian restaurants sit there, a bakery shop, a couple of stores with the nation's sky blue and white striped flags in the windows. But the crown jewel of Argentinian Corona is a three-story-tall mural in honor of all things football. The massive graffiti painting that sits on the side of the neighborhood bakery, Río de la Plata, depicts two towering figures coming out of a sliced football, Diego Maradona and Lionel Messi.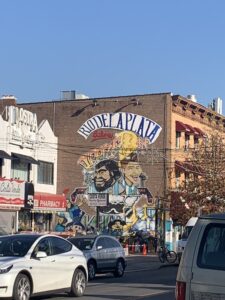 These two are legends of the sport on a global scale, but in Argentina? Among gods.
Maradona won the South American country their last World Cup in 1986 and has become more than a footballer, a national icon, since.
And Messi? This year is likely his last chance to win the World Cup before retirement. The 2014 game against Germany was his closest to date. But there's no question on his quality. 
"Messi? He's the best, no?" asks Tony Ballinas, 43, a chef at La Esquina Criolla for 19 years. "Yes, Messi is the best, probably the best player ever even." Ballinas is from Oaxaca, Mexico, but still supports Argentina. "Maybe because the restaurant I work in is Argentinian, I also just like how they play, they're good."
Marcenal and I talk football politics in La Esquina Criolla as she brings me out a steak sandwich, "de carne," on a baguette-like bread. It comes with A beautiful green and oily sauce called Chimichurri sauce, she tells me. "Let me know when you want more." The sauce is popular in Argentina and made primarily of parsley, garlic and olive oil. I do end up asking for more. 
In another nearby restaurant, Boca Juniors, the extreme highs and lows of sports fanaticism are on full display during this year's World Cup. The Argentinian steakhouse is named after a football team in Argentina. The owner is a big fan. A really, really big fan. 
An oversized Argentinian flag flies high above the restaurant. All around the outside, the Argentinian team badge is pasted wherever it can fit. On game days, Spanish-speaking announcers can be heard on the sidewalk from the booming speakers inside, the crowd roaring in response. But if you want to see inside, you must be inside. Every single window of Coni's steakhouse is blacked out with a life-sized picture of a Boca Juniors player. 
The most amazing thing about Boca Juniors, however, is the interior. Every inch of the wall is decorated with a random assortment of Argentinian flags, jerseys, pictures (mostly of Coni), drawings, scarves, some trophy replicas, and whatever else the owners could get their hands on that is branded Argentina.
As I said – the highs and lows of football are on full display at Boca Juniors.
And so I should have known better when I went inside the same day of Argentina's upset loss to Saudi Arabia. Rather than running into a cheerful crowd, I was met by a sad group of middle-aged men telling me with frustration in their voices that they would not, could not talk about football today. 
They were in mourning – their beloved team had just lost in embarrassing fashion to one of the worst nations at the World Cup. Maybe next week, they told me. 
The following week I returned on a high: Argentina had just won two games and booked a spot in the next round of the World Cup. 
They had forgotten all about last week's loss. This time, I was given free food and invited to songs and chants about football.  The food brought out came on two plates. One with six little pieces of toast covered in oil-drenched tiny tomato slices and the other, a basket of white sliced bread and some magical chimichurri sauce.
Families sat around long tables and ate mounds of various meats, often from grills placed right on their tables. Large pitchers of Argentinian sangria sat at most tables, a sweet wine filled with chopped fruits.
Unfortunately, I didn't get to try it. That was the expensive food. 
Instead, I ordered a couple of fist-sized empanadas and some local beer, Quilmes, branded in the classic sky blue and white.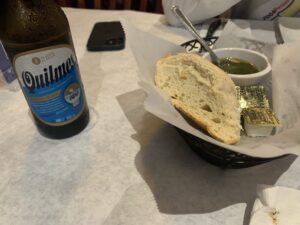 In football, there are losers and winners. Sometimes, even among the winners, there are losers.
The third time, I went to Boca Juniors to see Argentina win and progress to the quarterfinals of the World Cup. I arrived about five minutes late, as did several other people. Cars overfilled the parking lot and even the sidewalk around the steakhouse. 
A man with Argentinian face paint and a flag draped around his shoulders went up to the door with me. He was let in, but I was told that he would be the last. There was no more space for my unpainted self. The place was so packed that people stood along the door, which was shut right in front of me, and to make things extra clear, locked. 
But when I returned an hour after the game, I got to witness just how emotional Argentinian football can get. 
When I arrived, five young men and one of the waiters were outside on the sidewalk along the busy street. They passed a football around drunkenly, playing out scenes from the game, "Qué golazo Messi! Messiiiiii goooooal!" one said, as he stumbled and tapped the small blue ball past a friend.  
Tonight, the old man with the drum would stand on his table as the crowd swayed and hopped around him to the beat. Next week, perhaps Argentina might lose. But tonight? It would be a party.