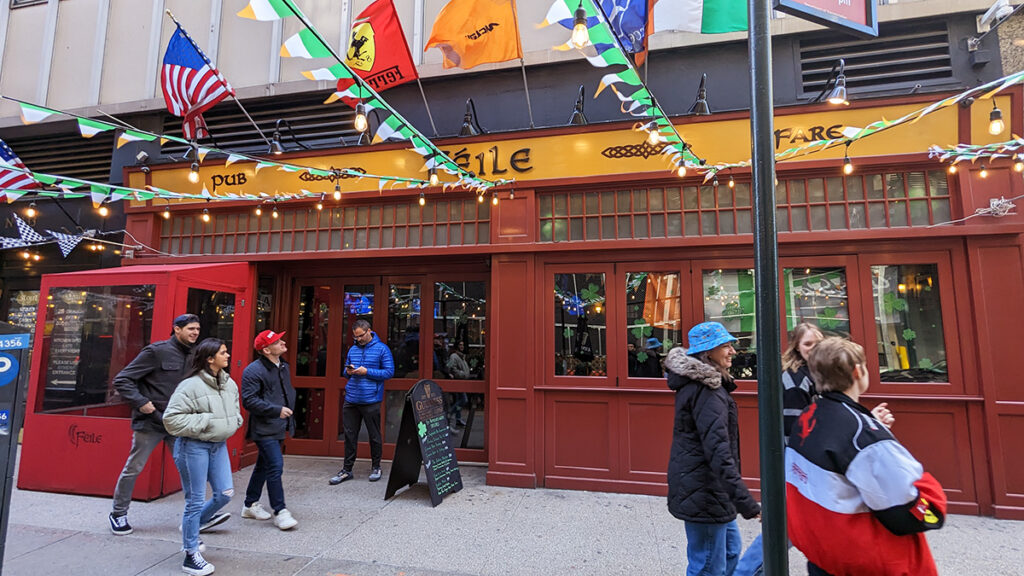 It's cold, windy, and eerily quiet on March 19 in Midtown in early spring. But inside the Irish sports bar Féile (pronounced Fay-La), if you close your eyes and imagine, it's sunny and sandy, and you can hear engines revving. On the eight giant TV screens across the bar and a large projector, Formula One (F1) is on.
F1 is the world's premier single-seater motor racing championship. The 2023 season kicked off two weeks ago with the first race taking place in Bahrain, which was won by Red Bull's Max Verstappen. Today, we're at round two for the Saudi Arabian Grands Prix. 
Inside Féile, which is recovering from a St. Patrick's Day hangover with leftover sparkly green tinsel and green and white balloons, it feels sprightly and spirited. The staff is wearing F1 t-shirts, and fans' attires include a colorful palette representing the top three competing teams: blue (Red Bull), red (Ferrari), and black (Mercedes).
These fans aren't here to sit at the bar and enjoy the odd glance at a screen in the background. They are here to watch the race. Everything else is secondary. They've overcome the paralyzing Sunday afternoon lethargy to cheer for their favorite drivers and teams. Unbound by nationality, language, or race, they stand united by their love for the sport. 
The majority of fans, including yours truly, seek the thrill from the cars themselves. They are technological masterpieces. A Toyota Camry's engine makes 200 horsepower. An F1 car produces over 1000 horsepower. Twenty of these go around a circuit hitting speeds up to 220 mph, battling for every tenth of a second on the timesheet. The drivers experience up to five times the gravitational force going around corners, similar to a fighter jet. Apart from the crazy science and engineering, team rivalries are fierce and dramatic, making each weekend a nail-biting experience.
After 2023's first race, Red Bull surged ahead of the competition. Their car is a beast. However, it's still unclear where the rest of the teams stand. Team Aston Martin, with 42-year-old Fernando Alonso leading its 2023 campaign, seems set to do well. Ferrari and Mercedes haven't improved much after an underwhelming last season.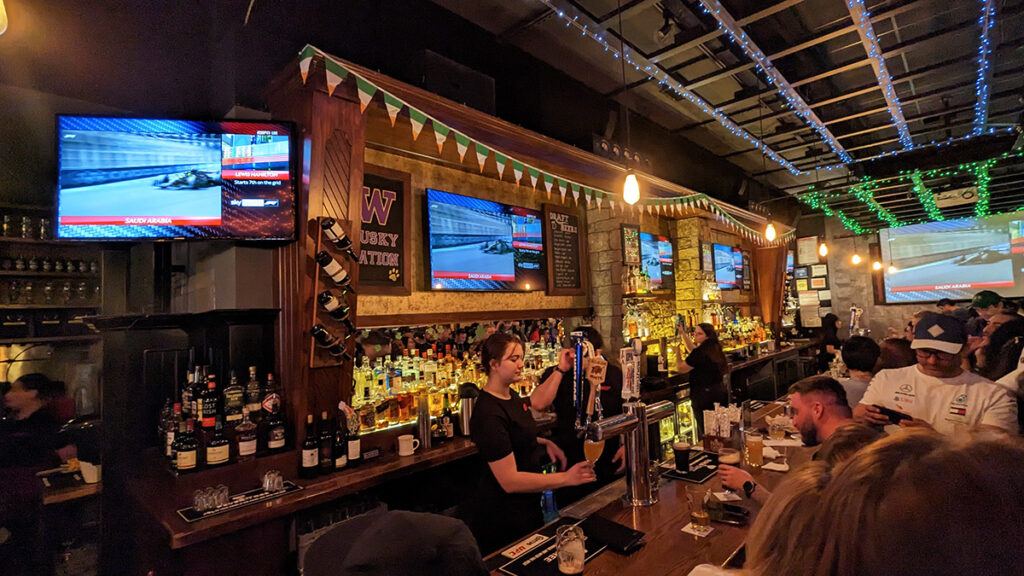 As the countdown begins, everyone's up on their feet. The bar area is overcrowded: there's no place to sit and just adequate room to stand. When veteran commentator Martin Brundle announces (on TV) in his suspenseful high-pitched voice, "The lights are out, and away we go," the crowd roars. An anxious silence sets in as the cars approach the first corner. Alonso, who started second on the grid, had a quicker reaction time than Red Bull's Sergio Perez on pole. He now leads the race.
The atmosphere resembles that of the FIFA World Cup final. Fans are cheering for their favorite drivers as if they are watching the last race of their lives. Shrieks are intermittently reverberating through the bar: "'Go Max!', 'Come on Lewis!', 'You got this Charles!', 'Fuck you Jos!'." Some fans take a jab at Jos, Verstappen's father, who has garnered a bad reputation among the F1 community for disregarding other drivers' successes.
By the halfway mark, the race begins to feel dull, but the fandom masks the race's shortcomings. Miquella Swart, a New Jersey au pair, is draped in Red Bull merchandise: a t-shirt, cap, and bracelet. Her cousins got her into the sport before the 2018 season, and she hasn't missed a race since. "I like Max, I like Red Bull, and I will always support them. Through the hard times, through the good times, I'll always stick around," she says.
Meanwhile, Felie's owner Kevin Ryan, originally from Dublin, is trying on a new Mercedes-branded cap, staring into a mirror, with the cap's uncut tags hanging off his ears. According to Ryan, business is much better this weekend than in previous years. "Pre-pandemic, the turnout was quite good for American races but post-pandemic, and after Netflix's 'Drive to Survive', we're full every single race weekend," he says. 
The docu-drama  'Drive to Survive' triggered an explosion in F1's popularity in the U.S. after its release in 2019. But the surge in viewership was years in the making. Netflix was just the afterburn. As Road and Track magazine points out, Speedvision and NBC Sports were the early broadcasters of F1 in the aughts and early 2010s. Then came the popular documentary 'Senna' in 2010, based on the life and tragic death of three-time Brazilian F1 champion Ayrton Senna. He passed away after crashing at 131 mph during the San Marino Grands Prix in Italy in 1994. Millions gathered in Sao Paulo for his funeral.
In January 2017, Liberty Media, a Colorado-based American firm, began a USD 8 billion takeover of the F1 group from CVC Capital Partners. They loosened social media and broadcasting restrictions and let the popularity soar.
This year has a record 23 races. Three rounds will be held in Austin, Miami, and Las Vegas, catering to the meteoric rise of F1 fandom in the United States. That's the most races in a single country, in a single season, ever. And Red Bull is poised to dominate this historic year with Verstappen piloting their spaceship.
Despite starting 15th on the grid, Verstappen is swiftly moving up the grid in Jeddah. Each of his overtakes is followed by a celebratory cheer from fans. The Tifosis (Italian for Ferrari fans) are yearning for a better result after LeClerc's engine failure and retirement from race one. But both its drivers, Carlos Sainz Jr. and LeClerc are stuck behind the Mercedes duo of George Russell and Lewis Hamilton.
A unanimous favorite is Alonso, the grid's oldest driver. He is given a five-second penalty for an "incorrect starting location," followed by another five-second penalty for serving his first penalty incorrectly in the pit lane—the only instance causing the crowd's ire.
The Red Bulls are so far ahead of the rest of the grid that the action feels dull in the top order. That's a looming threat to F1's American fandom: if just one team dominates, fans might lose interest in the sport. In the 2022 season, Red Bull won 17 of the 22 races. Before that, Mercedes won eight straight championships. Netflix painted a false picture of close racing and sustained drama: something that doesn't seem to happen in reality. It's up to the FIA now, F1's governing body, to ensure that the new regulations, tailored for tighter racing—which is also good for the sport—are implemented effectively. 
In the end, the results are predictable. Perez and Verstappen cross the checkered flag in the first and second positions, followed by Alonso in third. The Mercedes duo of Russell and Hamilton finish ahead of Ferrari's Sainz and LeClerc.
"As far as I know, we're the home of F1 in New York City," says Féile owner Kevin Ryan earnestly. Following the day's rambunctious display of enthusiasm by racing devotees, it's hard to contest that.
Exiting the bar, it feels cold, windy, and eerily quiet. My legs are numb after two hours of standing. But after meeting so many like-minded F1 fanatics, my Instagram follower count is organically up by five—what a rewarding feeling—while my smartwatch indicates 121 bpm. And that's the magic of F1, it envelopes you in an adrenaline-filled elixir that lasts hours after the action is over.