On Monday, March 20, Endometriosis Foundation of America held their 11th Annual Blossom Ball. The night was a celebration of all the hard work the past year has brought to the nonprofit organization, which called for the continuation of its work in improving knowledge and treatment of endometriosis, a condition in which the tissue lining the inside of a woman's uterus grows outside of it. 
Founded by Padmia Lakshmi and Tamer Seckin, the goal of the Endometriosis Foundation of America is to emphasize the critical importance of early diagnosis and providing medical education to those unaware. Endometriosis often results in debilitating menstrual cycles and can lead to infertility. Often, this disease goes undiagnosed. While there are some treatments that can help relieve pain, such as excision surgery, endometriosis has no permanent cure.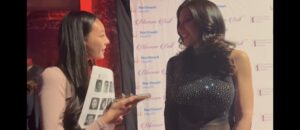 The red carpet for the Blossom Ball featured many doctors, some who are patients of the disease themselves. Many agreed that the conversation about period pain needs to change. "I'm so used to patients coming to me wondering if this [pain] is normal," said Tracey Haas, EndoFound's Executive Director Family Physician. The normalization of intense period pain hinders the diagnosis of endometriosis, which can result in irreversible damage. 
"For people to understand that this could affect your entire physical well-being holistically as an inflammatory disease that can really wreak havoc on their health is really something that needs to be addressed on a large, large level," said Diana Falzone, host and producer of EndoTV, a health channel sponsored by EndoFound. 
The Ball also featured the annual Blossom Award, which was offered to EndoFound ambassadors model Olivia Culpo and actress Corinne Fox. "I'm so honored to be here, to be in a space filled with people who all care about endometriosis, but most importantly [to] even know what it is because so many people don't know what it is," said Foxx. "When I was [on] my diagnosis journey, I watched the speeches from Halsey, and from Lena Dunham, from the Blossom Ball, so to be here is very full circle for me."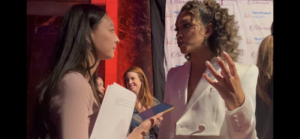 The Blossom Ball featured many women who have used their platforms to share their endometriosis journey with the public.
"[Tonight] feels like a victory lap," said Leslie Mosier, owner of social media sensation Doug the Pug. "Endometriosis has affected my life for as long as I can remember. My excision surgery was in January of last year and tonight, I'm pain-free."
Guests also emphasized the importance of raising awareness about endometriosis. "It's hard to know the unknown. [We should] keep trying to raise awareness and hope that people don't choose to turn the other cheek and choose ignorance over knowledge," said Lexie Stevenson, an EndoFound ambassador. 
In order to inform audiences about endometriosis, EndoFound has launched a new project called ENPOWR. This initiative will bring educational courses regarding endometriosis to schools, summer programs, and communities.
"It's absolutely invaluable for people to be sharing their stories because you might reach someone who's in pain and doesn't know what they have," Mosier said. "The more that we can step out of our comfort zone and talk about this topic, the more that we can spread the information that needs to be spread."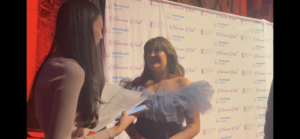 EndoFound has rightfully received praise for making a massive change in America. "When you look around and you see the incredible space and all these people that are showing up, boots on the ground doing whatever they can to spread awareness of this issue, it's really terrific," Asa Germann, a good friend of Stevenson, said. 
Guests also showed support for fellow endometriosis survivors. "Don't give up," Mosier said. "After the dark, comes the light. Always stay positive and lean on people that bring you peace and happiness."