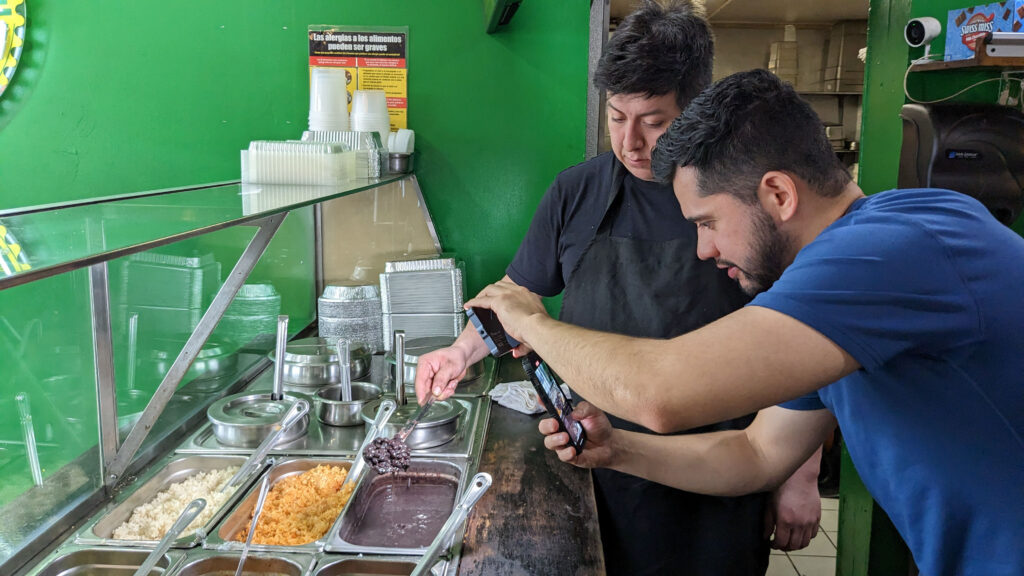 It's sunny in Hunts Point, the Bronx, on a late Spring morning. A gentle breeze brushes against my skin and makes the leaves sway. Despite the sunshine, it's chilly and two layers of clothing are necessary to walk around comfortably.
This Bronx neighborhood is far from the glittering backdrops often seen on the social media pages of New York City influencers. Junk cars lay stacked vertically on the sidewalk. Mechanics wearing stained uniforms are inspecting trucks. Workers are hauling boxes at a nearby Amazon warehouse. At first glance, it's easy to dismiss this neighborhood as an eyesore, unworthy of any attention. But Luis Flores (@pictureperfectluis) believes that there's a compelling reason to be here.
Tucked away in this blue-collar enclave of the Bronx is City Tamale, a quaint Mexican eatery, whose chef has invited Flores to sample his creations.
The restaurant's sky blue and yellow façade breaks the monotony of the ubiquitous brownstones. Corn graffiti on its outer wall is a nod to its specialty—tamales—a Mexican delicacy made from corn dough. Inside, the moist air fogs my glasses up. Before I can even wipe them clear, I'm enveloped in a heady mix of fragrances: steamed rice mingling with the scent of black beans, tamales, and oddly, champurrados—Mexican hot chocolate.
30-year-old Flores, who has 741,000 TikTok followers, blends in with a simple ensemble of a navy blue t-shirt, black trousers, and sleek black sneakers. He's 5'8" with a medium build. His sharply trimmed beard contrasts well with his fair complexion and his demeanor is composed.
In the kitchen, Israel Feliz, the chef and co-founder of the eatery, wearing a sweeping black apron, pulls out a giant pot filled with piping hot tamales cocooned in corn husks. He picks a plump tamale, and presents it on a dish, embellishing it with fried eggs, pico de gallo (Mexican tomato dip), velvety guacamole sauce, and slices of creamy avocado—all meticulously arranged to maximize the visual appeal. Flores begins filming the scene, deftly maneuvering his iPhone 14 Pro and a rectangular DigiPower portable flashlight to capture a close shot of the dish.
While I drool over this sumptuous sight, Flores continues filming for the next 30 minutes. In the cozy seating area, the chef brings more food: empanadas, nachos, tacos, and tamarind juice for Flores to film the b-roll, and later, eat. Flores arranges it symmetrically on a rustic teakwood table, one of the only two tables at the small eatery.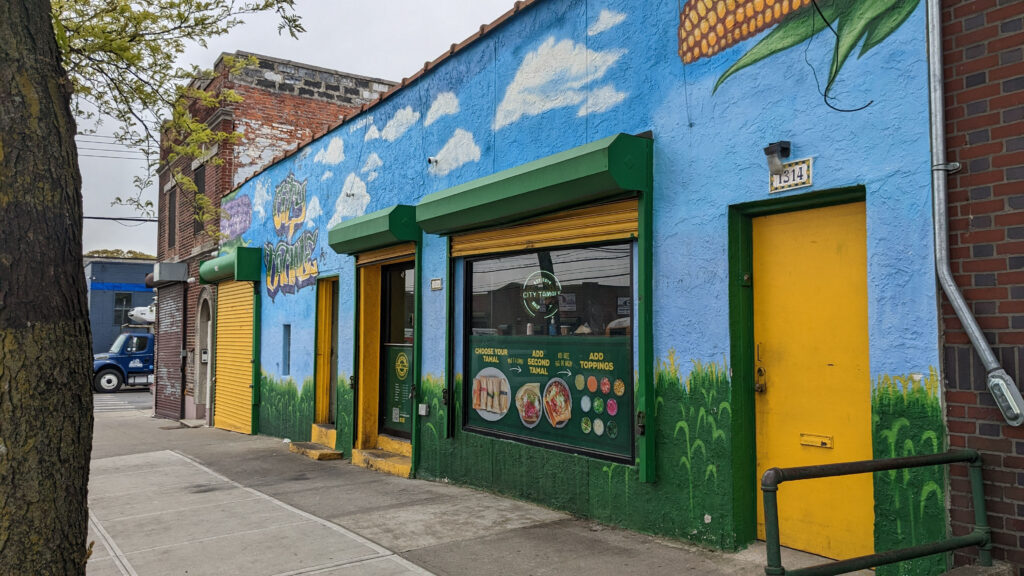 Flores leads a life filled with food and adventure. He spends his days filming diverse cuisines and his evenings editing. He relentlessly hustles across the city to discover new eateries and the latest "fun things to do," the title of many of his videos. He champions the idea that New York City need not be prohibitively expensive, sharing affordable alternatives to pricey dining and entertainment options. The resulting videos showcase a cherry-picked list of things to do in the city—an easy cure if you're experiencing decision paralysis due to convoluted search engine suggestions.
Flores' focus on affordable things to eat intersects with his affinity for immigrant small business owners. Take City Tamale's owner and chef Israel Feliz, for example. Feliz grew up in Puebla, Mexico, and moved to the U.S. in search of a better life. He dropped out of college and spent years working in restaurants before starting his own business—it's a powerful story of resilience, one that Flores admires and resonates with.
The tamale that Flores filmed cost $4. Even the most expensive dish at City Tamale—a mixed salad—tops out at a wallet-friendly $10.50.
This empathy for immigrant entrepreneurs who overcame hardship stems from Flores' own background. When he was seven, he migrated from his birthplace of Veracruz, Mexico, to Las Vegas, Nevada, with his mother, stepfather, younger sister, and brother, in pursuit of a brighter future. "We had nothing, we grew up straddling the poverty line," says Flores when I meet him again at Washington Square Park. This time, he's dressed in a plain olive-green t-shirt, light-colored shorts, and white sneakers—his understated appearance belying his massive TikTok popularity.
His mom and stepdad worked hard to make ends meet all their lives, and now it is Flores' turn to take care of his family. "I knew that if I wanted to give my mom the life she deserves, I had to think out of the box," he says.
Before his TikTok fame, he struggled to find his footing. He dabbled in selling mobile phone cases on Amazon, followed by an unsuccessful stint in email marketing. His first proper job was project management at Lumen, a telecom and data services company, which he quit after realizing the potential of online content creation. He even tried photography, but soon understood that the industry was already saturated with accomplished shutterbugs.
"All that stuff failed, but it taught me a lesson," says Flores with deep gratitude. For TikTok, "You don't need to have much skill, your content just needs to be engaging," he says.
In one TikTok post, Flores talks about Evelia, a streetside food vendor in Queens. The NYPD arrested Evelia 18 times for not obtaining the necessary permits for her food cart. Every time the police released her, she returned to her cart, resuming her love for cooking Mexican food.
It's "a true testament to the beauty of perseverance," narrates Flores through a voiceover in his post. The resulting reel, with its simple static shots, pan shots, and close-ups, filmed vertically on his iPhone 14 Pro, may not seem expertly curated. But with 1.8 million views, the clip is a success. "People care about the story," says Flores.
Initially, food wasn't central to his content creation. Instead, he capitalized on the aesthetics of New York City landmarks like Central Park, Grand Central, and many others. A snowy night in Times Square changed everything. A nine-second left-right pan showcasing a majestic snowstorm with Times Square screens lighting up the background became his breakout moment.
"That evening I almost didn't step out," says Flores, giggling at this stroke of luck. "In two weeks, the video had 14 million views on TikTok and another 16 million on Instagram," he adds. "Because of the growing audience, brands, and restaurants started reaching out." When his reels began going viral regularly, Flores quit his project management job and focused on content creation.
He offers his viewers tremendous variety: 'Important dates of the holiday season,' 'Free things to do in NYC,' and 'Things to do under $20' among many others. To break the monotony, he intersperses the feed with enchanting sunset reels, spellbinding snowfalls, or the unmistakable birds-eye view of the lower Manhattan skyline.
His girlfriend Ariana Sun, 30, whom he met in April 2022, became his manager, and together they brainstorm and execute ideas. Sun, a marketeer at a beauty product company, is wearing a casual round-neck black top and speaking to me via Zoom from her balcony. She is convivial and shares her partner's calm demeanor.
As an Asian, her experience growing up in a predominantly white Indiana made her appreciate the diversity of New York City. Without revealing too much, she tells me that her childhood in a completely white city was a "crazy experience."
To get to Flores, brands have to get through Sun. "I receive the bulk of the business emails, I filter through them and forward the authentic and interesting ones to Luis," she says.
When they first met, Flores seemed grounded. "Him being this big TikTok influencer was not his leading statement at all," says Sun. "He was upfront on how he wanted his life to pan out, how he wanted to be his own boss and take care of his mom."
Balancing their personal and professional relationship can sometimes be a challenge. Recently, they took a cooking class together and agreed beforehand that they were not going to film during the class. "That was not for content, it was just for us to be in the moment and enjoy it," says Sun. The couple took a three-course cooking class, where they made pasta, mozzarella, and tiramisu.
Flores' TikTok fame has led hotels, restaurants, museums, stores, and exhibits to bang down on his door, requesting him to give them a mention. The TikTok monetization is only a cute little cherry on top compared to the sum he earns from a single brand mention on his platforms, a sum probably worth two Louis Vuitton Dauphine bags.
With TikTok walking on a regulatory tightrope in the U.S., influencers like Flores risk losing their business. Concerns are growing in Congress that ByteDance, the app's Chinese parent company, could share user data like location details and browser history with the Chinese government and potentially disseminate misinformation. The White House, Congress, and the U.S. Armed Forces have already banned the app for their employees, and there are increasing concerns and political debates that the app could be banned for the public as well.
"I feel that at some point it could be banned," says Flores. He believes that TikTok is being unfairly singled out and that misinformation spreads anyway, irrespective of the medium. "Why not create a uniform regulation for all platforms, something like Europe's GDPR?" he proposes. Europe's General Data Protection Regulation guarantees the 'right to be forgotten,' where individuals can ask organizations to erase their data under certain conditions.
The TikTok phobia in Congress adds another layer of complexity and uncertainty to influencers' fragile business models. Brand partnerships are fickle and unreliable, with income streams ebbing and flowing like the tides. "Being an influencer, there's no guarantee of income," says Flores. "You may have some deals locked in for a month, and then the following month you might have nothing," he says with a tinge of anxiety in his voice.
Fortunately, Flores isn't entirely dependent on TikTok. When I first met him, he had 350,000 Instagram followers, less than half his TikTok count. A few months later, the number soared to over 500,000, and it continues to grow like a rocket's altitude. By the end of the summer, he will have added a couple of hundred thousand more. When I ask him about this growth, he casually answers, "It's summer, and people are looking to do things."
While Flores' focus on immigrant small business owners makes him unique, he often shares his content format with other New York City travel and food influencers. Comparable accounts, like @japanesecarlos and @saint_travels, follow a similar script, churning out posts with titles like '10 things to do in NYC this weekend,' 'Best date ideas in NYC,' or 'Best Pizza in NYC,' among many others that sound similar.
Healthy competition thrives in the city. But producing, filming, editing, and posting daily content is not a one-person job. Even influencers need assistants. Back in the Bronx eatery, Flores introduces me to Mike Velasquez, the Robin to his Batman, whom he met through a mutual friend.
At 6'3″, Velasquez towers over the relatively smaller Asian and South American crowd in the neighborhood like a friendly giant. He's wearing a dark blue winter jacket, casual black jeans, and gray New Balance shoes. The 26-year-old Colombian works full-time as a retail operations executive at MetLife, and assisting Flores is his side hustle. He carries the filming equipment, reads the script to Flores, and often captures secondary footage.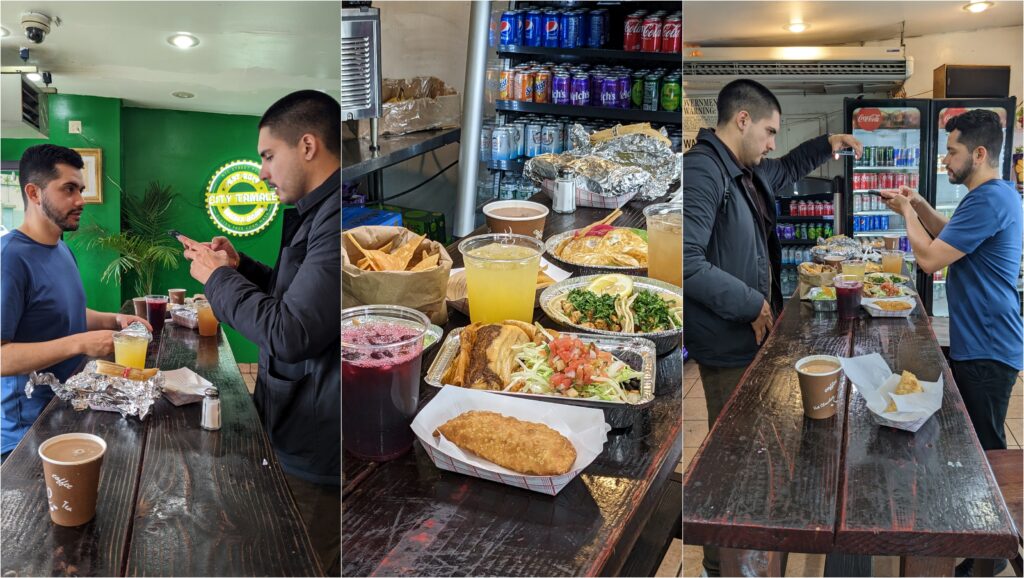 Velasquez loves his Chevrolet Camaro, mountains, nature, and his Insta 360 camera. "I just love everything," he says animatedly.
"You need to stop filming, and start eating," says Desirée Vega, a parent coordinator at the nearby Bronx Academy of Multimedia who's a regular customer at City Tamale. "The camera eats first," responds Velasquez, his body language matching the gusto of a college kid on a summer break.
"We once filmed the longest pizza in New York City at Biga Bite, it was 10-foot long," says Velasquez proudly. While they couldn't finish it all by themselves, they didn't let the pizza go to waste. Lugging the massive boxes onto the subway, they drew curious stares from riders. "When we handed out slices, everyone was like, these guys are so cool," he adds.
Velasquez and Flores share a common passion for exploring cuisines and the human stories that come with them. They interact with chefs, hear their stories, and expose their small businesses to broader online attention, something that the owners themselves can't necessarily do because of their socio-economic circumstances.
Most importantly, collaborations with these small businesses, like those with Feliz and Evelia, are free of charge. Flores doesn't bill them; he only bills the bigger brands that seek promotion. In a way, he's an activist, and a journalist (he loves interviewing people), disguised as a TikToker.
Perhaps for Flores, food is beyond just sustenance or indulgence, it's an emotional transaction, rather than a monetary one—a bridge that connects souls. He believes that by sharing a meal, we can transcend borders and cultural differences. "My family was poor, but we always ensured to get together for rice, beans, and tortillas. That's why I like covering food, it teaches us that we are more alike than we think."