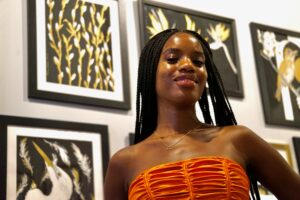 Shortly after I entered the small, rentable gallery space nestled between Manhattan's Upper West Side and Midtown on a moist and muggy Thursday afternoon, I witnessed the orchestration of a small production of sorts.
Beneath a wall adorned with an array of artistic works, consisting generally of birds and human faces, a smartphone cameraman filmed two chicly dressed women sitting together on a gray couch. From what I was able to overhear, the video production involved something that "would look good for Instagram." Aside from the talent and the camera, the only thing missing was a clapperboard.
That afternoon, on the opening day of New York Fashion Week 2023, the Evans Gallery on West 60th Street was home to a pop-up event organized by Metropolitan Couture Media Group. 
The day prior, MCMG had put on the Buy Now Fashion Week event, an annual fashion show which allows attendees to purchase items they liked on the runway on the spot. The pop-up doubled as both a follow-up for people to purchase runway items from the day before, as well as a networking event for influencers, designers and models.
Thirty-one-year-old Onyeka Deborah, a model, social media influencer and a self-proclaimed "Positive Pamela," helped organize the networking event with MCMG as a way for influencers to have fun and meet each other. Deborah has pursued modeling professionally since she was 23, having partnered with big names like Playboy and Gucci, but she began taking social media content creation seriously during the pandemic. 
The impact of content creators on fashion cannot be understated. Internet superstar Alex Consani, who boasts over 1.3 million TikTok followers, walked for big name designers including Tom Ford and Thom Browne. Additionally, content creators with vast followings on social media are earning prestigious front row placements at Fashion Week runways.
"Influencers build the hype around an event. They're bringing out the outfits, they're bringing out the cameras, we're vlogging, we're doing TikToks, we're doing Reels. We're gonna give you the experience of your life," Deborah said. "As a woman model, you're not taught to do that. That's not your job."
With almost 30 thousand followers on Instagram, Deborah promotes her bubbly personality through her online content creation, brandishing her trademark smile and trendy style as she models various partnered brands in her posts.
"They (models) are not there to have a personality, and a personality is what sells," she said. "It's not always about who looks the best, it's about who is more personable, and that really matters."
Up-and-coming model Ming Cheatham has similar sentiments regarding the impact of social media. The 21-year-old, who balances her modeling career with attending Nassau Community College and playing as a point guard for the Lions, recently launched her foray into content creation less than a year ago. 
Cheatham said that her presence on platforms like TikTok, Instagram and Youtube, where she mainly posts photoshoots and vlogs of her daily life, has sparked more engagement for her personal brand. Creating content for social media, especially on TikTok, has allowed her and other influencers in fashion greater opportunities for exposure, including her first NYFW runway appearance during the New York Fashion Experience event at the Armory Arena on Sep. 9.
"TikTok has become a very big platform for influencers because with TikTok, you're connected to everybody in different states, different countries, so everybody is seen," she said. "And especially with the fashion industry, it has the world in a chokehold right now because it's a trend setter. Like even with Uzi, JT, Beyoncé, Rihanna, Lady Gaga, all of those people are very big influencers, and people love to recreate those looks."
For independent fashion designers like Yonkers-native Shecaniah Freeman, owner and operator of Reminisce Earrings, social media has also served to bolster her business without the need for models or traditional methods of advertising. Independent designers like her can now market directly towards the consumer by uploading content themselves, in turn becoming their own influencer.
Freeman turned a high school hobby of drawing jewelry designs into her own independent business during the mid-2000s. After officially establishing her business in 2005, she began to bring her globally-inspired designs for earrings, necklaces and bracelets, which incorporate fabrics like denim, leather and lamb fur to fashion events.
Initially for her, making connections involved business cards, Yellow Pages and handshakes. But when social media started to become more popular, networking shifted towards the digital sphere. And though she credits social media for the simplicity it brings to networking, Freeman still prefers the footwork of in-person connections for her business. 
"With social media, sometimes it's a good thing, sometimes it's a bad thing," Freeman said. "I think it creates a lot of laziness, less talking. Everybody's doing the whole texting, DM and inbox. A lot of the conversations aren't as intimate as they used to be."
Nowadays, the age of social media has usurped traditional methods of fashion marketing and networking. Whether it be models building their own personal identity for fans to engage with, or brands and designers using influencers to market their products, social media acts as the new middleman to bridge the gap between creators and consumers.
"We're the new commercials," Deborah said. "Who needs a commercial now when you have an influencer?"