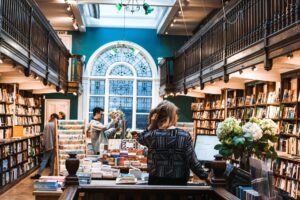 For at least a century, LGBTQ people have found bars indispensable places to meet friends and lovers, organize politically, feel safe, and let loose. But in the past few decades, gay bars in the US and around the world have been closing at a steady rate, from a complex mix of factors that social scientists are still puzzling out. In fact, there are 45 percent fewer of them than in 2002.
"Gay bars are declining because there is no longer a market for gay bars themselves," Beau Lancaster, an LGBTQ historian says. "If you can meet a guy on the internet if you can meet someone at a cruising spot, then why would you go to a bar?"
Lancaster says that the decrease in gay bars isn't a problem, however. "If you think of general bars, they can be the center of a lot of fights, vices, and, particularly in the queer community, can be a sense of escapism, with alcoholism other forms of substance abuse," he says. "Sometimes a bar or another scene that prevents you from processing your emotions might be bad. Instead of going to a coffeehouse, saying, let's get drunk."
As the vodka runs low and leaves empty glasses and vacant spaces behind, inclusive bookstores across the country open their doors to the queer community.
"Bookstores are making kind of a comeback," Jaime Harker, founder and Owner of Violet Valley Bookstore, says. "There's something about the community that builds the space you have, like how do you discover books? How do you meet other people like-minded folks? A lot of that is thinking about creating these networks and support. And we're generally about diversity, about queer identity about all this stuff that like the realization that we have to create and sustain and support our communities and build spaces for them."
Harker says that she will never forget the first time she found a queer bookstore. "I just wandered into this bookstore by accident," Harker says. "It was a place where I found these cool books, and they would have events there and community. I remember when I went in there, I was like, wait a minute, I don't feel anxious. I didn't feel scared. I had this sense that I felt okay in the world in a way that I didn't in other spaces like you're represented and there's a way to exist there."
"Queer spaces are important," Lancaster says. "You need physical spaces. There has been a decrease in these spaces in the past ten years, partially because of the pandemic, because you have more digital spaces, but you really do need physical spaces in order to know what queerdom is, what your identity is, and how you socialize with one another. It's something that you really need to build community and friends and lovers and socialization."
While queer bars are still popular among some people in the communities, it's important to have alternative spaces. "So many queer places end up being bars and nothing wrong with that, right?" Lavender Library volunteer, Mauricio Torres shares. "They have held that important place in our history, but we also need to offer a sober alternative for queer people to gather."
Torres says that queer bookstores hold history in a different way and offer a different form of representation. "Queer bookstores are one way where queer people can tell their stories and where we can find our niche where we could find people to relate to where we could find stories that inspire us. And it just so happens that books are one of those places that have one outlet that has existed for a while and kind of compiling them in one place. I think is really validating for folks."
Not only is the representation important to the community, but the physical space allows for connections that otherwise would never have occurred. Michelle Axelson, owner of Women'sCrafts bookstore, says that while she was working at the store a customer called with a unique request. Her daughter was stricken with fear over what would happen to her when she grew up. She just came out as lesbian but didn't know any lesbian adults.
"She wanted recognition that life gets better for LGBTQ people," she says. "The mom asked if I could write her a letter and people in the store heard the conversation. Everybody in the shop just kind of stopped and asked if they could write letters to her too," she says. After pens were passed and bags were filled, the mother went home with armfuls of reassuring words from the community.  "That wouldn't have happened at Barnes and Noble, and that wouldn't have happened at the convenience store," Axelson says.
Josh Madwed, who attends the local book club at Unabridged Books, a queer bookstore in Chicago, says that gay bars can sometimes be intimidating. "There's a lot happening at bars," he says. "It can be hard to meet people."
Madwed says that the elements of drinking and hookup culture are also challenging to navigate at times. "At bookstores, I can see meeting people for coffee or to become friends with," he says. "Books are also more intimate and vulnerable. What book are you reading and why do you like it strikes a much more interesting conversation than what are you drinking."
Emily Autenrieth, owner of A Seat at the Table Books, says that she opened her store to create that very space. "There's not a lot of queer celebration or spaces and outgrow even though Sacramento has been celebrating pride for almost 30 years," she says. "So pretty quickly after moving here the idea kind of formed of a Bookstore Cafe with community space."
The importance of the bookstore lies in the physical intimacy and space it creates. "There's other people physically near you, who are supportive of you," Autenrieth says. "And so having these community spaces where you can have those connections with lots with lots of different people in real-time and three dimensions is important."
Michelle Axelson, owner of Women'sCrafts Bookstore says that she intentionally keeps representation in mind when curating her selection. "There's six large portraits of empowered women, and that's the majority of the wall space," she says. "Every single book is written by a woman or a non-binary queer person, and there are titles of books that express and share your worldview," she says. "For queer people, we have been limited in what we have available to us so seeing it in a space means a lot to the community."
"You do not have to do any gymnastics to look for a wedding card and see what you have to cross out to make it relevant," Axelson says. "The cards in the shop are 'Yay, You're Mom's!' or 'Congratulations on Your U-Haul!' or cards about chest surgery, cards about taking hormones, cards about what your pronouns are, or 'Seeing you makes me proud.' Everything in the shop is positive affirming language."
"There's not a ton of queer spaces available in our world currently," Christina Pascucci-Ciampa, owner of All She Wrote Books shares. "When you're able to see yourself in the pages of books that are on a shelf, that can have some powerful meaning."
"People come in and they're jumping up and down," Jaimie Harker, owner of Violet Valley shares. "They're so excited. They see our four rainbow flags and a trans flag and they're just like, I didn't know that a place like this was possible."
Michelle Axelson shares that a lot of the conversations she has with people are about letting them know that life is okay after youth. "I'm in my 40s and I'm a queer elder to some of these people," she says. "Particularly if they don't have family. I want to be in that family. And if I have a store people can find me, I'm not special for that, but the shop exists, it's important who the people standing in the shop are."
"The point of it is not to have a café or a store," Emily Autenrieth, owner of A Seat at the Table shares. "The point of it is to give everyone a seat at the table and to make those connections and make that change."
"This is this incredible space that you can imagine yourself in the world not as someone who is hated or doomed to a tragic life," Jaimie Harker says. "But like there's a world in which you're valued."