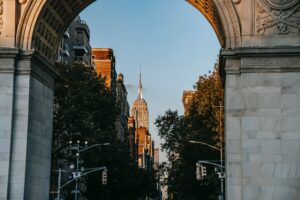 The Empire State Building. Grand Central Terminal. The Chrysler Building. These may come to mind when thinking about New York City's landmarks. But there are nearly 38,000 others across the city — the highest number of city landmarks in the United States.
What is a landmark in NYC? 
In New York City, the Landmarks Preservation Commission (LPC) reviews and designates buildings or sites that are "architecturally, historically, and culturally significant" as either one of the four categories of landmarked properties: individual landmarks, interior landmarks, scenic landmarks, and historic districts. Criteria of evaluation for each type of landmark differ slightly, but generally, they must be at least 30 years old.
Compared to the the grandeur of individual landmarks, such as the aforementioned or Central Park, humbler forms such as cast-iron buildings or dumbbell tenements abound.
An entire neighborhood can also be designated as a historic district, which would grant all buildings encompassed landmark status. A specific part of a building can also be landmarked exclusively as an interior landmark, which can be independent of the structure that houses it.
What does "landmark" status mean for a building?
Landmarked properties have the protection of the LPC against "alteration, reconstruction, demolition, or new construction" that would destroy or change their fundamental architectural character, and which much be approved in the LPC in advance, according to the LPC website. Owners of landmarked properties need to file for permits with LPC for proposed changes.
The LPC was established in 1965 out of the passage of New York City's Landmarks Law that same year amid growing concerns about the loss of historically significant buildings in the city.
It was one of the country's first cities to pass strong legislation on historic preservation along others including Charleston in South Carolina and New Orleans in Louisiana.
Why do some areas have significantly more landmarks than others?
As the LPC website map shows, the majority of New York City's landmarks reside in the neighborhoods of Lower Manhattan and northern Brooklyn.
"Those are areas of the city with lots of historic structures," said Andrew Dolkart, a professor of Historic Preservation at Columbia University Graduate School of Architecture, Planning and Preservation (GSAPP) and former staff at LPC from the 1970s–1980s. "The law doesn't say that landmarks need to be evenly distributed. They say that individual landmarks or historic districts have to be architecturally, historically and culturally significant."
In addition to the long history of these neighborhoods, Dolkart said these neighborhoods also have a large constituency for preservation which has been less true for other parts of the city until more recently.
"Community engagement is very important," Dolkart said.
How does a building or neighborhood become a landmark?
The process of designating a landmark starts with property identification, which often comes from nominations by community preservationists or property owners, according to Blaire Walsh, the Director of Preservation Services at the New York Landmarks Conservancy and former LPC preservationist. After a Request for Evaluation form is submitted, the LPC's research department will begin an internal review. Approval will lead to a presentation of the proposed building or site to the full Commission, followed by a series of public hearings before final designation. The City Council's approval is not required for a landmark designation to take immediate effect, although the council often does vote on designations.
The stated criteria requires "special historical, cultural, or aesthetic value to the City of New York, state or nation."
But biases exist.
"When the Landmarks Commission was created in the mid 1960s, they definitely looked for some of the oldest buildings in the city, and I think they also were looking for concentrations of old buildings," said Walsh.
Walsh said some other neighborhoods in Staten Island and Brooklyn have buildings just as old and valuable as those in Lower Manhattan, but that the latter's buildings were more densely built was a favorable factor to the LPC. Walsh also said economic factors and taste may play a role, too.
"​​Early in the preservation movement, we were very impressed by beautiful buildings and, you know, the city's financial district and Lower Manhattan had many beautiful buildings and well-designed buildings," Walsh said.
Processes at LPC have traditionally been opaque to the public. In January 2021, the LPC issued an Equity Framework which aimed to promote greater transparency, diversity and inclusion in its designations. Some question how the LPC implements the framework.
"The Landmarks Law is being unequally applied based on property type, borough, neighborhood, style, and level & quantity of support," Michael Perlman, the founder of Diamond District Preservation Group, said via email. 
Perlman has been leading the effort to landmark a building in the Diamond District. The Diamond District is not a designated historic district nor has any landmark. Perlman's request for evaluation was rejected by LPC in a letter in late September. The LPC cites "numerous alterations" as the reason not for further consideration. Perlman said he considers the LPC's rejection "immoral" and plans to continue to advocate for the building's landmark designation.
What does it mean that NYC has so many landmarks? 
Among all the city's landmarks — including 1456 individual, 121 interior, and 11 scenic — 117 of them are also National Historic Landmarks (NHLs), comprising over 4% of the county's total. In comparison, the City of Los Angeles has over 1200 Historic-Cultural Monuments, 9 of which are NHLs. The National Park Service defines NHLs as "historic properties that illustrate the heritage of the United States."
"I think it can be inspiring to know that these buildings have endured for such a long time," Walsh said.
Walsh said many of these old buildings were built to be lasting and sustainable, and provided special solace during turbulent times such as the pandemic.
"These buildings represent what make us Americans, or New Yorkers versus Parisians or people who live in Quebec or something like that. This is our story, and this is where we came from, and I think it teaches us a lot about where we are going," Walsh said.
Dolkart said, as an architecture historian, he thinks historical preservation is also about preserving beautiful and human public spaces for everyone. He also believes in the need for change, and that landmarks are compatible with new developments.
"I don't think that a city should be a museum," Dolkart says. "I think that what makes a place like New York exciting is the juxtaposition of [the] old and historic and [the] new."