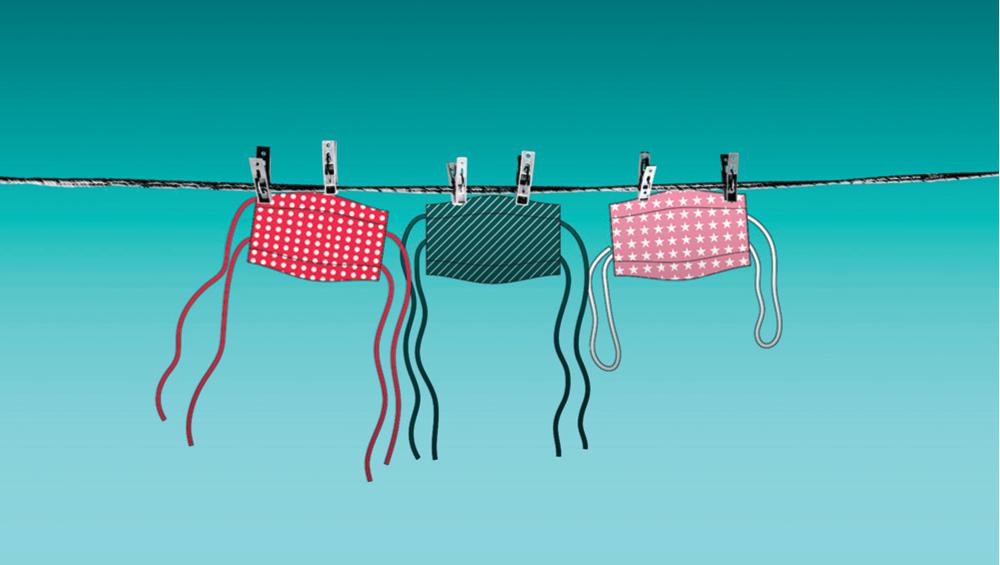 It's no secret that landfills and oceans have long been overrun with single-use plastic and manmade pollution. So with March 13 marking one year since Covid-19 shut down New York City, it's worth considering just how much damage the pandemic has caused, not only to us but also to our planet. As it turns out, our newest accessory — the mask — has done much to ensure that the planet is just as miserable as we are.
The Problem
According to a new study from the British Medical Journal (BMJ), a total of 129 billion disposable masks are used globally each month that the pandemic persists. As a direct result of improper disposal, at least 75% of this personal protective equipment (PPE) is expected to end up in oceans or landfills. While surgical masks make up most of this waste, they are closely followed by plastic gloves and disposable hospital gowns that overwhelm waste management systems every day.
"Making sure that systems are in place to reduce the need for PPE can reduce the amount that gets used in the first place," says Andrew Kam, a researcher with the Faculty of Medicine and Health at the University of Sydney. "It is very much a last line of defense in infection control. There are a lot of other measures that people can take to reduce infection risk before using PPE."
But during a time where heavy safety gear is extensively used to protect global health, other measures must be taken to protect the environment that won't make the public feel that their safety is at risk.
That's already happening. Over the past several years, New York State has been passing new legislation that aims to protect and restore the environment, including implementing the Bag Waste Reduction Law, which bans the distribution of plastic bags from stores and retailers.
Similarly, the state has enacted a Returnable Container Act, or Bottle Bill, which imposes a fee on those buying and selling plastic beverage containers. The result of these policies is a significant decrease in plastic pollution produced by the state. However, the answer to Covid-19 related waste is much more complicated.
The Environmental Advocates of New York (EANY) is a group that advocates for protective environmental policies like the Bag Waste Reduction Law and Bottle Bill. Still, while they recognize the similar risk that comes from improperly disposed PPE, they are unlikely to campaign against it any time soon.
"The pathway forward of trying to figure out the strategies to reduce the pollution are slow in coming because it's just a really tricky time," says EANY's Executive Director, Peter Iwanowicz. "Because there's such an emphasis on reducing the spread of the virus right now, it's really hard for policy to emerge to suggest that there should be a fee on disposable masks like there is on beverage containers."
While many feel that now is not the time to be discouraging mask use, there are other Covid-related pollution issues that can be more easily addressed at the legislative level.
Over the past year and a half, the average household has been far more likely to shop online than in years past, out of necessity during lockdown and fear of contracting the coronavirus. According to the U.S. Census, total e-commerce sales were up 32.4% in 2020 compared to 2019 — a number that brings with it a surge of plastic package production.
"Getting a handle on solid waste has become more prominent in our work," says Iwanowicz. "Not only in PPE that is associated with protecting ourselves, but also the volume of materials that are coming into people's homes as they shift their shopping habits from being in person to online."
Like disposable masks, this influx of trash into waste management systems is unlikely to be properly sorted, resulting in higher amounts of unrecycled plastic.
The Solution
Extended Producer Responsibility, or Product Stewardship, is legislation aimed at switching the disposal responsibility of plastic packaging from the consumer to the producer.
"In this case we'll use Amazon as an example," says Iwanowicz. "All those Amazon boxes you see? Amazon would actually have to set up a system with New York City designed to capture that material and ensure it gets recycled."
According to research cited in the New York Times, only 18% of the average household's trash gets recycled, about half the amount that is possible under current waste management programs in NYC. Under the Extended Producer Responsibility bill, however, companies like Amazon would work with cities to create programs that recycle plastic products efficiently.
At a time when the production of plastic masks and packaging is at an all-time high, legislation like this is especially important to environmentally-conscious people.
While disposable masks cannot be discouraged or taxed just yet, there are still steps the public can take to reduce their own Covid-related waste. Break Free from Plastic is a movement dedicated to informing the public on the threats of single-use plastic, and they advocate for a temporary solution.
"People are conscious of the environmental impacts of disposable masks," says Break Free from Plastic's Senior Communications Officer Jed Alegado. "That is why reusable masks are being produced."
Reusable masks, which are cloth masks that can be worn multiple times after being washed, are crucial to the fight against Covid-related plastic pollution. If the average person were to switch to cloth masks after changing their disposable mask daily for six months, they'd save 182 plastic masks by the end of the year.
People would also have the option to support small businesses that supply them, saving money in the long run as they eliminate the need to purchase new PPE over time.
While not everyone will be inclined to opt for a cloth mask over a disposable one, the impact of just one person's sustainable choice is not insignificant. Until vaccines have been more widely distributed, allowing for the potential taxation of single-use masks, strategies like Extended Producer Responsibility will be essential to protecting the environment.
Many believe it's up to organizations like the Environmental Advocates of New York and Break Free from Plastic to advocate for similar policies at a governmental level, but they don't have to work alone.
What to do now if you want to help? Buy a sustainable mask, they say. It's the most, and the least, you can do.